Donaghy sentenced to 15 months in prison in gambling scandal
Updated:
July 30, 2008, 1:53 AM ET
ESPN.com news services
NEW YORK -- Disgraced ex-NBA official Tim Donaghy admitted that he'd brought shame on his profession Tuesday as a federal judge sentenced him to 15 months behind bars for his participation in a gambling scandal that still has the league on the defensive.
U.S. District Judge Carol Amon sentenced Donaghy to prison time, plus three years of supervised release, saying he'd let the sport down by taking thousands of dollars from a professional gambler in exchange for inside tips on games -- including ones he refereed.
"The NBA, the players and the fans relied on him to perform his job in an honest manner," Amon said. Donaghy listened with his arms folded but showed no emotion.
He told the judge that "I've brought shame on myself, my family and the profession."
Defense attorney John Lauro asked Amon to give his 41-year-old client probation, saying the ex-official was a gambling addict who destroyed "the career he loved" and needed treatment, not incarceration.
"Every news account begins with the words 'disgraced referee,'" Lauro said. "He will live with that the rest of his life."
Donaghy also had sought to make amends by revealing "the good, the bad and the ugly" about the league's officiating, the attorney added.
During the NBA Finals, Donaghy said in a court filing that the league routinely encouraged refs to ring up bogus fouls to manipulate results, while discouraging them from calling technical fouls on star players.
In the end, Amon refused Donaghy's plea to stay out of prison, though she imposed a penalty that was not as tough as the 33 months he could have received. Donaghy actually received two 15-month prison sentences, one for each count he pleaded guilty to in August, but Amon ruled they will be served concurrently. Donaghy must surrender on Sept. 23.
[+] Enlarge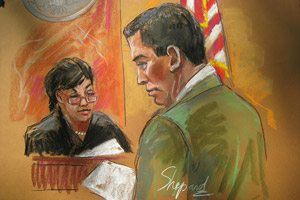 Andrea ShepardTim Donaghy apologized in court, saying he "brought shame on myself and my family."
Amon said she would honor Donaghy's request and recommend that he serve his sentence at a federal prison camp in Pensacola, Fla., to be closer to his four daughters in Bradenton. However, the bureau of prisons has the final say on where he will go.
Case closed for him. For the NBA, the damage lingers.
Commissioner David Stern has made several moves to quell doubts about the integrity of the NBA's officiating, with more developments to come.
Former Army Gen. Ron Johnson has been hired as senior vice president of referee operations, Bernie Fryer and Joe Borgia were promoted to new management positions and the league reassigned Ronnie Nunn, who had been the director of officials for five years.
Still pending is a league-commissioned review of officiating by former federal prosecutor Lawrence Pedowitz. "I am conducting additional interviews and hope to obtain additional information from the government. My review is well-advanced but not complete," Pedowitz said Tuesday in a statement. No date has been set for the report's release.
Munson: Serious lessons
Two aspects of the scandal involving disgraced former NBA referee Tim Donaghy are scary and should draw the immediate attention of NBA commissioner David Stern. Lester Munson details them. Story
Justin Wolfers, an assistant professor of business and public policy at Penn's Wharton School, who co-authored a study that said white referees called fouls at a greater rate against black players than against white players, said the league needs to share all of the information it has.
"Any fan who sees anything other than transparency will have questions," he said. "I think they want to be as much of an open book with fans, journalists and researchers as they can possibly be."
Perhaps most shocking were Donaghy's charges during the highly anticipated 2008 Finals between the Boston Celtics and the Los Angeles Lakers that results were manipulated to help ticket sales and television ratings.
The allegations -- contained in court papers arguing that Donaghy deserved leniency for voluntarily disclosing the alleged corruption -- included one claim that referees rigged a 2002 playoff series to force it to a revenue-boosting seventh game.
Donaghy Timeline
June '07: FBI contacts NBA to discuss alleged betting probe
July '07: Resigns from NBA, investigated as part of organized-crime probe in New York
Aug. '07: Pleads guilty to two felony charges alleging he took cash payoffs from gamblers and bet on games himself
June '08: Claims highly controversial Game 6 of the Lakers-Kings 2002 playoff series was affected by actions of 2 of 3 referees who worked the game
July 29, 2008: Sentenced to 15-month prison term (had faced up to 33 months) and three-year term of supervised release
Though the papers didn't name the teams involved, only the Lakers-Sacramento Kings series went to seven games during those playoffs. The Lakers went on to win the championship.
"I know it made some people, some very important people, unhappy," Lauro said, referring to Stern.
Both Stern and the league's officials have said Donaghy made the claims to get a lighter sentence.
"We anticipate that the judge's sentencing decision, together with the changes we have made to our referee operations staff, will enable us to continue with the improvements we are making to our anti-gambling rules, policies and procedures," Stern said Tuesday.
"There is little comfort to be gained from the mandatory prison sentence, especially as it affects Mr. Donaghy's children and their mother, but hopefully the healing process can begin in earnest for all."
Donaghy pleaded guilty last August to conspiracy to engage in wire fraud and transmitting betting information through interstate commerce in the tips-for-payoffs scheme. "By having this nonpublic information, I was in a unique position to predict the outcome of NBA games," he told a judge at the time.
Lauro said that to clear his conscience, Donaghy began cooperating with prosecutors even before he was charged, and claimed he "provided the government a road map" to widespread misconduct in the NBA.
"He told it all -- the good, the bad and the ugly," Lauro said. "He had to do it because it was the right thing to do … The bottom line is that Mr. Donaghy has been a model cooperator."
Prosecutors have said that though he deserved credit for helping make the case against two co-defendants -- both former high school classmates of Donaghy -- nothing else he alleged was criminal.
At a sentencing last week, James Battista, a professional gambler and admitted drug addict, got 15 months in prison for making bets based on inside tips. Thomas Martino, the scheme's middleman, was sentenced to a year and one day for paying the referee thousands of dollars for the tips. The three men attended school together in Springfield, Pa.
On Tuesday, Amon called Donaghy "more culpable" than the others. "Without Mr. Donaghy, there was no scheme," she said.
The league had demanded nearly $1.4 million in restitution. But the judge last week set the restitution at $217,266, to be paid jointly by the three defendants.
"Tim acted in a completely selfish and unforgivable way, and has forever compromised the way people look at sports and officiating," said Lamell McMorris, spokesperson for the National Basketball Referees Association. "However, NBA referees will continue to officiate with the highest level of integrity and professionalism."
Information from The Associated Press and ESPN investigative reporter Mike Fish contributed to this report.
TIM DONAGHY SCANDAL
Former NBA referee Tim Donaghy pled guilty to federal felony conspiracy charges alleging that he passed along inside information on NBA games.
Donaghy also alleges that referees helped alter the outcomes of games during the '02 and '05 postseasons.

He was sentenced to 15 months in prison in July.
News
•
Phoenix prosecutor wants federal files
•
Donaghy's father says NBA must share the blame
•
NBA's disclosure of own probe of officials on hold
•
Adviser: Donaghy 'couldn't stop' gambling
•
Two ex-classmates of Donaghy get prison time
•
Report: Donaghy made calls to fellow ref
•
NY prosecutors: Ref 'central' to NBA bet scandal
•
NBA's restitution case vs. Donaghy questioned
•
Donaghy lawyer: NBA trying to vilify ex-ref
•
NBA ups Donaghy restitution figure to $1.4M
•
Referee from alleged fixed game to work Game 5
•
Ex-referee denies improper officiating claim
•
Kings lament Donaghy's claims from 2002
•
Report: Federal agents ask ex-ref about Bavetta
•
NBA ref responds to Donaghy's 2002 claim
•
2002 playoff game at heart of allegations
•
Stern allows some forms of gambling among refs
•
NBA refutes report of refs disciplined
•
Ex-ref Donaghy forfeits cash as part of plea deal
•
Stern defends refs, vows to wait before punishing
•
Ex-prosecutor counseled refs during FBI probe
•
Attorney to lead review of NBA refs
•
Report: Donaghy to talk about other refs
•
Donaghy could face state charges
•
Donaghy pleads guilty to felony charges
|
Docs
•
Donaghy to plead guilty on betting charges
•
Lawyer: Donaghy classmate expects indictment
•
Congressman requests discussion with Stern
•
Stern: Donaghy only referee believed to have bet
•
Transcript of Stern's news conference
•
Police called to Donaghy's home
•
Report: Feds believe ref will cooperate
•
Reports: NBA referee bet on games
•
Mayor: Scandal won't hurt Vegas' NBA dream
Stats
•
Donaghy's 2006-'07 game log
•
Donaghy's 2005-'06 game log
Analysis
•
Munson: What happens on judgment day?
•
Munson: Prison or no prison for Donaghy?
•
Neumann: Nader feels vindicated
•
Hill: NBA not helping their own case
•
Stein: NBA has no quick fix for fixing charges
•
Smith: Season shaken by Donaghy nightmare
•
Munson: Donaghy's claims troubling for NBA
•
Adande: Shine brighter spotlight on refs
•
Sheridan: What next, Commissioner Stern?

•
Munson: Q&A about Tim Donaghy and the law
•
Sheridan: 10 Q&A on the scandal
•
Sheridan: Even Stern uncertain about latest crisis
•
Stein: Donaghy questions and answers
•
Drehs: Expert finds funny numbers
•
Broussard: Refs say it's isolated incident

•
Katz: College officials fear lasting backlash
•
Jackson: Sad, not shocked
•
Drehs: Q&A with gambling expert
•
Sheridan: Three big questions
•
Simmons: One man out, one league in trouble
•
Stein: Players react
•
Sheridan: Team USA players react

•
Stein: Official nightmare for Stern
•
Sheridan: The Donaghy file
•
Adande: NBA's image takes another hit
•
Jones: More bad news for the NBA
•
TrueHoop: Two unproven beliefs remain so
•
TrueHoop: Here's an early NBA fixer
TrueHoop
•
Betting expert: There's more to this story
•
Observations on the Donaghy documents
•
No specific mention of game-fixing
•
Donaghy treated for gambling addiction
•
Reaction to Donaghy's guilty pleas
•
Donaghy details from the Justice Department
•
Donaghy surrenders; what it all means
SportsNation
•
Vote: Your reaction
More
•
NHL: Frei: Keeping eyes open
•
Soccer: European scandal awaits resolution
Community
•
Fan reaction puts Stern in hot seat