Arroyo signs three-year contract to play for Israel's Maccabi Tel-Aviv
Updated:
August 4, 2008, 12:28 PM ET
By
Marc Stein
| ESPN.com
Another established NBA free agent is heading overseas.
Veteran point guard Carlos Arroyo, whose future with the Orlando Magic appeared to vanish after limited minutes in the playoffs and the Magic's recent signing of Anthony Johnson, has accepted an offer from Israeli giants Maccabi Tel-Aviv.
The signing was officially announced on Monday.
Arroyo's agent, Leon Rose, confirmed the signing to ESPN.com on Sunday night after Maccabi Tel-Aviv coach Effi Birenboim appeared on the country's national sports network (Sport5) to tout what is believed to be the richest transaction in Maccabi's history.
"I'm very happy we've completed this signing," Birnboim said Monday on the club's Web site. "Arroyo is a player of the highest standard and has been our top priority for a while."
Sources in Israel said Arroyo will receive an estimated $2.5 million net next season -- roughly the equivalent of a $5 million NBA salary after taxes -- as part of a three-year contract. The deal includes an opt-out provision that will enable Arroyo to return to the NBA after each of the next two seasons if he chooses.
[+] Enlarge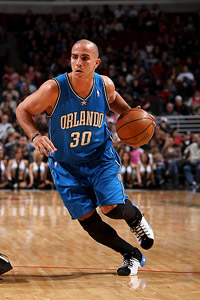 Gary Dineen/Getty ImagesCarlos Arroyo is the eighth player from the 2007-08 NBA season to sign with a foreign club since free agency began on July 1.
Arroyo becomes the eighth player who worked in the NBA in 2007-08 to sign with a foreign club since free agency commenced July 1. But he's just the second -- along with former Atlanta Hawks swingman Josh Childress -- who had established himself in the NBA before finding a more lucrative contract.
Childress spurned a five-year offer worth an estimated $33 million from the Hawks to sign a three-year deal worth at least $20 million from Greek power Olympiakos.
All of the other players to sign with European clubs in recent weeks -- Serbia's Nenad Krstic, Spain's Juan Carlos Navarro and Jorge Garbajosa, Argentina's Carlos Delfino and Slovenia's Bostjan Nachbar and Primoz Brezec -- played for top-level teams overseas before coming to the NBA.
Big spending by a small handful of European clubs with the wherewithal to offer contracts at or above NBA prices, thanks largely to the declining fortunes of the American dollar compared to the euro, put pressure on Maccabi to make a marquee signing of its own.
After attempting to fill its backcourt void by chasing summer-league sensation Bobby Brown, who elected to sign instead with the Sacramento Kings, Maccabi also made a high-profile attempt to sign Miami Heat free agent Jason Williams. Arroyo becomes the second Detroit Pistons alumnus to join Maccabi in recent weeks, joining forward Rodney White, who was selected No. 9 overall by Detroit in the 2001 draft.
Maccabi reached the Euroleague title game last season and has won Europe's top team prize five times since 1977, while also ranking as the only team from abroad to beat an NBA team on North American soil thanks to a 105-103 victory over the Toronto Raptors in the 2005-06 exhibition season. But Maccabi is coming off a disastrous season domestically in which it inexplicably lost the Israeli championship to tiny Hapoel Holon.
Arroyo, who turned 29 last week, averaged 6.9 points and 3.5 assists for the Magic last season in 62 games but appeared in only four of Orlando's 10 playoff games. Given Arroyo's proven scoring ability and vast international experience, which includes a brief stint in the Euroleague with Spanish club Tau Ceramica during the 2001-02 season, Maccabi will be expecting him to make a faster-than-usual transition to the European game.
After his 25 points in Puerto Rico's upset of the United States in the opening game of the 2004 Olympics in Greece -- Team USA's first-ever Olympic loss using NBA players -- Arroyo led his country to the brink of another Olympic berth last month before a torn muscle in his left leg held him out of the deciding game against Germany. Puerto Rico coach Manolo Cintron said Arroyo would have been healed in time for the Olympics had Puerto Rico qualified, but the Dirk Nowitzki-led Germans claimed the final berth in the 12-team Olympic field for Beijing with a 96-82 victory.
"Aside from his on-court qualities, he's also a proven leader," Birenboim told Israel's Ma'ariv newspaper. "And that's very important to us."
On the team's official Web site, Birenboim added: "Arroyo is a player of the highest standard and has been our top priority for a while. Luckily for me, Maccabi's management agreed to sign him despite the huge costs. This is exactly the player we need."
Marc Stein is the senior NBA writer for ESPN.com. To e-mail him, click here.
Senior Writer, ESPN.com
• Senior NBA writer for ESPN.com
• Began covering the NBA in 1993-94
• Also covered soccer, tennis and the Olympics
SPONSORED HEADLINES
MORE NBA HEADLINES
MOST SENT STORIES ON ESPN.COM
Leaving America

Giricek Signs Deal With Turkish Team
Gordan Giricek, who has averaged nearly 10 points per game since joining the NBA in 2002, signed a two-year contract with Turkey's premier club, Fenerbahce. Story



---

Pargo Signs With Dynamo Moscow
Jannero Pargo, 28, signed a one-year contract Aug. 15 with the Russia's Dynamo Moscow. Sources say the deal will be worth $3.5 million after taxes have been paid.
Story
---

Arroyo Leaves Orlando For Israel
Orlando's Carlos Arroyo, 29, has accepted an offer from Israel's Maccabi Tel-Aviv. The point guard from Puerto Rico will receive an estimated $2.5 million net next season -- roughly the equivalent of a $5 million NBA salary after taxes -- as part of a three-year deal.
Story
---

Boykins Headed For Italy
Earl Boykins, 32, left the Charlotte Bobcats for a one-year contract with Italy's Virtus Bologna. The deal is said to be worth more than $3.5 million, which would make the 5-foot-5 guard Italy's highest-paid player.
Story
---

Childress to Greece
Josh Childress, 25, left the the Atlanta Hawks after four seasons for Greek club Olympiacos. Childress' three-year deal is worth about $20 million after taxes.
Story
---

Krstic Headed To Russia
Nenad Krstic, 25, who spent four years with the Nets, signed a two-year deal with Triumph Moscow worth about $9 million per year. The 7-footer joined the Nets in 2004 after playing for Partizan Belgrade.
Story
---

Nachbar Returns To Europe
Bostjan Nachbar, 28, agreed to a three-year contract with Dynamo Moscow that pays the former Nets forward $14.3 million. He joined the Rockets in 2002 after playing for Benetton Treviso in Italy.
Story
---

Delfino Joins Russia's BC Khimki
Carlos Delfino, who had played in the NBA since 2004, has returned to Europe. The Argentine guard, who turns 26 on Aug. 29, had played in Italy for Reggio Calabria and Skipper Bologna before joining the Pistons in 2004.
---

Brezec Roams To Rome
Primoz Brezec, 28, the Slovenian center who spent seven seasons in the NBA with four teams, returns to Europe, where he last played for KK Union Olimpija in 2001. He'll play alongside U.S. teen Brandon Jennings for Roma.
---

Navarro Rejoins Barcelona
Juan Carlos Navarro rejoined FC Barcelona after a one-season stint with the Memphis Grizzlies. Navarro signed a five-year contract. The 28-year-old guard averaged 10.9 points for Memphis.
Story
---

Garbajosa Leaves Raps For Russia
The Raptors bought out the last year of the Spanish big man's contract, freeing him to join Russia's BC Khimki for a reported two-year, $18 million deal. Jorge Garbajosa, 30, played in Spain and Italy from 1995 to 2006.
---

Jennings Skips College, Heads To Italy
Former Arizona recruit Brandon Jennings signed with Roma of Italy, completing his plan to pass up college and play professionally in Europe to prepare himself for the 2009 NBA draft.
Story