Sources: Iguodala agrees to six-year, $80 million deal with Sixers
Updated:
August 12, 2008, 7:50 PM ET
By
Henry Abbott
| ESPN.com
The Philadelphia 76ers and restricted free agent Andre Iguodala have agreed to a six-year, $80 million contract, league sources tell ESPN.com.
The athletic and exciting 6-6 forward/guard has improved his scoring average in each of his first four seasons, and promises to be a mainstay on a Sixers team that recently signed former Clippers big man Elton Brand to an estimated $82 million free-agent contract.

Iguodala
Point guard Andre Miller, center Samuel Dalembert, and promising bench players like Thaddeus Young and Louis Williams make the Sixers an emergent force in the East. The young team managed to extend the Detroit Pistons to six games in the opening round of this year's playoffs -- and that was even before it added one of the NBA's best post scorers in Brand. Now the Sixers will be a popular pick to join the league's elite for many years to come.
If the Sixers had not been able to sign Iguodala, the 24-year-old could have played this season for them after signing a qualifying offer, which would have made him an unrestricted free agent next summer. In that scenario, the Sixers could have lost their most exciting young star without any compensation.
Iguodala and the team had an opportunity to work out a contract extension last summer but could not come to an agreement. Talks this offseason moved slowly until the last 24 hours, when, sources say, the team significantly increased its offer.
Although the basic terms of the deal have been agreed to, the new contract has yet to be finalized and signed.
76ers president and general manager Ed Stefanski took over a franchise on the wane last December, replacing the fired Billy King. The franchise had been the talk of the NBA as recently as 2001, when Allen Iverson and Larry Brown took the organization on a thrill ride to the NBA Finals, where the Sixers briefly held a lead in the series against the Los Angeles Lakers.
However, upon Stefanski's arrival, Iverson had long since been traded to Denver, and the remaining pieces in Philadelphia were unproven. Stefanski encouraged coach Maurice Cheeks to play some of the young bench players King had drafted, in part to help Stefanski assess their value as he made long-term plans. To many people's surprise, the young players played impressively and the team began to win, managing to atone for a 5-12 start with a 40-42 record and the seventh seed in the East.
Against the Pistons in the first round, the team recaptured some of the optimism that had been missing for the past several years. Iguodala did not distinguish himself in the series, shooting just 33 percent from the field while averaging more than four turnovers per game behind the defensive pressure of Detroit's Tayshaun Prince. Nevertheless, his negotiating power with the team had increased thanks to the team's strong finish in the regular season, and then the signing of Brand.
The long-term commitment to Brand put pressure on the organization to win sooner rather than later -- or risk wasting a massive investment -- and coming to terms with Iguodala became almost an essential part of the Sixers' message to sponsors, season-ticket holders and fans that the team was rejuvenated.
Iguodala had started the summer as one of many promising NBA free agents, but had seen nearly all of the big names, including Josh Smith, Emeka Okafor, Luol Deng, Andris Biedrins, Baron Davis, Brand and Josh Childress, agree to lucrative deals.
Sources with knowledge of the negotiations say that over the past 24 hours, the Sixers became convinced that their previous highest offer, believed to be slightly less than $70 million, would result in Iguodala signing a qualifying offer and playing one season in Philadelphia before testing the open market next summer.
In short order, the team emerged with a much higher offer, to which Iguodala quickly agreed.
Many of the details of the contract are still to be worked out, sources say, including incentive clauses that could increase the value of the deal beyond a base compensation of $80 million.
Henry Abbott writes the TrueHoop blog for ESPN.com.
TrueHoop, NBA
Senior writer for ESPN.com
Founder of TrueHoop blog and network
Began writing about NBA for magazines in 1999
SPONSORED HEADLINES
MORE NBA HEADLINES
MOST SENT STORIES ON ESPN.COM
FREE AGENCY 2008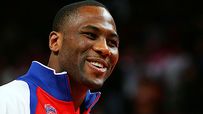 The NBA offseason has been busier than expected, thanks in part to Elton Brand's joining the 76ers. Keep up with the latest moves.
Transactions
News
•
George's deal with Mavs made official
•
Brown returns to New Orleans to back up Paul
•
Veteran Finley re-signs with Spurs
•
Nuggets re-sign Smith to multiyear deal
•
Miles signs with champion Celtics
•
George, Mavs agree to two-year deal
•
Clips re-sign free-agent center Paul Davis
•
Iguodala signs six-year deal with Sixers
•
Sources: 76ers, Iguodala agree to multiyear deal
•
Hawks match Grizzlies' $58M offer, retain Smith
•
Heat's Williams reaches terms with Clippers
•
Bobcats' Boykins signs European contract
•
Restricted free agent Williams re-signs with 76ers
•
Cavs shore up backcourt, sign ex-Grizzly Kinsey
•
Arroyo signs with Maccabi Tel-Aviv
•
Ex-Clipper draftee Skinner signs deal with team
•
Bulls sign Deng to six-year extension
•
Sources: Deng, Bulls on verge of deal
•
Hawks sign ex-Magic G Evans to contract
•
Sources: Okafor, Cats agree on new deal
•
Nets lose Krstic to Moscow team
•
Clippers sign swingman Davis from Heat
•
Vujacic officially signs multiyear deal with Lakers
•
Agent: Brown, Pistons agree to deal
•
Warriors re-sign Biedrins to 6-year, $62M deal
•
Sources: Biedrins, Warriors agree to 6-year deal
•
Wolves agree to deal with Gomes
•
Lakers, Vujacic agree to 3-year, $15 million deal
•
Ellis inks $67 million deal to stay with Warriors
•
Summer star Roberson signs with Knicks
•
Andersen bolts Hornets to return to Denver
•
Telfair re-signs with Timberwolves
•
Childress leaves NBA for Greece
•
Spurs re-sign Kurt Thomas
•
Suns sign ex-Warrior Barnes to one-year deal
•
Turiaf to play for Warriors
•
Jazz, Williams agree to 4-year extension
•
Sources: Clippers, Azubuike agree to offer sheet
•
Bucks add veterans Allen, Lue
•
Posey agrees to 4-year deal with Hornets
•
Arenas signs six-year deal with Wiz
•
Mason's hard work pays off in contract with Spurs
•
Wright re-signs with Mavericks
•
Clippers officially sign Davis to multiyear contract
•
Family ties: Brent is 3rd Barry to play for Rockets
•
Warriors ink forward Maggette to deal
•
Magic sign, introduce ex-Warrior Pietrus
•
Nets agree to terms with forwards Najera, Hayes
•
Sixers give frontline big boost, sign Brand to deal
•
Agent: Bucks to sign Bogut to $60M extension
•
Diop rejoins Mavs on 5-year, $31M contract
•
Gasol in Memphis: Marc, not Pau, signs contract
•
Kings re-sign point guard Udrih to five-year deal
•
Heat sign 3-point specialist Jones to 5-year deal
•
Sources say Brand will sign with 76ers
•
Sources: NBA cap at $58.68 million
•
Sources: 76ers confident of getting Brand
•
Sixers making run at Brand
•
Hawks free agent Smith visits 76ers
•
Brand opts out, and Clippers await decision
•
Calderon reaches agreement on new Raps deal
•
Wizards hang on to Jamison
•
Reports: Arenas agrees to six-year contract
•
For 2nd year in row, Cats, Okafor to discuss deal
•
Artest not opting out of final year of deal
•
Paul agrees on four-year, $68M deal
•
Davis leaving Warriors for Clippers
•
Free Agents:
2008
|
2009 and 2010
Analysis
•
Hollinger: Hornets pay heavily for Posey's ring
•
Martin: Najera's 3-point skills help seal Nets deal
•
Stein: Which teams in hot pursuit of free agents?
•
Adande: Why Brand left the Clippers
•
Broussard: Crushing blow for Clippers
•
Arnovitz: Clipper Nation in world of hurt
•
Adande: Brand's departure is business as usual
•
Hollinger: Brand new Sixers are East challengers
•
Hollinger: Five big questions on free agents
•
Stein: Davis verbally agrees to go to Clippers
•
Broussard: The Clippers' other free agent
•
TrueHoop: What is Corey Maggette Worth?
Podcast
•
Stein on Elton Brand and Baron Davis
•
Hollinger on players who may switch teams
•
Broussard on the money given to Arenas
•
Sheridan on Brand, Davis, Artest and Smith
Video
•
Bucher on how the Brand deal got done
•
Bucher on the latest NBA news
•
Arenas agrees to six-year extension