Foster says perception of him 'hasn't been fair'
Updated:
November 5, 2008, 2:58 PM ET
ESPN.com news services
NBA referee Scott Foster, in a series of media interviews, said Tuesday he knows his friendship with disgraced official Tim Donaghy will be with him for the rest of his career.
"I've struggled with this for 18 months," Foster told USA Today. "I don't know how I feel, to be honest. The only thing I'd say is that I love being an NBA referee. And what's happened over the last 18 months hasn't been fair."
[+] Enlarge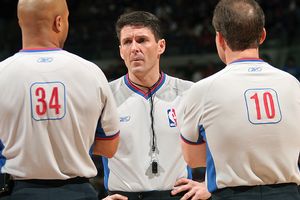 D. Lippitt/Einstein/NBAE/Getty ImagesNBA official Scott Foster (center) during a game in January 2006.
Foster spoke to SI.com, USA Today and the New York Times earlier this week. All three entities posted accounts of the interviews on Tuesday.
Donaghy is serving 15 months in prison after pleading guilty to wire fraud and transmitting wagering information across state lines.
Foster's name came up in a FoxNews.com report in July, which indicated he and Donaghy exchanged 304 phone calls between December 2006 and April 2007, raising suspicions he was involved with Donaghy. He said he has known Donaghy for 17 years and they talked frequently once they both joined the NBA officiating corps. Donaghy is the godfather to one of Foster's three children.
Foster was cleared by the FBI and in a report the NBA commissioned from Lawrence Pedowitz (eight of 133 pages were devoted to Foster). He officiated last year's NBA finals.
Foster said he has been impatient while waiting to tell his story. He told NBA president for league and basketball operations Joel Litvin, among others, that he wanted to speak publicly.
"I told him, There is no way that you can write a report that clears my name. Until the NBA lets me speak to the press and lets me let them see how angry I am about this, it's not going to mean a hill of beans," Foster told SI.com. "People don't want to hear from lawyers, they want to hear it from my mouth."
The NBA gave Foster, who worked last year's NBA Finals, a vote of confidence at the annual coaches and officials meeting in Chicago in September.
"We have absolute confidence in Scott Foster," said Litvin, according to SI.com.
Foster said the lingering damage from the Donaghy incident is evident.
"He's affected so many people that are a part of my life, meaning all the referees in the NBA," he told the New York Times. "It's really hurt a lot of the guys in our group. It would be tough to just be like, 'Oh, all's forgotten.' It might be forgiven, but it's clearly not forgotten."
SPONSORED HEADLINES
MORE NBA HEADLINES
MOST SENT STORIES ON ESPN.COM

ESPN.COM PARTNER: NBA.COM