Wolves replace Wittman with McHale
Updated:
December 8, 2008, 8:49 PM ET
Associated Press
MINNEAPOLIS -- When Minnesota Timberwolves owner Glen Taylor fired Randy Wittman on Monday and asked Kevin McHale to step in, he didn't just make a coaching change.
Taylor changed the entire complexion of an organizational structure that has featured McHale at the top of the totem pole for the last 13 years.
Not only did Taylor ask McHale to take over as coach of a young, confidence-strapped team, but he also relieved McHale of the vice president of basketball operations title he has held since 1995.
"There are a few people in this league who have taken on roles where they've been coaches and general managers, but I think that's a very difficult thing," Taylor said. "I just want it to be very clear when I said to Kevin that I am offering him the coaching job, that this is a full-time coaching job. He is to concentrate on it 100 percent. That's the commitment he gave me and I'm confident that's what's best for this team."
McHale said he sees the coaching job not on an interim basis but as a "long-term commitment." General manager Jim Stack and assistant GMs Fred Hoiberg and Rob Babcock will take over his executive duties, meaning McHale will no longer have the final say on personnel decisions.
The move appears to be a demotion, but McHale will remain involved in the decision-making process and seems satisfied with his new role.
Sheridan: Hot seat

Randy Wittman became the fourth NBA head coach to be fired this season. Who else is on the hot seat? Chris Sheridan has his odds on who might be next.
Story
"We'll all talk and go over decisions and everything else," McHale said of the new hierarchy. "It's just that, with the full-time coaching, it's just hard to assume both mantles on that. For me, I'm going to jump in with both feet on this."
It was an interesting twist to news that was expected after the Timberwolves (4-15) were embarrassed in a 23-point home loss to the Clippers on Saturday night that McHale called "unacceptable."
"It just looks like the guys are very beaten down," McHale said. "They've only played 19 games this season. They have 63 games left. It's no time to be beaten down. There's still time to rally and get going."
The team didn't seem to be responding to Wittman's hard-nosed style and has not taken the steps forward Taylor expected in the second year of a rebuilding plan following the trade of Kevin Garnett.
"Certainly we are way behind where I hoped we would be at this time," Taylor said.
Still a green coach

Kevin McHale's .613 winning percentage, albeit in a brief tenure, stands up pretty well against some of his former 1980s Celtics teammates.
Some '80s Celtics as coaches

| | | |
| --- | --- | --- |
| | W-L | Pct. |
| Larry Bird | 147-67 | .687 |
| McHale | 19-12 | .613 |
| Danny Ainge | 136-90 | .602 |
| Rick Carlisle | 292-219 | .571 |
| Dennis Johnson | 8-16 | .333 |
| M.L. Carr | 48-116 | .293 |
| Quinn Buckner | 13-69 | .159 |
This was the fourth NBA coaching firing this season following P.J. Carlesimo (Oklahoma City), Eddie Jordan (Washington) and Sam Mitchell (Toronto).
Wittman was 38-105 since taking over for Dwane Casey in January 2007. He went 22-60 last year, his only full season in charge. But after keeping things close early in the season, the Timberwolves have lost their last two games by a combined 52 points.
His career winning percentage of .326 (100-207) -- including two seasons in Cleveland and almost two seasons in Minnesota -- is the fifth worst all-time among coaches with at least 300 games, according to STATS, Inc.
"Sometimes you just need a change," forward Mark Madsen said. "Obviously Glen Taylor felt that very strongly. And so I buy into that now.
"Hopefully with that change we can rejuvenate, we can win some basketball games and we can take everything that coach Wittman taught us and apply it. And we can take something new from Kevin McHale and apply that."
McHale has done this before. He went 19-12 in the final 31 games of the 2004-05 season after Flip Saunders was fired.
"Last time I knew I was going to do it for the short term," McHale said. "This time I'm doing it for the long term. That's just the way it is."
Going Backward

Randy Wittman has coached some bad teams and they haven't gotten better in his tenure.
| | | |
| --- | --- | --- |
| Team | Record | Pct. |
| Cavaliers | 32-50 | .390 |
| Cavaliers | 30-52 | .366 |
| Wolves | 12-30 | .286 |
| Wolves | 22-60 | .268 |
| Wolves | 4-15 | .211 |
It was an attention-grabbing maneuver for a team that appeared to be tuning Wittman out during this losing streak where the average margin of defeat was nearly 17 points.
Despite Wittman's emphasis on defense throughout training camp, the Wolves have allowed at least 100 points in seven straight games. Whatever the coach was trying to teach, it either wasn't working or wasn't sinking in.
"Players cannot play when they're confused," McHale said. "You want to see a disaster, go see a bunch of confused players playing basketball."
It's been one disaster after another on the court of late.
"You look at the games, look at the scores of these games and you can just tell by that, that something was wrong," forward Ryan Gomes said.
Five of the team's first eight losses were by six points or less, which McHale said "tore their hearts out a little bit and they just fell into a little malaise."
McHale prefers a more freewheeling, matchup-oriented system. If it doesn't work, he has only himself to blame after hand-picking the roster through trades, free agency and the draft.
"If this doesn't work, it'll be on me," McHale said. "The thing I told Glen is that nothing changes with the plan. The plan stays the same. We have a lot of cap room in the future. We have multiple [draft] picks. Nothing's going to change. The only change is that I'm going to spending all my time coaching."

Copyright 2008 by The Associated Press
SPONSORED HEADLINES
MORE NBA HEADLINES
MOST SENT STORIES ON ESPN.COM
Coaching Changes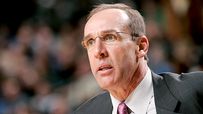 The Grizzlies fired coach Marc Iavaroni on Jan. 22 after an 11-30 start, making him the seventh NBA coach replaced this season.
Story
•
Sources: Avery Johnson turns down job
Kings

•
Theus fired after 6-18 start
•
Watch: Theus out
Sixers
•
Cheeks out after 9-14 start

•
Hollinger: Offensive woes
•
Insider: Numbers' tale
•
Sheridan: Stefanski's take
•
TrueHoop: The Sendoff Games
•
Stephen A. Smith on the change
Timberwolves

•
McHale replaces Wittman
•
Watch: McHale's decision
•
Sheridan: Who's next to go?
Raptors

•
NBA's first Canadian coach
•
Hollinger: Focus on Raps GM
•
Legler on Mitchell firing
Wizards

•
TrueHoop: Surprised by firing
•
Eddie Jordan out as Wizards coach
Thunder

•
Carlesimo out after 1-12 start
•
Insider: Thunder's road ahead