Bucks assistant to take Grizzlies' job
Updated:
January 24, 2009, 2:37 AM ET
Associated Press
NEW YORK -- Lionel Hollins is working on a contract with the Grizzlies to serve as their head coach for the third time -- the first time without the interim label.
Memphis general manager Chris Wallace confirmed Friday night that he hoped to reach an agreement with the Milwaukee Bucks assistant by the end of the weekend to replace the fired Marc Iavaroni. Wallace said before the Grizzlies' game against the New York Knicks he wanted Hollins to be able to run some practices before Tuesday's matchup with Denver.
Assistant Johnny Davis is the interim coach in the meantime and probably will be through Saturday's game against New Jersey.
[+] Enlarge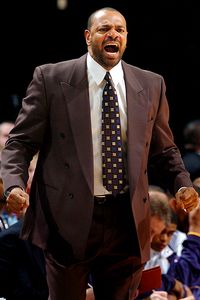 AP Photo/Nikki BoertmanLionel Hollins is working on a deal to become coach of the Grizzlies for the third time.
Hollins went 18-46 as the interim coach during the 1999-2000 and 2004-05 seasons.
"How many interim coaches have gaudy records in the NBA?" Wallace said.
Memphis has lost seven straight and 15 of 17 to fall to 11-30, resulting in Iavaroni's dismissal Thursday. He led the team to a 22-60 record last season, his first as an NBA head coach.
"The defense has declined," Wallace said. "The energy and spark we had early in the season just hasn't been there in recent weeks. We've got to get this team back to playing the way it was early in the season and get some momentum throughout the rest of the season and particularly heading into next year.
"We've got to have this group of young players feeling very good about themselves and their future in Memphis by the end of this season."
Hollins flew with the Bucks to Atlanta for their game with the Hawks on Friday night, then left the team.
"We're sad he's leaving, but it's just such a great opportunity for him," Milwaukee coach Scott Skiles said. "His family's there. He's comfortable."
The Grizzlies went 49-33 and made the playoffs in 2005-06, but Mike Fratello was fired after the team got off to a 6-24 start the following season. Tony Barone Sr. took over on an interim basis and led Memphis to an NBA-worst 22-60 mark.
During Iavaroni's tenure, the Grizzlies made two major trades that shook up the roster, as they went with a youth movement. They sent star Pau Gasol to the Lakers last year and picked up O.J. Mayo, the No. 3 pick in the draft, before this season.
"It's tough to have all the changes we've had the last couple years," forward Hakim Warrick said. "Coming in, having all the young guys we had -- it's just been an up and down season. Then with the trade bringing in the new guys, then at the beginning of the season starting over new again -- that's tough as a coach to deal with.
"I really feel sorry about how tough of a job he had. But that's the nature of the business."
Iavaroni became the ninth coach in franchise history in May 2007 after spending five seasons as an assistant with Phoenix, where he worked for current Knicks coach Mike D'Antoni. He also coached under Pat Riley in Miami from 1999-02 and Fratello with Cleveland from 1997-99. Iavaroni played in the NBA from 1982-89 with Philadelphia, San Antonio and Utah.
D'Antoni called Iavaroni Friday morning to offer support.
"It's too bad," said D'Antoni, who declined to speculate on whether Iavaroni would later join his staff in New York. "It's just the way the NBA works. He'll definitely land on his feet. He's a good coach."
Davis is a longtime NBA assistant who has gone 73-144 in two brief head coaching stints. He led the Philadelphia 76ers in 1996-97 and the Orlando Magic for parts of the 2003-04 and 2004-05 seasons.
"I'm surprised by very little in the NBA," he said. "It's just part of the business. It's unfortunate -- Marc is a good man and a good coach."
Wallace said he and owner Michael Heisley decided it was best to hire a permanent coach right away.
"The organization has gone the interim route before, and Mr. Heisley and myself thought it was better to get new blood in and get a new coach in place, let this individual come in and be able to implement his philosophy and hopefully make a positive impact on the team," Wallace said.
The Grizzlies are the seventh team to fire a coach this season, following Washington, Toronto, Sacramento, Philadelphia, Oklahoma City and Minnesota.
Asked if the coaching change could energize the team and lead to improved play, forward Rudy Gay said: "It could. It could go either way.
"Hopefully it sparks us and gives us some motivation going into the second half of the season."

Copyright 2009 by The Associated Press
SPONSORED HEADLINES
MORE NBA HEADLINES
MOST SENT STORIES ON ESPN.COM
Coaching Changes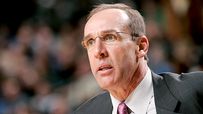 The Grizzlies fired coach Marc Iavaroni on Jan. 22 after an 11-30 start, making him the seventh NBA coach replaced this season.
Story
•
Sources: Avery Johnson turns down job
Kings

•
Theus fired after 6-18 start
•
Watch: Theus out
Sixers
•
Cheeks out after 9-14 start

•
Hollinger: Offensive woes
•
Insider: Numbers' tale
•
Sheridan: Stefanski's take
•
TrueHoop: The Sendoff Games
•
Stephen A. Smith on the change
Timberwolves

•
McHale replaces Wittman
•
Watch: McHale's decision
•
Sheridan: Who's next to go?
Raptors

•
NBA's first Canadian coach
•
Hollinger: Focus on Raps GM
•
Legler on Mitchell firing
Wizards

•
TrueHoop: Surprised by firing
•
Eddie Jordan out as Wizards coach
Thunder

•
Carlesimo out after 1-12 start
•
Insider: Thunder's road ahead