Knicks swap Rose for Wilcox
Updated:
February 19, 2009, 8:06 PM ET
By
Chris Sheridan
| ESPN.com
NEW YORK -- The Knicks agreed to a minor trade Thursday with the Oklahoma City Thunder, swapping Malik Rose for Chris Wilcox.
Let's Make A Deal

Input a trade that you'd like to see happen and let ESPN.com's NBA Trade Machine do the work!

Wilcox was one of the players the Thunder had sent to New Orleans in the trade for Tyson Chandler that was voided by Oklahoma City after Chandler failed a physical. The other was Joe Smith, who would like to be bought out by the Thunder in order to sign as a free agent with the Boston Celtics, a source told ESPN.com late Wednesday night.
Both players have expiring contracts: Rose is making $7.65 million, and Wilcox earns $6.75 million.
Chris Sheridan covers the NBA for ESPN.com. Information from ESPN.com senior NBA writer Marc Stein was included.
The NBA On ESPN.com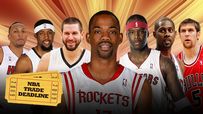 TRADE GRADES
TRADE CHATTER
ALSTON TO MAGIC, LOWRY TO ROCKETS
HUGHES TO KNICKS, THOMAS TO BULLS
WILCOX TO KNICKS
McCANTS TO KINGS
MILLER, SALMONS TO BULLS
MIHM TO GRIZZLIES
CHANDLER TO OKC (AND BACK, AGAIN)
CASSELL TO KINGS
MARION FOR O'NEAL

MOST SENT STORIES ON ESPN.COM