Commentary
Insider's NBA Offseason Buzz
Updated:
September 22, 2009, 4:20 PM ET
By
Ric Bucher & John Hollinger
| ESPN Insider
The summer is winding down, but that just means we're gearing up for the NBA season to start. Insider is breaking down every team to examine key players trending up and tripping up according to John Hollinger's PER projections for the 2009-10 season. NBA Insider Ric Bucher chimes in with a player you'll want to watch closely once the new campaign tips off.
Starting with the NBA champion Los Angeles Lakers in the Pacific Division, we'll add a new team every day. Check back often; we're just getting warmed up.
2009 NBA OFFSEASON BUZZ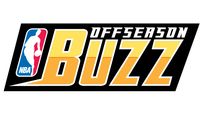 As the NBA offseason winds down and we gear up for the 2009-10 campaign, Insider taps into the insights of John Hollinger and Ric Bucher to examine who's rising, who's falling and who's worthy of extra attention on evey NBA roster.
Pacific Division
Northwest Division
Southwest Division
Atlantic Division
Central Division
Southeast Division
Note: For definitions of all of John Hollinger's advanced statistics, click here.