No early complaints about referees
Updated:
October 2, 2009, 1:41 PM ET
ESPN.com news services
Tre Maddox, Deldre Carr and CJ Washington managed to stay out of the spotlight Thursday night as the NBA kicked off its preseason games with replacement referees.
Maddox, Carr and Washington were the first replacements to take the court as the league's regular referees remained locked out in a labor dispute. Their assignment? The Denver Nuggets versus the Utah Jazz, whose respective coaches, George Karl and Jerry Sloan, are not exactly shrinking violets on the sidelines.
But Maddox, Carr and Washington had an uneventful game. They called 69 fouls and only a handful drew a noticeable reaction.
[+] Enlarge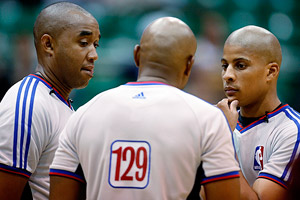 AP Photo/Steve C. WilsonThe crew of NBA replacement officials working Thursday's preseason opener called 69 fouls, but elicited few complaints.
Players mostly shook their heads and smiled after the whistle until the third quarter, when Sloan had a mini-outburst after Paul Millsap was called for fouling Carmelo Anthony. Sloan leaped out of his seat, barked a few statements at Carr and sat right back down.
"They'll have a month to get ready for the season, just like we will," Karl said after the Nuggets' 103-87 loss. "They'll learn some stuff. Right now, I don't see it being a problem."
Sloan and his players had few complaints after the game, according to The Salt Lake Tribune.
"I thought they did fine," Sloan said, according to the report. "I don't have a problem with that. Then again, we can't spend our time worrying about those guys.
"They're learning, we're learning and you've got to give everybody a chance to [move] forward," Sloan said, according to the Tribune. "I hope everything goes great for them because it makes it easier for us."
Jazz guard Deron Williams shot only two free throws in 21½ minutes, but he had nothing bad to say, either, according to the report.
"The officials were good," Williams said, according to the report. "I thought they did a good job. They didn't look like replacements to me."
It might have helped the referees' cause that the league reminded teams Wednesday about its rules against publicly criticizing the officials, hoping to preventing the frequent complaints that were heard during the last lockout in 1995.
While the 1995 backups were mostly from the Continental Basketball Association, this time 50 are from the D-League, WNBA or NCAA Division I. They're being paid about $1,100 per game, the same pay earned by first-year officials and more than they were paid in the D-League or WNBA.
The league had the replacements in training camp last weekend, but thought it wouldn't need them. The NBA said the referees' union agreed in principle on a new contract last Friday, but backed out of the deal two days later. The league then told teams Tuesday it was going ahead with the backups.
Joel Litvin, the NBA's president of league and basketball operations, said no further talks are planned with the regular referees, whose contract expired Sept. 1. So the replacement officials could be around for a while -- and the NBA is OK with that.
"We are very, very familiar with the abilities of referees at every level. We know these guys," Litvin said. "We didn't reach out to anybody who we didn't think could handle this job."
Information from The Associated Press was used in this report.