Proposed CBA would limit LeBron deal
Updated:
February 7, 2010, 3:16 PM ET
By
Ric Bucher
| ESPN The Magazine
The NBA will put its marquee players on display in next weekend's All-Star Game in Dallas, but the party-like atmosphere is sure to be chilled when the stars learn the details of the collective bargaining agreement offer presented at the end of January by commissioner David Stern to players' union director Billy Hunter.
The proposal, a source familiar with talks said, includes rollbacks that could reduce maximum guaranteed salaries, both for veterans such as Kobe Bryant and LeBron James, as well as up-and-comers like Kevin Durant and Derrick Rose, to almost a third of what they would have been eligible for under the current agreement.
[+] Enlarge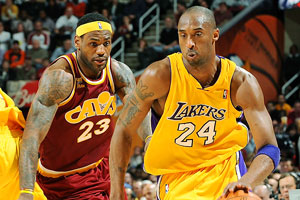 Andrew D. Bernstein/Getty ImagesGuaranteed salaries in imminent new contracts for LeBron James and Kobe Bryant would be reduced under an owners proposal to almost a third of what they would have been eligible for currently.
Perhaps the biggest shocker: The owners' proposal includes a provision that would require any pre-existing deals to be revised to conform to the new deal's limits.
The current deal is set to expire as of July 1, 2011. The league's owners have the option to extend it one more year, but they've already made it clear they don't intend to.
"The league has to be careful," said one agent who requested anonymity. "If the top players are united against David, that's going to make for a tough fight. It could get very ugly."
Presenting a new proposal nearly 18 months in advance of the current deal's anticipated expiration is unprecedented, several sources said. Doing so right before All-Star Weekend also seems odd, particularly since Dallas Mavericks owner Mark Cuban, the weekend's host owner, has crowed about the event drawing a record 100,000 fans and a surrounding spectacle dwarfing that of the NFL's Super Bowl XLIV.
"It's the most dire economic time, so they want to take advantage of that and scare the players now," the agent said. "It is a negotiation. This is what you do."
The total value for a veteran maximum deal would be well under $60 million and for players currently on rookie salary-scale deals well under $50 million, the source familiar with the proposal said. Fully guaranteed maximum deals also could be a thing of the past, with the proposal allowing for less than half of any contract to be guaranteed.
The mid-level exception and other devices that allow teams over the salary cap to sign free agents also would be abolished, several sources said, effectively creating a hard cap.
Both the league and players association declined to comment on the source's details of the proposal, as did union president Derek Fisher. "David and Billy have decided not to comment until we get to All-Star Weekend and I'll fall in line with those two gentlemen," Fisher said Friday night.
Stern and Hunter are expected to address where negotiations stand on a new labor agreement sometime during the weekend.
Ric Bucher covers the NBA for ESPN The Magazine.
NBA Reporter, ESPN The Magazine Senior Writer
Senior writer for ESPN The Magazine
Co-authored "Yao: A Life in Two Worlds"
Full-time beat writer/NBA analyst since 1992
EDITORS' PICKS
Golden State's hold on No. 1 is as strong as ever, but a few surging teams are climbing.
Rankings »

Point guard has become the most vital position in the game. We're ranking the top 30.
ESPN The Mag »

CP3 sits ahead of Westbrook in the MVP race. Here's why.
Pelton
MORE FROM ESPN BOSTON

Want to submit a question for Mike Reiss' weekly Patriots mailbag? Click here and come back every Tuesday around noon for the 'bag.
Latest headlines on ESPNBoston.com:
MORE FROM ESPN DALLAS

Check out ESPN Dallas, the place for your local Dallas sports coverage.
MORE FROM ESPN LOS ANGELES

Check out the new ESPN Los Angeles, the place for your local Los Angeles sports coverage.
MOST SENT STORIES ON ESPN.COM