Nuggets' Karl remains hospitalized
Updated:
May 5, 2010, 2:21 AM ET
Associated Press
DENVER -- Nuggets coach George Karl is expected to return home on Wednesday after spending almost a week in the hospital dealing with complications from his battle with throat cancer.
Karl experienced swelling in his left knee while being treated for a blood clot in his right leg, Karl's partner, Kim Van Deraa, wrote in her blog late Tuesday night.
She said Karl, 58, was expected to be released Tuesday until he awoke with a swollen left knee "and the doctors were still cautious about him being able to get out of bed due to his clotting right leg so he was bedridden since Friday night and going a little stir crazy."
She said doctors drained the knee and checked for infection. She said it was fluid and not pooled blood that had built up in his arthritic knee, a good sign. He received a cortisone shot to reduce the pain and swelling, she wrote.
Karl completed a six-week treatment of chemotherapy and radiation for throat and neck cancer a month ago. He's been hospitalized twice for blood clots, the last time on Friday.
Nuggets owner Stan Kroenke said Karl's health is the organization's No. 1 priority this offseason. The Nuggets, under acting coach Adrian Dantley, were eliminated from the playoffs last week by the Utah Jazz.
This is Karl's second bout with cancer. He beat prostate cancer several years ago. His son, Coby, who plays for the Nuggets, is a thyroid cancer survivor.

Copyright 2010 by The Associated Press
2010 NBA Finals On ESPN.com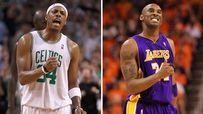 Follow ESPN's NBA coverage on Twitter
2010 NBA PLAYOFFS
PLAYOFF PREVIEW
FINALS PAGE
CONFERENCE FINALS PAGES

MOST SENT STORIES ON ESPN.COM