LeBron 'just wants to win' ... for Cuban?
Updated:
May 21, 2010, 1:58 PM ET
ESPN.com news services
One of LeBron James' closest advisers sought to stop the rumor mill surrounding the potential free agent.
Dallas Mavericks owner Mark Cuban only added fuel to the fire.
Maverick Carter, James' longtime business partner and manager, on Thursday said James just wants to play basketball next season, whether that's in Cleveland or somewhere else.
"All these rumors out there are absolutely untrue," said Carter, the most powerful voice in James' inner circle. "LeBron just wants to win. He doesn't want to handpick his next coach."
LeBron Tracker

Where will LeBron James land? We're keeping tabs on the King. Here's the latest. LeBron Tracker
A refuted report had linked Kentucky coach John Calipari with James as a possible package deal to prospective teams.
Cuban, meanwhile, went public with his quest to acquire James in an interview this week posted on CNNMoney.com, in which he expressed his interest in James as a free agent and said that the NBA star needs to play in a place where he trusts the organization.
Cuban's comments could fall under the NBA's tampering rules, although he dismissed that notion Thursday. In 2008, the league sent a memo to the 30 NBA teams detailing specific guidelines when discussing potential free agents with the media.
The memo read: "If a member of your organization is asked by the media about a potential free agent prior to the July 1 following the last season covered by the player's contract, or about any other person under contract with another NBA team, the only proper response is to decline comment."
Penalties outlined in the memo could include suspension, prohibition of the offending team from hiring the person being tampered with, forfeiture of draft picks and individual and/or team fines of up to $5 million.
Mike & Mike in the Morning
ESPN's Dick Vitale says we're giving way too much credit to William Wesley. No one is powerful enough to package LeBron James and a coach together and Kentucky coach John Calipari is not going anywhere.
Asked if he believes James will stay in Cleveland or sign with New York or elsewhere, Cuban said:
"I don't know, don't know. What I do know about LeBron in the minimal time I've spent talking to him is he just wants to win. Money's not his issue. He needs to be some place where he trusts the organization. And look, [owner] Dan Gilbert in Cleveland did everything he possibly could, that's just the way the game works. If there was a template that we all could follow, we'd all have championship rings."
Before Cuban's entry, the most prevalent rumor had William Wesley, better known as "Worldwide Wes," offering James and Calipari as a package deal to teams around the league. A person close to Wesley, who is a friend and advisor to James, denied the reports to ESPN's Andy Katz earlier this week.
"Come July 1st, yeah, of course, anybody would be interested in LeBron James, and if he leaves via free agency, then it's going to be tough," Cuban said. "If he does like I'm guessing, hoping he will, which is say, 'I'm not going to leave the Cavs high and dry,' if he decides to leave -- there's still a better chance he stays -- then he'll try to force a sign-and-trade, and that gives us a chance."
If James does not reach an agreement with the Cavaliers by July 1, he would become an unrestricted free agent.
More on the Mavericks

News, notes and analysis of the Mavericks from ESPNDallas.com's Tim MacMahon, Richard Durrett and our team.
Blog » ESPN Dallas »

Several reports have James considering the Los Angeles Clippers because he'd have the ability to hire the club's coach and general manager.
Still others have said James has vetoed trades that Cavaliers GM Danny Ferry has wanted to pursue. In truth, according to members of the Cavaliers' organization, James has never been a hands-on participant in front-office decisions. The Cavaliers have solicited opinions from James when considering trades, but the notion that he's been the driving force behind all personnel decisions is off base.
James' decision on where he will play next year will come down to winning championships, Carter said. And with a month and a half left before James can talk to teams -- and the Cavaliers just a week removed from their disappointing second-round playoff exit -- he and his confidantes have yet to sit down to analyze all his possible landing spots. That process should begin sometime within the next week or so, Carter said.
Cuban said Thursday he is not concerned that his comments could be construed as tampering by the league.
"No. It's not tampering. Not even close," Cuban replied via e-mail.
NBA spokesperson Tim Frank said Thursday that the league is looking into Cuban's comments.
Dallas' interest in pursuing a sign-and-trade deal for James has been the subject of speculation for months, but Cuban's comments are believed to be his first public acknowledgment of that plan.
Information from ESPN The Magazine's Chris Broussard and ESPNDallas.com's Jeff Caplan and Tim MacMahon was used in this report.
SPONSORED HEADLINES
MORE NBA HEADLINES
MOST SENT STORIES ON ESPN.COM
The NBA On ESPN.com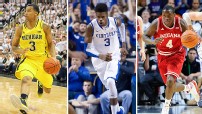 Follow the NBA on ESPN:
Twitter / Facebook / Google+
LATEST CONTENT
REGULAR FEATURES
jadande

J.A. Adande


A lot like this, I bet: http://t.co/WS5q2pU491 RT @RicDynasty Can u imagine what scene would be like in Miami if Lebron botched that layup?
8 minutes ago

jadande

J.A. Adande


I can't pronounce LeBron's watch, let alone afford it http://t.co/YdOFlrGbtl RT @BlkSportsOnline Price check? RT @shegotgame Audemars Piguet
12 minutes ago

ESPNChrisPalmer

chris palmer


25-pt, 10-reb, 5-ast playoff games last 5 years: LeBron 20, Rest of NBA 22
26 minutes ago

WallaceNBA_ESPN

Michael Wallace


Other than that, the kid had a heck of a night, especially the second half. This will be a really good series.
37 minutes ago

WallaceNBA_ESPN

Michael Wallace


Gotta question P-George's judgment a bit. Both on error letting James go by, and on postgame shirt selection. http://t.co/39WWTLGUCB
38 minutes ago

tomhaberstroh

Tom Haberstroh


George wished Roy Hibbert was on the floor at the end: "Yeah, I think we all would. 100 percent he would've been there."
39 minutes ago

jadande

J.A. Adande


#Jackson5 RT @HerringWSJ: Oh? http://t.co/N6w6kuH1Yo
41 minutes ago

tomhaberstroh

Tom Haberstroh


Miami 103, Indiana 102 | Heat Reaction grades: http://t.co/E0sfI5XIpI
45 minutes ago

ESPNNBA

The NBA on ESPN


Where was Roy Hibbert on final play? @KRambis breaks down the Heat's game-winning possession: http://t.co/b9kza5NunU
50 minutes ago

jadande

J.A. Adande


Unfortunately, that last time WAS the next time. RT @EthanJSkolnick: Vogel: "I would say we'll probably have him in next time."
54 minutes ago

WallaceNBA_ESPN

Michael Wallace


Pacers coach Frank Vogel: "It's the (matchup) dilemma that they present. We'd probably have (Hibbert) in next time."
about an hour ago

coachthorpe

david b. thorpe


Marvin Webster (RIP) was the Human Eraser. Hibbert is Roboeraser. In fact he erases shots that don't even get taken.
about an hour ago

RoyceWebb

Royce Webb, ESPN NBA


Vogel should say it was just another layup.
about an hour ago

WallaceNBA_ESPN

Michael Wallace


The irony. Right before game, Vogel said he doesn't adjust to other team's adjustments. Removing Hibbert seemed a rather big adjustment.
about an hour ago

tomhaberstroh

Tom Haberstroh


RT @johnschuhmann: Heat took 11 mid-range shots in the first quarter & 13 the rest of the game. #HEATvPACERS
about an hour ago

RoyceWebb

Royce Webb, ESPN NBA


Have I got this right: There are no more centers in the NBA and the Pacers should've played theirs.
about an hour ago

WallaceNBA_ESPN

Michael Wallace


Spoelstra on LeBron's 30-10-10 triple-double: "He has an all-everything role for us. And this is the norm."
about an hour ago

ESPNChrisPalmer

chris palmer


LeBron James gets the first 30-pt, 10-reb, 10-ast, 3-blk playoff game in 27 years.
about an hour ago

truehooptv

TrueHoop TV


If I were coach, I would have deployed the "no way James gets the ball" play.
about an hour ago

ESPNChrisPalmer

chris palmer


LeBron's lack of reaction was the best part about his game winner.
about an hour ago
MORE FROM ESPN DALLAS

Check out the new ESPN Dallas, the place for your local Dallas sports coverage.
ESPN.COM PARTNER: NBA.COM