Source: Bosh-Raptors deal losing luster
Updated:
July 3, 2010, 11:34 PM ET
By
J.A. Adande
| ESPN.com
Wherever Chris Bosh heads next, he'll likely have to do so on his own -- and at a slightly discounted rate.
The Toronto Raptors have become increasingly disenchanted with the idea of helping Bosh obtain a maximum contract via a sign-and-trade deal, according to a league source.
Because of the higher annual raises and additional year a "home" team can offer its own player, Bosh could make $125.5 million over six years if he re-signed with the Raptors and they moved him elsewhere; he could make $96.1 million over five years by signing outright with another team.
The difference in the first five years of the deal would amount to $4 million.
Adande: Doom Motivating Many

It's no secret that this year's free-agent actions are being driven in large part by the threat of a locked-out 2011, ESPN.com's J.A. Adande writes. Story
Sign-and-trades allow for players to obtain the most money while their old team benefits by at least getting some assets in return.
The right combination of players, manageable contracts, draft picks and a trade exception could have enticed the Raptors to accommodate Bosh.
The Houston Rockets, Dallas Mavericks, San Antonio Spurs, Cleveland Cavaliers and New York Knicks are believed to have submitted trade proposals for Bosh to the Raptors, and apparently none has impressed Toronto.
Bosh's Twitterization of the courting process, which included several tweets of anticipation leading up to the July 1 commencement of free agency, didn't sit well with the Raptors either, the source said.
Bosh met with the Rockets and Raptors at the onset of the free-agent market and during the past two days met with the Miami Heat, New Jersey Nets, New York Knicks and Chicago Bulls at the Chicago office of his agent, Henry Thomas.
The philosophical change on the Raptors' part restricts Bosh's choices to the teams with sufficient salary cap space to offer a max contract: the Bulls, Clippers, Heat, Knicks and Nets.
It also hampers teams who hoped to acquire Bosh via trade while preserving their cap space to use on another player or players.
According to the source, Bosh, Dwyane Wade and LeBron James are still intrigued by the possibility of all playing together, be it in Miami, Chicago or elsewhere.
J.A. Adande is a senior NBA writer for ESPN.com.
ESPN.com senior writer since 2007
Around The Horn panelist
Formerly at Los Angeles Times
2010 NBA Free Agency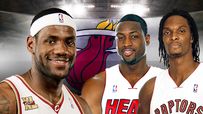 Follow ESPN's NBA coverage on Twitter
LATEST CONTENT
HEAT ADD LeBRON TO WADE, BOSH
KNICKS GET AMARE, TRADE LEE
BULLS LAND BOOZER
JOHNSON RE-UPS WITH HAWKS
DIRK, PIERCE RE-SIGN
MORE FROM ESPN NEW YORK

Check out ESPN New York, your destination for sports coverage in the Big Apple.
MORE FROM ESPN DALLAS

Check out ESPN Dallas, the place for your local Dallas sports coverage.
MOST SENT STORIES ON ESPN.COM
ESPN.COM PARTNER: NBA.COM