Lacob, Guber have deal to buy Warriors
Updated:
July 16, 2010, 7:57 AM ET
ESPN.com news services
OAKLAND, Calif. -- Golden State Warriors owner Chris Cohan reached an agreement Thursday to sell the franchise for a record $450 million to Boston Celtics minority partner Joe Lacob and Mandalay Entertainment CEO Peter Guber.
"I am incredibly excited to have the opportunity to be the next steward of this storied NBA franchise. This is my dream come true," said Lacob, who is also the managing partner with Kleiner Perkins Caufield & Byers. "Peter and I intend to do what we do best -- innovating and building. It is our passion to return the Warriors to greatness and build nothing short of a championship organization that will make all of us in the Bay Area proud."
"

Peter and I intend to do what we do best -- innovating and building. It is our passion to return the Warriors to greatness.

"

-- Joe Lacob, who with Peter Guber reached agreement to buy the team
Lacob and Guber beat out three other finalists, including Oracle CEO Larry Ellison, who had been considered the favorite to buy the team from Cohan. Ellison has a personal fortune of $28 billion, according to an annual survey by Forbes magazine, and is the sixth-richest man in the world.
He had been courted by Warriors fans at a game earlier this year to buy the struggling franchise, which has made the playoffs only once in the past 16 seasons. Ellison said in a statement that he was surprised he did not win because he made the biggest offer.
"Although I was the highest bidder, Chris Cohan decided to sell to someone else," he said. "In my experience this is a bit unusual. Nonetheless, I wish the Warriors and their fans nothing but success under their new ownership."
Sal Galatioto, the president of Galatioto Sports Partners, which advised Cohan on the sale, said a handshake agreement with Lacob and Guber was agreed to about two weeks ago. The team had four offers of at least $400 million at the time of the deadline.
While the two sides worked out the details, Ellison came back with what Galatioto described as a "marginally higher" offer just hours before the signing.
"He was way past the deadline," Galatioto said. "There was no way I was going to recommend that bid to Chris. ... Once the shot clock expires, are you allowed to get back on the court and have it count? I don't think so."
A league source told ESPN.com's J.A. Adande that Ellison had no one to blame but himself.
"Everybody knows he can afford more than $450 [million]," the source said. "We all know Larry Ellison can buy any team in the league.
"If you know Larry Ellison as a businessman, if you see he paid $6 milion for a company it probably was worth $8 billion. He doesn't pay what people want."
The bid from Lacob and Guber broke the record for the largest sale in league history, topping the $401 million Robert Sarver paid to buy the Phoenix Suns in 2004.
The deal still needs to be approved by three-quarters of the NBA Board of Governors. Lacob also must sell his interest in the Celtics. Galatioto said he expects the deal to be finalized by the end of September.
Lacob, who has been a season-ticket holder for the Warriors, was part of the ownership group with the Celtics when they won their 17th championship two years ago. He has also been involved in sports websites and was the primary investor in the women's American Basketball League in venture capital.
Guber is a producer who helped bring movies such as "Rain Man," "Batman," "Flashdance" and "The Color Purple" to the screen. In 1995, he founded the Mandalay Entertainment Group with partner Paul Schaeffer, who will also be an owner of the team. Mandalay has financed, produced and distributed numerous motion pictures including "Donnie Brasco," "Enemy at the Gates" and "Seven Years in Tibet."
Abbott: Researching The Owners
Just who are Joe Lacob and Peter Gruber? Henry Abbott explores the new duo behind the Golden State Warriors. TrueHoop
Cohan has had financial problems. In 2007, the Internal Revenue Service said he owed more than $160 million in back income taxes and penalties from the 1998 sale of a cable television company.
Cohan bought the Warriors in January 1995 for about $119 million and the team made the playoffs just once in his entire tenure. The only other franchises that have been in the league since then to make the playoffs fewer than five times are the Los Angeles Clippers with two appearances and the Memphis/Vancouver Grizzlies with three.
The one playoff berth came in 2007, when the Warriors became the first No. 8 seed to beat the top seed in a best-of-seven series. Golden State lost to Utah in the following round and failed to make the playoffs in 2008 despite winning 48 games. The Warriors have reverted to form the past two seasons with 55 total wins in that span.
But despite the long run of on-court struggles, Golden State has a passionate fan base that has helped pack Oracle Arena in recent years and made the team a desirable target for a new owner.
Cohan thanked the Warriors fans, calling them the "best fans in all of sports."
One of the first major decisions the new owners will have to make is whether to keep the Warriors management team in place. Coach Don Nelson has one year and $6 million remaining on his contract. President Robert Rowell and general manager Larry Riley also could be replaced.
ESPN.com's J.A. Adande and The Associated Press contributed to this report.
SPONSORED HEADLINES
MORE NBA HEADLINES
MOST SENT STORIES ON ESPN.COM
The NBA On ESPN.com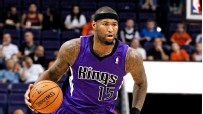 Follow the NBA on ESPN:
Twitter / Facebook / Google+
LATEST CONTENT
REGULAR FEATURES
tomhaberstroh

Tom Haberstroh


Single-game plus/minus isn't predictive, but the Grizzlies were -22 in 19 mins w/ Tony Allen and Z-Bo on court in Gm 1. Something to watch.
6 minutes ago

tomhaberstroh

Tom Haberstroh


Like @sepinwall, I'm fighting the urge to tap dance while I write this morning.
about an hour ago

kpelton

Kevin Pelton


I liked this murder mystery show more when it was an episode of Saved By the Bell.
about 7 hours ago

ESPNChrisPalmer

chris palmer


Kobe Bryant announces he's teaming up with @sportspec to eradicate homelessness.
about 8 hours ago

ESPNChrisPalmer

chris palmer


Nike's new ad campaign: We Are All Waiting #countonkobe
about 8 hours ago

ESPNChrisPalmer

chris palmer


Don't worry Kobe's not retiring. First ballot Hall-of-Famers don't retire via closed circuit Internet feed.
about 9 hours ago

ESPNSteinLine

Marc Stein


May 19 belongs to my bro Big O & Jess. Year ago today their little warrior was born. Jacob tragically here just 11 days but with us FOREVER
about 9 hours ago

ESPNChrisPalmer

chris palmer


Waiting for Kobe's special announcement. His helicopter must be stuck in traffic.
about 9 hours ago

ESPNSteinLine

Marc Stein


RT @AllonSinai: Dudi Sela to re-enter world's top 100 tomorrow after winning Challenger tourney in Busan, South Korea (No. 88 TO BE EXACT!)
about 9 hours ago

ESPNSteinLine

Marc Stein


After Game 1 in SA in 2011, Z-Bo got a new contract. After Game 1 here in 2013, Z-Bo was moved to apologize. Column: http://t.co/Q7LGTwJzVu
about 10 hours ago

jadande

J.A. Adande


RT @RealTzaddi NOTHING is worse than what they did to Theon last week. Kill me instead. Hell kill me twice instead."
about 11 hours ago

jadande

J.A. Adande


Can't get worse than last week tho RT @RichelleCarey Lemme guess: Theon gets tortured some more tonight. That's a safe bet this season #GOT
about 11 hours ago

jadande

J.A. Adande


No glove though, so some dignity preserved RT @CSNChicago: #Cubs fan misses homer, gets beer poured on him: http://t.co/dIYRdO68dw
about 11 hours ago

ESPNSteinLine

Marc Stein


Could Sterling have been in San Antonio on other business, on a Sunday, two rounds after Clips eliminated? If so, that's a first for him
about 12 hours ago

ESPNSteinLine

Marc Stein


Clips, I'm told, have NOT asked to interview Spurs' in-demand Mike Budenholzer. Suggests Sterling was thus scouting free agent-to-be Hollins
about 12 hours ago

ESPNSteinLine

Marc Stein


Hottest theory circulating here in San Antonio is that Donald Sterling was at Game 1 sitting across from Grizz bench to scout Lionel Hollins
about 12 hours ago

RoyceWebb

Royce Webb, ESPN NBA


RT @DeanO_ESPN: 1st G of a playoff series often about adv scouting. Then plyrs know better & coaches adjust.
about 13 hours ago

ESPNNBA

The NBA on ESPN


"[Popovich] is playing a level of chess that no one else is playing."- @RealMikeWilbon. #NBACountdown crew on Game 1: http://t.co/bPNv73mv4V
about 13 hours ago

JustinVerrier

Justin Verrier


Free celebration idea: Three-periscope.
about 13 hours ago

JustinVerrier

Justin Verrier


I support this. RT @DanWoikeSports @talkhoops you're a hairier Mr. Peanut
about 13 hours ago
MORE FROM ESPN BOSTON

Check out the new ESPN Boston, the place for your local Boston sports coverage.
ESPN.COM PARTNER: NBA.COM