Heat are in demand -- and then some
Updated:
July 22, 2010, 11:02 AM ET
ESPN.com news services
MIAMI -- The Miami Heat continue to do boffo box office. And to think, the NBA season is still more than three months away.
The waiting list for Miami season tickets is growing rapidly, fans willing to pay a nonrefundable $100 fee to join. The NBA says the Heat are tops in merchandise sales, with LeBron James, Dwyane Wade and Chris Bosh having three of the five best-selling jerseys. Businesses all over South Florida are trying to cash in on the act, with everything from a LeBron Burger to a "Heat Suite" replete with a Ferrari rental now available.
When Eric Woolworth, the Heat's president of business operations, goes out in public wearing a short-sleeve polo emblazoned with the Heat insignia, he says he gets accosted by the team's fans.
"You can't go out to eat or to a supermarket. You know, everybody wants to talk to you about what's going on. It's crazy," Woolworth said.
This is a problem the Heat are thrilled to have.
When Bosh and Wade made simultaneous announcements on July 7 that they would be teammates in Miami, followed by James' decision that lured 10 million television viewers and worldwide attention one night later, Heatmania became an instant phenomenon in the sports business world.
"We are playing in a different sandbox now," Woolworth said.
Indeed, the impact -- social and financial, on-court and off-court -- James, Wade and Bosh may end up having together in their newly formed supertrio is already becoming apparent. Some estimate their collective financial impact on South Florida could exceed $1 billion, not even taking into account the $329 million in playing contracts they have with Miami through 2016.
"What this is going to bring to the city of Miami, what winning brings period, what excitement brings, is togetherness," Wade said. "Everyone wants to be together. Everyone wants to be a part of it. People are going to come. They're going to flock to Miami."
Hungry? The LeBron Burger has been added to the menu at OneBurger in Coral Gables. It starts with Kobe beef (a nod to Los Angeles Lakers' star Kobe Bryant, the leader of the two-time reigning NBA champions), with Swiss cheese, an onion ring (think championship ring) and jalapenos (for heat, er, the Heat).
Stressed? Get the "LeBroyal Treatment" for $149 at Seven Seas Aveda Spa & Salon at the Newport Beachside Hotel, a collection of six items, an homage to James' new jersey. It features a massage, manicure, personal training session, jet-ski rental, gift package and to top it off, a six-pack of beer.
The epicenter of Heatmania, of course, is the team's downtown arena.
By the time James chose Miami, the entire available allotment of Heat season tickets was gone (some corporate plans remain, as do seats held back for single-game and other plans). Phone banks at the arena were overloaded by callers, the team website saw a giant surge in traffic, people stop by daily at the ticket windows asking for information on when single-game tickets will be available, and even the Summer Groove charity series of events hosted by Wade and Alonzo Mourning saw a huge spike in sales, undoubtedly because of all the Heat buzz.
"At the beginning of July, while Wimbledon is going on and the World Cup is going on and baseball season's in full swing, the NBA is dominating headlines around the world," Woolworth said. "And in a city like Miami, it absolutely takes over everything. The news, the business news, the local news, the front page, the back page, the lifestyles section, everything is now about the Miami Heat."
It's similar to what hit Miami in 2004, when the Heat acquired Shaquille O'Neal. Two years later, Miami won its lone NBA championship.
The building was sold out every night back then as well, just as it will be this year. But the Heat will do things a bit differently this time around, Woolworth said. Through partial-season plans, single-game offerings and other initiatives, the Heat hope to attract a different crowd for each of their 41 regular-season home contests, instead of the same 19,600 faces every night.
"We know the interest is clearly out there," Woolworth said.
Information from The Associated Press was used in this report.
2010 NBA Free Agency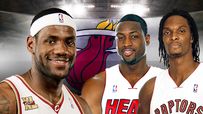 Follow ESPN's NBA coverage on Twitter
LATEST CONTENT
HEAT ADD LeBRON TO WADE, BOSH
KNICKS GET AMARE, TRADE LEE
BULLS LAND BOOZER
JOHNSON RE-UPS WITH HAWKS
DIRK, PIERCE RE-SIGN
Adidas Youth Cleveland Cavaliers Lebron James #23 Road Burgundy Swingman Jersey Shop »

MOST SENT STORIES ON ESPN.COM