Commentary
Editor's choice: Spencer Hawes
Our guest editor said Spencer Hawes would be a good story subject. We listened.
Updated:
July 29, 2010, 4:31 PM ET
By
Spencer Hawes (as told to Elena Bergeron)
| ESPN The Magazine
This article appears in the Aug. 9 issue of ESPN The Magazine.
Ron Artest has been vexed by one issue for years: What motivates an upper-middle-class kid like Spencer Hawes to hustle his way into the NBA?
To be honest, that question about Hawes and his 9-and-6 impact hadn't exactly kept us up nights. After tracking down the 7'1'' center as he prepped for his fourth NBA season, we had another query: Why hadn't we talked to the new Sixer sooner?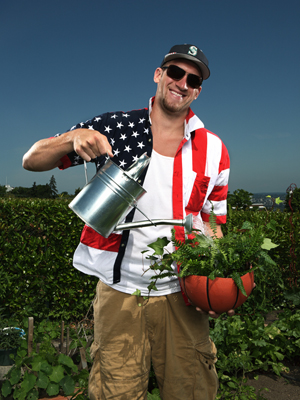 Olugbenro Ogunsemore for ESPN The MagazineHawes was Sacramento's first pick (10th overall), in 2007, but he'll clog the middle for the Sixers now.
"I'd guess Ron has had this question since we were teammates when I was a rookie with the Kings in 2007. He came to my parents' house for dinner when we were in Seattle to play the Sonics. Now, our house is nice, but it wouldn't be on Cribs or anything. When we walked up the driveway, I think he was really taken aback by the view of Lake Union. But other than that, it's a normal two-story house with a basketball goal in the driveway. My old room is in the basement. There's a couch, pictures of players cut out of magazines on the walls, some of my favorite basketball jerseys. My mom made pot roast and pasta. She still remembers that because Ron told her it was the first time he'd ever had pot roast.
"Ron and I have had talks about how we got to the NBA, so I know he grew up in Queensbridge, in New York City, and that is what motivated him to work as hard as he does. I've met other players at every level who were pushed the same way. I just don't think that's the only reason guys work hard. For me, working out or trying to get better really just comes down to loving basketball. When you're motivated by enjoyment and you're out there because there's nothing else you'd rather be doing, it's different from playing because you have no other options. I think it's been good for me, actually, because when you're only financially motivated, getting that first contract might be enough. And then you may stop pushing.
"One thing I can say about growing up is that basketball wasn't something my parents or anyone else forced me to do. Once I outgrew the height requirement for fighter pilots, playing basketball was my first choice. I grew up playing football, soccer and other sports, but when I realized I could be really good at basketball, it was a matter of focusing to see how far I could go.
"I haven't really thought about it before, but I suppose my work ethic comes from watching my dad, Jeff. He played at Washington, and my uncle, Steve, played in the NBA for 10 years. My dad's now a produce distributor, which is the family business. When I was growing up, he'd go to work at 6 a.m. so he could do business at the same time as brokers on the East Coast. I'd get ready to go to school, and he'd have already been working for hours. Seeing that let me know how important it is to have a routine. I don't get up until around 10, but within an hour I like to be in the gym. I take a break after that, eat, then head back to work out again.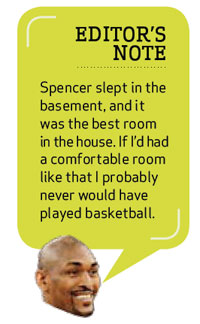 "That's another thing. Even though I was a high school All-America and got recruited and all, none of that was ever a given. I wasn't on the prep scene in the fourth grade like some guys. I averaged six points a game as a freshman on the JV team. When I finally did make it onto a travel team the next year, the first tournament I played in, our point guard, Mitch Johnson, fed me for a wide-open dunk and I missed it. He lit into me so bad; all the way down the court and back he was just yelling at me: 'How can you miss that? You shouldn't even be on the court!' Stuff like that. He just really tore into me. I never wanted to feel like that again. Pretty much from that moment on, I worked out so I could be better, so I wouldn't let my teammates down. When you see yourself improving and being able to do new things, that's what makes the game exciting.
"Growing up in Seattle helped too. I went to a lot of Sonics games. Being able to see all the stars was huge for me. I was always a big fan of Tim Duncan's and the way he was able to move. You can never really appreciate what guys like that are doing on the court until you see it for yourself, and when you see that you're capable of some of those things, it really changes the way you look at the game. You start to think about what it would take to compete with those stars.
"I came up playing with guys like Martell Webster, Jon Brockman, Brandon Roy, Terrence Williams, Micah Downs. Any given day in the summer you might be in the gym and see Jamal Crawford or Nate Robinson. It's just a really cool scene to be a part of and to have that bond with other players. When I'm home there are usually two or three days in the week when I'm at the Rainier Vista Boys & Girls Club working out. I talk to those guys or try to give advice to the younger kids. There's a culture of Seattle-area players helping to develop one another.
"I hope this answers Ron's question."
Elena Bergeron is a staff writer for ESPN The Magazine.
ESPN The Magazine: August 09, 2010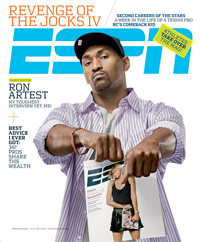 Check out the content from ESPN The Magazine's August 09, 2010 issue below.
Features
Videos

MOST SENT STORIES ON ESPN.COM