Kevin Johnson lobbying NBA owners
Updated:
April 14, 2011, 7:03 PM ET
Associated Press
NEW YORK -- Sacramento Mayor Kevin Johnson watched part of the Kings' season finale, then flew overnight across the country to meet with NBA owners.
His goal: Make sure that wasn't the last NBA game in California's state capital.
"We felt very strongly that the Sacramento Kings were worth fighting for. And if anybody thinks that we're going to sit on our hands and roll over and just let somebody leave without putting up a good fight, they'd be gravely mistaken," Johnson said Thursday after a presentation in front of NBA owners.
Kings owners Joe and Gavin Maloof are considering a move to Anaheim and must file a relocation application with the league by Monday. The league's owners are meeting in New York the next two days, and Johnson followed the Maloof group in speaking to them Thursday.
Mark Kreidler: A Farewell To Kings

Kings fans knew this day was coming -- the day their team played what likely was its last game in Sacramento. But it still felt like a sucker punch, writes Mark Kreidler. Story
Johnson said he hopes the Maloofs choose to stay, but if not there was an ownership group headed by Pittsburgh Penguins co-owner Ron Burkle that would be interested in purchasing the team from them or buying another team to move to Sacramento.
"We totally acknowledge that it's the Maloofs' decision as business owners to determine if it's in their best interests to go to Anaheim or stay in Sacramento," Johnson said. "I think we presented the alternative in that it makes sense to stay in Sacramento."
The Maloofs already have made one thing clear.
"The Maloofs are not going to sell the team," Kings spokesman Troy Hanson said.
Johnson stressed the viability of the Sacramento market to the owners and reminded them of the Kings' success in the city over the last 26 years. A former NBA All-Star, Johnson compared his adrenaline when he got dressed Thursday to that of a postseason game.
He revealed to the owners more than $7 million in corporate participation that he said was identified in less than a week and reiterated the city's commitment to building a new entertainment complex to replace the Power Balance Pavilion, whether the Kings remained to play in it or not.
"So for anybody that has concern, even in a down market, a down economy, that we as a community can't step up to a higher level in the 2011-12 season, they would be mistaken and we have to demonstrate that," Johnson said before the meeting.
Darius Anderson of the Anderson Burkle Group said Burkle's interest proves that. Johnson said the owners asked and were assured that Burkle's group would not seek to move the team.
[+] Enlarge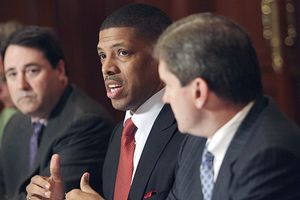 AP Photo/Mary AltafferSacramento mayor Kevin Johnson, center, was joined in his pitch to NBA owners by ICON group president Tim Romani, right, who is performing a feasibility study for a new arena, and Darius Anderson, left, who is part of a new potential ownership group.
"If this new ownership group comes to Sacramento, we will have a winning team. No doubt about it," Anderson said. "Ron knows how to win, he won the Stanley Cup two years ago, and he's made that same commitment going forward."
Johnson said the Kings sold out in 19 of their 26 seasons in Sacramento, adding that "I don't believe the grass is greener in Anaheim than it is in Sacramento."
"Fans mean something. Fans are the texture and the heart and soul of the NBA," Johnson said. "That's No. 1. No. 2, we are a top-20 TV market, so I want to remind and maybe dispel some of the concerns that people have with the Sacramento market. It is a viable market."
But the former Arco Arena is outdated, so the Maloof brothers have begun exploring the move to Southern California. The Honda Center, which hosted the NCAA tournament's West Regional finals, has amenities that Sacramento's building lacks.
The arena situation in Sacramento has long been a concern in the NBA, and Commissioner David Stern has expressed less optimism seemingly each time he's been asked over the last few years. Yet it's the league's owners who will determine if the Maloofs can move, and a majority of them would have to approve the application.
They could also seek to establish a severe relocation fee penalty that could make the Maloofs reconsider.
Sacramento's pitch also included a report from Tim Romani, president and CEO of the ICON group, which is performing a feasibility study for a new arena that he said should be completed by the end of May. However, he did say the financing for the project was not fully determined.
But Burkle led the drive for a new arena in Pittsburgh, and Johnson's team believes he could be the key to saving pro basketball in Sacramento.
"We built a very compelling case to the NBA today," Johnson said.

Copyright 2011 by The Associated Press
EDITORS' PICKS
D12's back for the Rockets, backing the Beard.
Watkins »

Why Durant is smart to go for surgery over heroism.
Adande »

Fitting in is Jeremy Lin's biggest challenge now.
Torre »
MORE FROM ESPN LOS ANGELES

Check out the new ESPN Los Angeles, the place for your local Los Angeles sports coverage.
MOST SENT STORIES ON ESPN.COM