Derrick Rose tops All-NBA first team
Updated:
May 13, 2011, 5:42 PM ET
ESPN.com news services
It's no shock that five playoff teams have players on the 2010-11 All-NBA first team.
League MVP Derrick Rose made the squad after leading the Chicago Bulls to the best record in the NBA and into the Eastern Conference semifinals.
More On The Bulls

Can't get enough NBA news and notes? ESPNChicago.com has all the latest on the Bulls. Blog
LeBron James, who has led the Miami Heat into the East finals, was the lone unanimous choice.
The Lakers' Kobe Bryant, the Thunder's Kevin Durant and the Magic's Dwight Howard also made the first team.
The Lakers and Magic have been eliminated from the playoffs, but Durant has the Thunder leading their Western Conference semifinal series against the Memphis Grizzlies 3-2.
It is the first All-NBA selection for Rose, who averaged 25 points, 7.7 assists and 4.1 rebounds this season. He was the only player in the top 10 in scoring and assists.
"It's an honor," Rose told ESPNChicago.com on Thursday.
Bulls coach Tom Thibodeau added: "We're thrilled for him. We're obviously very pleased. He certainly earned it. He's had a terrific season and you couldn't ask anything more of a player."
James was second in the league in scoring at 26.7 points a game, to go along with 7.5 rebounds and 7.0 assists a game.
Bryant earned his sixth straight All-NBA honor and ninth overall. He averaged 25.3 points, 5.1 rebounds and 4.7 assists.
HEAT INDEX

The defending champs are trying to three-peat. The Heat Index.
Howard, the NBA Defensive Player of the Year, made his fourth straight All-NBA team.
Durant made All-NBA for the second time after leading the league in scoring at 27.7 points a game to go with 6.8 rebounds.
A few playoff teams had multiple honorees as well. The Heat's Dwyane Wade made the second team, as did the Thunder's Russell Westbrook and the Lakers' Pau Gasol.
Dirk Nowitzki, who has the Dallas Mavericks in the West finals, made the second team, as did Amare Stoudemire of the New York Knicks.
The third team includes the Spurs' Manu Ginobili, the Hornets' Chris Paul, the Trail Blazers' LaMarcus Aldridge, the Grizzlies' Zach Randolph and the Hawks' Al Horford.
Information from ESPNChicago.com Bulls reporter Nick Friedell and The Associated Press was used in this report.
SPONSORED HEADLINES
MORE NBA HEADLINES
MOST SENT STORIES ON ESPN.COM
2011 NBA FINALS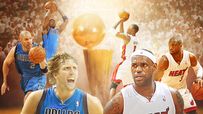 Follow the NBA on ESPN: Twitter / Facebook
LATEST CONTENT
MUST-READ
FEATURES
SERIES PAGES
ESPNNBA

NBA on ESPN


Watch: Tom Thibodeau discusses his decision to pull @drose early and insists Rose did not re-injure an injury: http://t.co/n27ZPDc9E7
about 5 hours ago

kpelton

Kevin Pelton


Enjoying Casey Jacobsen as a color analyst on @Pac12Networks. Sounds like he's done his homework.
about 5 hours ago

ESPNNBA

NBA on ESPN


Watch: With @drose watching the 2nd half, the @denvernuggets hand the @chicagobulls their 3rd loss in five games: http://t.co/ZdAXFZJYy0
about 6 hours ago

ESPNNBA

NBA on ESPN


Watch: A quick look at @JohnWall's impressive start to the season: http://t.co/eZuCxsnVh0
about 6 hours ago

ESPNNBA

NBA on ESPN


Watch: @boogiecousins explains why the @SacramentoKings beat the @PelicansNBA. http://t.co/u4hXFvwwnl
about 6 hours ago

ESPNNBA

NBA on ESPN


Watch: @NickFriedell discusses @drose leaving another game early with an injury, this time a tight left hamstring: http://t.co/G6WlgqT7Va
about 7 hours ago

ESPNNBA

NBA on ESPN


Meanwhile, @JimmyButler continues to shine for @chicagobulls with game-high 32 points, powered by 18-of-20 FT shooting, and 9 rebs. (2/2)
about 7 hours ago

ESPNNBA

NBA on ESPN


The @denvernuggets hold back the Rose-less @chicagobulls 114-109. @TyLawson3 (20 pts, 12 assts) and @arronafflalo (19 pts) lead DEN. (1/2)
about 7 hours ago

ESPNNBA

NBA on ESPN


Watch: Brandon Knight cites consistency for @Bucks' improvement. http://t.co/DOGjoNrXIi
about 7 hours ago

kpelton

Kevin Pelton


A suboptimal foul by Timofey Mozgov. The Jimmy Butler and-one means the Bulls don't have to foul.
about 7 hours ago

kpelton

Kevin Pelton


I think Ty Lawson might've just been allowed to let the ball upcourt before starting the clock farther than I've ever seen before.
about 7 hours ago

ESPNNBA

NBA on ESPN


Watch: @Bucks beat @DetroitPistons as O.J. Mayo (17 pts) makes his first start of the season. http://t.co/qFo5DEdfC9
about 7 hours ago

ESPNNBA

NBA on ESPN


Watch: @SacramentoKings win third straight, topping the @PelicansNBA behind @Casspi18 and @boogiecousins. http://t.co/cqxwqB32m3
about 7 hours ago

ESPNNBA

NBA on ESPN


.@drose played 10 minutes vs. @denvernuggets then left the game with left hamstring tightness, @NickFriedell reports: http://t.co/szg3fnBLY5
about 7 hours ago

ESPNNBA

NBA on ESPN


The @chicagobulls trail the @denvernuggets 86-76 heading into the 4Q. No Rose, no Noah but plenty of @JimmyButler, who has 21 points
about 7 hours ago

ESPNNBA

NBA on ESPN


Watch: After dropping 40 points on the @MiamiHEAT, @StephenCurry30 offers his thoughts on his @Warriors. http://t.co/cgWCyUVQNf
about 7 hours ago

tomhaberstroh

Tom Haberstroh


Chris Bosh was so messed up by Steph Curry's 40 tonight that he was calling him "Seth" in the postgame interviews.
about 7 hours ago

ESPNNBA

NBA on ESPN


Omri Casspi (22 pts) helps spark @SacramentoKings past the @PelicansNBA 99-89. @TyrekeEvans (22 pts) leads Pelicans.
about 7 hours ago

ESPNNBA

NBA on ESPN


Watch: @StephenCurry30 (40 pts, 8-11 3-pt.) and @warriors improve to 11-2 with 114-97 win in Miami. http://t.co/nv3El9wp6V
about 8 hours ago

ESPNNBA

NBA on ESPN


Brandon Knight (20 pts, 8 ast) leads @Bucks to 98-86 win over @DetroitPistons, pushing the Bucks to 8-7. @AndreDrummondd: 23 pts, 10 rebs.
about 8 hours ago