Pacers hire Frank Vogel as coach
Updated:
July 7, 2011, 1:48 PM ET
Associated Press
INDIANAPOLIS -- Frank Vogel played the waiting game to become head coach with the same confidence that made him a favorite of both fans and players during his half a season carrying the interim tag.
"They never told me I wasn't going to be the coach, so I just tried to carry myself like I was," the 38-year-old said Wednesday after the Indiana Pacers officially made him the coach.
Vogel took over for Jim O'Brien in the middle of last season, went 20-18 to close the regular season and led the team to its first playoff berth since 2006. He didn't worry about the interim tag until after the season ended.
"Once I took over, I really didn't have time to think about big-picture stuff," he said. "I was just trying to win the next day and make sure I was prepared the next day. Once it all ended, and I realized how close I was, it was just exciting, and I was just hopeful and trying to carry myself the right way."
Vogel takes over a team that has plenty of young talent, playoff experience and significant salary-cap space, should the labor situation get sorted out. Danny Granger, at 28, is the oldest starter. Roy Hibbert just finished his third year, point guard Darren Collison and forward Tyler Hansbrough were second-year players, and Paul George was a rookie. The team added local star George Hill in a draft-night trade.
[+] Enlarge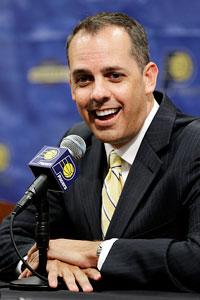 AP Photo/Darron CummingsFrank Vogel was rewarded for leading the Pacers to the playoffs with a full-time coaching job.
Pacers president Larry Bird made Vogel the favorite to get the job from the beginning of the search, then took his time making the decision official.
"As I stated after the season, I was in no hurry regarding the coach, mainly because I knew I had a good candidate in Frank," Bird said. "But we wanted to get through the draft, and I wanted to have numerous conversations with Frank about a staff that will cover all areas. I feel strongly he is doing that and this coaching staff, as a whole, will help this franchise continue to move forward."
Early in his tenure as interim coach, Vogel said Eastern Conference powers Boston, Miami and Orlando wouldn't want to play the Pacers when -- not if -- they made the playoffs. He introduced "smashmouth" ball -- an approach that focused on attacking the basket -- instead of O'Brien's perimeter-oriented game. He moved Hansbrough and George into the starting lineup and helped restore center Hibbert's confidence.
His team quickly bought into his approach and the changes.
"I really felt it build up right from the beginning," Vogel said. "I started implementing changes right away. I think there was a belief in what we were doing."
CHANGE OF PACE

Frank Vogel is advocating a 'smashmouth' game plan, considerably different to that of his predecessor, Jim O'Brien. The results are tangible, including a playoff berth last season, the Pacers' first since the 2005-2006 season.
| | O'Brien | Vogel |
| --- | --- | --- |
| W-L | 17-27 | 20-18 |
| FG pct. | 43.7 | 44.9 |
| FTA/Gm | 22.0 | 28.1 |
| PPG | 97.8 | 102.2 |
As the Pacers started winning, calls to remove Vogel's interim tag grew.
"I'm overwhelmed," he said. "Every person in this building has been supportive of me, and I'm very grateful for that. I'm grateful for the fan support, and I'm grateful for the relationships that I've built this year and continuing to grow them."
The Pacers played the Chicago Bulls in the first round of the playoffs, losing the series 4-1.
"You find out about people in tough times like that, high-stakes environments like that," Vogel said. "You never know what you're going to see. I was very excited about how this team performed in the playoffs."
Vogel said the playoff berth was an important part of setting up the team's future goals.
"Any team that's trying to reach an elite level just needs to feel it," he said. "You can hear all the stories in the world, but until you feel it, you can't really reap the rewards of taking that step. I think we did that this year."

Copyright 2011 by The Associated Press
EDITORS' PICKS
The Nets survived late heroics by Steph Curry to beat the Warriors on a game-winner by Jarrett Jack.
Recap

James Harden has been suspended one game for kicking LeBron James.
Story »

MOST SENT STORIES ON ESPN.COM