Commentary
Hansbrough aims to prove he belongs
Updated:
July 13, 2009, 11:44 PM ET
By
John Denton
| Special to ESPN.com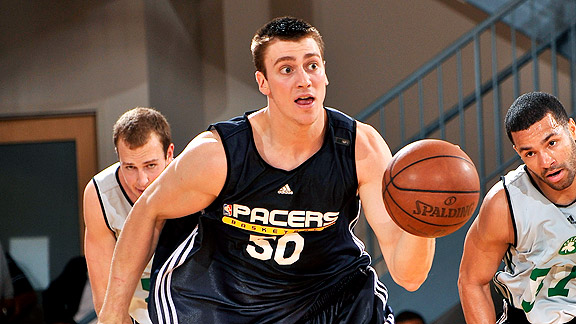 Fernando Medina/NBAE/Getty ImagesTyler Hansbrough led the Pacers to a 5-0 record in Orlando, averaging 18.2 points and 5.6 rebounds.

ORLANDO -- The mere questions about the questions surrounding Tyler Hansbrough's NBA readiness often result in a dismissive eye roll, a disgusted huff or a cold glare.
Compiling one of the most decorated résumés in college basketball history did little to stop many from wondering whether or not the high-energy power forward from the University of North Carolina could make it in the NBA. And assuredly a stellar performance in this week's Orlando Pro Summer League won't dismiss the popular opinion that Hansbrough is about to fall flat on his face at basketball's highest level.
Tired of all those questions and doubts, Hansbrough has basically given up the fight of trying to prove himself to others -- and he's usually not one to back down from a fight.
"I can probably score 30 points in an NBA game and someone will still question whether I can make it in this league or not,'' Hansbrough huffed. "But I'm really not out to satisfy other people.''
With all eyes on how he would fare against players with some NBA experience and other prized rookies, Hansbrough came up big this week. Not only did he lead the Indiana Pacers to the first-ever 5-0 record in the four-year history of the Orlando Summer League, he did it while averaging 18.2 points and 5.6 rebounds.
Pacers coach Jim O'Brien, the only head coach to work the sidelines during the camp, hoped that the performance would finally clear up some of the questions about Hansbrough's talents.
"It's borderline ridiculous," O'Brien said of the questions about Hansbrough's skills. "He's an energy guy who is going to be there 82 times a year, every time that he takes the floor. I'll take that any day."
Hansbrough left UNC as a four-time All-American and the all-time leading scorer of the Atlantic Coast Conference. He won national player of the year honors as a junior and a national championship as a senior.
And still, he fell to the 13th pick in the NBA draft, where the Pacers happily snagged him. Gushed O'Brien: "We coveted him all along, we kept our fingers crossed that he'd be there for us and we couldn't be happier with him.''
In his first summer-league game as a pro, Hansbrough had to be separated from Philadelphia's Marreese Speights, who trash-talked him after the two were tangled up under the boards. But he stayed in attack mode and scored 17 points. His aggressiveness on the low block, combined with his array of pump fakes and ability to get off shots from all angles, helped him get to the free throw line 48 times, where he made 40.
Of the incident with Speights, Hansbrough said: "I guess that's the way they approach rookies in this league, but I'm not going to back down. I'm going to keep playing my game, playing the way I play. I think [Speights] was just trying to get into my head, and that's OK.''
Hansbrough does have one especially high-profile backer in Pacers president/general manager Larry Bird. The legendary Hall of Famer was a fixture courtside in Orlando all week, and hasn't hesitated to offer up encouragement to his prized rookie. In Bird's eyes, he sees Hansbrough as a player in the mold of Dave Cowens, who made it to the Hall of Fame by combining his gangly athleticism with a bit of grit and plenty of hustle and muscle.
"I really think he's going to be all right,'' Bird said briefly earlier this week.
Hansbrough admitted that it's downright surreal taking advice from a player the caliber of Bird. He's promised Larry Legend he will work to make himself the best player he can be, the questions be darned.
"His advice, it's big,'' Hansbrough said of listening to Bird. "If you are going to listen to anybody you are going to listen to a legend. If you're not going to listen to him then you probably don't belong on a basketball court.''
---
Here's a look at the best of the rest from a week of summer league action in Orlando:
[+] Enlarge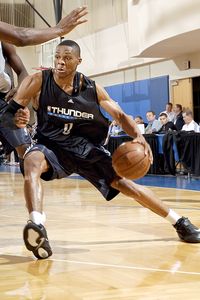 Fernando Medina/Getty ImagesRussell Westbrook led all players in both scoring (22.3 ppg) and assists (7.8) this week in Orlando.
BEST PLAYER: When Russell Westbrook was in Orlando last summer, he was mostly an afterthought as scouts, coaches, media and even players clamored to see 2008's top pick, Derrick Rose, square off against No. 2 pick Michael Beasley.
This summer, however, Westbrook had the stage all to himself with Rose not playing summer ball and Miami not fielding a team. And Westbrook proved himself to be far and away the best player in Orlando.
Westbrook led all players in both scoring (22.3 ppg) and assists (7.8), using his bulbous shoulders to dominate other smaller, younger point guards. As a sign of his ability to get just about anywhere he wanted on the court, Westbrook had the second-most free throw attempts of the week (40 attempts, 34 makes). He played under control for the most part, dispelling some of the questions about his ability to set up others with his passing.
Westbrook, who rested on Friday but will play again next week in the Vegas Summer League, said he's much more comfortable now after a rookie season that taught him he has to balance his aggressiveness with patience.
"I'm better at picking and choosing my spots now,'' Westbrook said. "It helps me out by slowing down and seeing all of the things that I missed last year. Things have slowed down for me and I'm seeing the game so much better now.''
BEST COMEBACK, PART I: Shaun Livingston showed brief flashes of being the breathtaking point guard who was once the fourth overall pick in the 2004 NBA draft, but for the most part he just tried to fit in on Oklahoma City's roster.
But considering what Livingston has been through the past 29 months, just being back out on the basketball court is a remarkable accomplishment.
Livingston, once thought to be the next Penny Hardaway because of his size and vision at the point guard position, shredded three of the four ligaments in his knee in February of 2007.
He sat out the rest of 2007, the entire 2007-08 season and finally made it back at the end of this season to play four NBA games with Miami and another eight with Oklahoma City. He averaged 9.7 points, 4.3 rebounds and 4.0 assists a game while playing out of position (he was at small forward alongside Westbrook and James Harden), but it was the thrill of being back on the court that was the most satisfying.
"Anytime something is your passion and it's taken away you appreciate it more when it's back,'' Livingston said. "It wasn't easy, but every day was a new day for me. If I would have looked at it like it was a two-year process, it might not have worked for me. I had small goals, but I didn't know what to expect.
"It's a victory just being back considering how severe the injury was,'' he continued. "But it's not over in my eyes. I'm a competitor and I still think I can play at a high level. Getting back here [in summer league] is just half the battle for me.''
---
[+] Enlarge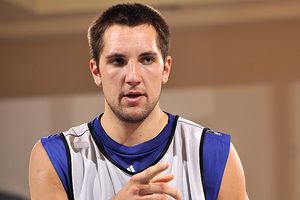 Fernando Medina/NBAE via Getty ImagesRyan Anderson averaged 21.4 points and a league-best 9.4 rebounds this week in Orlando.
NO THROW-IN:
Ryan Anderson
was mostly a forgotten man when he was included in the trade between the
Orlando Magic
and the
New Jersey Nets
that allowed eight-time All-Star
Vince Carter
to return to his roots in central Florida.
But when the Magic were pressed into including Courtney Lee in the Carter trade, Orlando countered by demanding the 6-foot-10, 240-pound Anderson in return.
As a sweet-shooting power forward with 3-point range, he fits perfectly into the Magic's system behind Rashard Lewis. And as he proved this week, Anderson has enough game to be a solid contributor in Orlando's rotation.
He averaged 21.4 points (second overall), 9.4 rebounds (first overall) and hit 12 3-pointers (second overall). Magic coach Stan Van Gundy raved about Anderson's fit with the team, his knack for grabbing offensive rebounds and his surprising toughness on the block.
Anderson delivered the best performance of the five-day league on Tuesday with 33 points and 14 rebounds. He made 12 of 15 shots, hit both of his 3-pointers, nailed all nine of his free throws and grabbed seven offensive boards. Most impressively, he beat defenders on the perimeter when guarded by bigger forwards and on the low block when facing smaller forwards.
Magic fans won't likely be forgetting Anderson anytime soon. Not that he minds it.
"Of course, this is a Vince Carter trade because he's a veteran in this league, an All-Star and a guy I look up to a lot. But for me, I don't feel overlooked at all because I know what the coach wants from me and he really likes me in this trade," Anderson said. "[Van Gundy] thinks I can fill a void, so I'm not looking at it like I'm overlooked. Also, I've always been overlooked my whole life, so it's not really something that bothers me."
---
ALL-LEAGUE TEAMS: Here are the all-league teams, as picked by Magic staffers Jason Wallace and Melanie Curtsinger:
First team: Oklahoma City's Westbrook and James Harden (14.8 ppg, 53.2 percent shooting); Indiana's Roy Hibbert (20.2 ppg, 9.0 rpg, 1.8 bpg) and Hansbrough (18.2 ppg, 5.6 rpg, 41 of 48 free throws); Orlando's Anderson.
Second team: Philadelphia's Marreese Speights (14.2 ppg, 6.6 rpg); Boston's J.R. Giddens (11.8 ppg, 4.2 rpg) and Nick Fazekas (13.4 ppg, 6.2 rpg); Orlando's Kasib Powell (14.8 ppg, 52.9 percent 3-point shooting); Oklahoma City's D.J. White (13.5 ppg, 56.1 percent shooting).
(Note: Hibbert was easily the most improved player from last summer to this one. Better conditioning and added strength made the 7-foot-3 center a force inside -- against summer league competition, at least.)
---
BEST COMEBACK, PART II: Former University of Tennessee guard Chris Lofton might have shot his way into the Boston Celtics' training camp with a dazzling display from beyond the 3-point arc this week. He made six of eight tries on Thursday and finished with 15 3-pointers for the week, an Orlando Summer League record.
"What I have been known for is shooting 3s and I practiced a lot to get ready for this week," Lofton said. "Boston gave me an opportunity. They told me to come off screens and shoot when I'm open and that's what I tried to do."
A spot on an NBA roster is where many felt Lofton would be after starring for the Vols the first three years of his college career. But he mysteriously slumped his senior season and wasn't picked in the 2008 NBA draft.
Lofton, a quiet, unassuming type, found out two days after his junior season that he had testicular cancer and he kept the illness to himself while undergoing treatments throughout his senior season.
"It was a tough time for me. When you go through something like that it drains you mentally and physically," the 6-foot-2 Lofton said. "But I was able to get through it and stay positive. God helped me."
He played last year in Turkey, scoring 61 points in one game in which he made a remarkable 17 of 22 3-pointers and 47 points in another game when he made 13 3s.
Lofton was thought to be an afterthought on the Celtics' roster in this camp, but he got his chance to shine when second-round pick Lester Hudson fractured the index finger on his left hand and was sent back to Boston. Lofton hopes now he showed enough to earn an invite to camp in October.
---
WORST IDEA: With the sluggish economy affecting even NBA teams, several franchises opted not to field summer-league squads. And then there are the Philadelphia 76ers and the New Jersey Nets, who decided to share a team together.
New Philly coach Eddie Jordan said from the start that he didn't like the idea because he felt strange barking out orders to players on the Nets' roster. And the players weren't nearly as diplomatic about the decision for a split squad.
"It doesn't really benefit you at all to go out and play with guys who aren't going to be your teammates when the season starts,'' said New Jersey's Terrence Williams, the No. 11 overall pick of the NBA draft. "You get used to a guy's game, but at the end of the day it doesn't matter because you aren't going to be playing with them anyway.''
The Philly/New Jersey squad was the worst one of the summer league, going 0-5. Speights underachieved badly, while Williams and Philadelphia rookie Jrue Holiday struggled with turnovers.
John Denton is a regular contributor to ESPN.com.
2009 SUMMER LEAGUE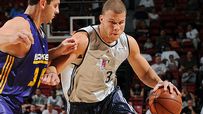 ANALYSIS
VEGAS
ORLANDO