Griffin tallies double-double in debut
Updated:
July 13, 2009, 11:18 PM ET
Courtesy of NBA.com
LAS VEGAS -- The Los Angeles Clippers defeated the Los Angeles Lakers, 93-82, in the first of two games in the NBA Summer League presented by EA SPORTS at the Thomas and Mack Center in Las Vegas tonight.
The Clippers never trailed in the contest as Blake Griffin (27 points and 12 rebounds), the first overall selection in last month's NBA Draft, began his professional career as a Clipper with a bang, scoring the team's first six points and going six-of-six from the field in the game's first two quarters. He finished the half with 16 points, while teammate Eric Gordon tallied 11. The Clippers took a 47-36 lead into the halftime break.
"I just felt good out there," said Griffin of his debut. "I felt completely comfortable out there - the five practices we had gave me the chance to make me feel really comfortable."
Griffin and the Clippers continued to dominate out of the break as he scored nine points while Gordon and Nik Caner-Medley got into the action dropping 10 and eight points in the second half, respectively.
Adam Morrison, who scored a team-high 20 points, and the Lakers outscored the Clippers 30-22 in the final quarter, but the run wasn't enough as the battle for Southern California NBA supremacy ended in the Clippers favor. • Complete coverage at NBA.com | Schedule
2009 SUMMER LEAGUE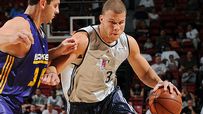 ANALYSIS
VEGAS
ORLANDO