5-on-5: Knicks or Nets run New York?
Originally Published:
March 30, 2011
ESPN.com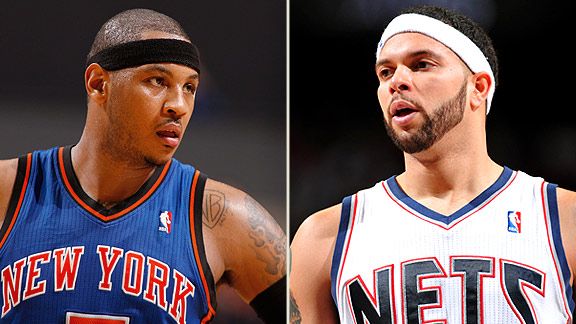 Getty ImagesMelo makes two stars in New York ... but the Nets' D-Will may be the brightest of all in metro area.
Who has the heart of New York City?
Our five writers from the New York/New Jersey area discuss five hot-button topics before Wednesday's clash between the Knicks and Nets on Broadway (7:30 p.m. ET, ESPN).
1. Fact or Fiction: The Knicks are broken.
Brian Cronin, Knickerblogger: Fact. The Knicks are currently running two divergent offenses, depending on who has the ball. Chauncey Billups and Carmelo Anthony are running isolations, and Amare and the rest of the team are running "Seven Seconds or Less." Unlike Humpty Dumpty, though, time can likely fix this problem.
Caleb Hellerman, Knickerblogger: Fact. Beating Orlando, which was sans Jameer Nelson, at home in OT doesn't fix them. In the Melozoic Era, the Knicks are 2-8 against losing teams. Their ray of hope is that they won't see Cleveland in the playoffs.
Devin Kharpertian, Nets Are Scorching: Fiction. The Knicks haven't been doing particularly well, that's obvious. But they've still got a foundation with two stars that they can build upon. The hard part is out of the way. Find some key role players and another legitimate star (cough, Chris Paul) and they'll be instant contenders.
Sebastian Pruiti, NBA Playbook: Fact. Before Carmelo Anthony and Chauncey Billups arrived in New York, the Knicks were a run-and-gun team using the pick-and-roll with Amare Stoudemire very effectively. Currently, they are playing slower and the ball tends to stick in Anthony's hands, almost to the point that Stoudemire is starting to look uninterested on the offensive end.
Chris Sheridan, ESPN New York: Fiction. A better term would be "misconstructed." Broken implies it can't be fixed. But miscontructed means it can be tinkered with and tuned up. And with the Knicks, the tuneup is a process that will take another year or two to complete. In the meantime, the engine is running with knocks and pings, but still getting them where they need to go.
---
2. Fact or Fiction: The Knicks have better management than the Nets.
Brian Cronin, Knickerblogger: Fiction. So long as James Dolan is the Knicks' owner, the Knicks will always lose a management comparison (unless the other team is owned by Donald Sterling). Donnie Walsh is a better GM than Billy King in a vacuum, though.
[+] Enlarge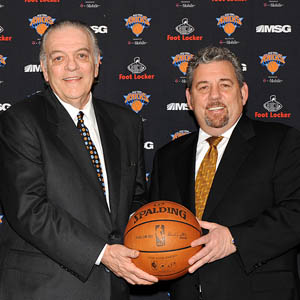 David Dow/NBAE/Getty ImagesDonnie Walsh has revitalized the Knicks after the Isiah era, but is James Dolan holding them back?
Caleb Hellerman, Knickerblogger: Fact (unless Isiah comes back). Resistible force meets movable object. Donnie Walsh might be the sharpest basketball mind in the metro area, but it looks like owner Jim Dolan big-footed him in the Melodrama -- joint statements notwithstanding. Still, the Prokhorov-era Nets can be summed up in two words: Travis Outlaw. Of course, that changes if Deron Williams re-ups by 2012.
Devin Kharpertian, Nets Are Scorching: Fiction. The Nets have a much better owner in Mikhail Prokhorov and a smarter GM in Billy King. At the trade deadline, the Nets gave up less -- and got a better player. Neither management is perfect by any means, but the Nets definitely have the advantage.
Sebastian Pruiti, NBA Playbook: Fact. Even though Mikhail Prokhorov looks like he could be a better owner than James Dolan in the long run, I am giving the edge to the Knicks because they currently employ Donnie Walsh, who did a fantastic job revamping the Knicks' roster, turning bloated contracts into Stoudemire, Anthony and Billups.
Chris Sheridan, ESPN New York: Fiction. Both management teams are using desperation tactics to make themselves relevant and respectable, and both have taken big gambles. Both also have eccentric owners, which can complicate the way the actual managers on the management team try to fulfill their goals. The jury is out on which team will succeed more quickly, but the Knicks have a head start.
---
3. Fact or Fiction: Deron Williams is the best player on the Nets or Knicks.
Brian Cronin, Knickerblogger: Fact. While you can't necessarily tell from his play in New Jersey so far, Williams essentially has the same strength as Melo and Amare (great scoring ability) and is also one of the best passers in the NBA. None of them will presumably ever make an All-Defensive Team, but Williams likely has the edge there, as well.
Caleb Hellerman, Knickerblogger: Fact. Although it's close. Amare Stoudemire would be No. 2.
Devin Kharpertian, Nets Are Scorching: Fact, if he can stay healthy. Williams is a game-changer. Unlike Carmelo Anthony or Amare Stoudemire, Williams impacts the game in multiple ways on both sides of the floor. The Nets will absolutely need more pieces to be competitive, but there's no doubt that Deron is the strongest building block.
Sebastian Pruiti, NBA Playbook: Fact. Unlike Amare Stoudemire and Carmelo Anthony, Deron Williams is able to do a number of different things. He is a very good scorer, but he also has an ability to make his teammates much better from the point guard position. I mean, just look at how poorly Brook Lopez has been playing since Williams has been out of the lineup due to injury.
Chris Sheridan, ESPN New York: Fiction. Carmelo Anthony is the best player on either team, and Amare Stoudemire is second. Williams may be the best point guard in the NBA not named Derrick Rose, but he cannot take over a game the way the other two can.
---
4. Fact or Fiction: D-Will should sign an extension with the Nets.
Brian Cronin, Knickerblogger: Fiction. Even forgetting the possibility of Williams signing with the Knicks to form their own Big Three to compete with the South Beach trio, I think there are likely greener pastures available to Williams in 2012 than being the man in Brooklyn. Now, if a certain big man from Orlando was in the mix, my opinion would be quite different.
[+] Enlarge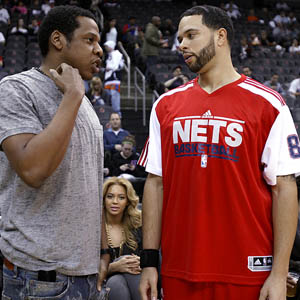 AP Photo/Julio CortezIt will likely take another superstar for Jay-Z and Nets ownership to convince Williams to stick around.
Caleb Hellerman, Knickerblogger: Fiction/Fact. Depends on who is answering the question.
If I'm D-Will, I'm saying: "Can Billy King sign anyone else (good)? Will the Brooklyn arena be ready before 2015? Will Brook Lopez ever average 10 rebounds a game?"
If I'm Mikhail Prokhorov, I'm saying, "Yes!"
Devin Kharpertian, Nets Are Scorching: Fact. Yes, I'm biased here, and the Nets will have to acquire better players -- even Williams has said that openly. If King and Prokhorov can convince a superstar like, say, Dwight Howard, to join forces with Williams in Brooklyn, he'll definitely sign on the dotted line. But if they come up empty-handed, there's no reason for Williams to stay.
Sebastian Pruiti, NBA Playbook: Fact. If Deron Williams signs an extension with the Nets, there will be a number of unique opportunities available to him.
First, with the new CBA in place, he probably can get the most money with the Nets. Second, Williams has a chance to be the first superstar of the new Brooklyn version of the franchise. Finally, with the Nets' cap situation, there is a good chance that the Nets can bring another superstar in to play alongside him.
Chris Sheridan, ESPN New York: Fact. The Nets want to make him the face of the franchise, and they will cater to his every whim a la LeBron in Cleveland. Williams will get max money, he will ply his trade in a supercool borough, and he can learn how to do a 360 on a jet ski like the owner.
---
5. Fact or Fiction: The Knicks should fire Mike D'Antoni.
Brian Cronin, Knickerblogger: Fiction. To paraphrase the great Rick Pitino, Phil Jackson is not walking through that door. And unless you're replacing D'Antoni with an obvious improvement like Jackson, I don't see the point in a lateral (at best) coaching move. I can totally see the benefit of forcing a defensive assistant like Mike Brown on D'Antoni, though.
Caleb Hellerman, Knickerblogger: Fiction. The problem is the roster. The D is horrible, but Tom Thibodeau couldn't change that. The O is ugly, but with Melo, the Knicks are neck and neck for best in the league. That said, when a team underachieves so publicly, the coach is in trouble. And don't get me started on his Jared Jeffries obsession...
Devin Kharpertian, Nets Are Scorching: Fiction. Who else would they get? D'Antoni has a free, open offensive system that works. Yes, he doesn't preach defense, but the team he has now wouldn't play defense under Tom Thibodeau. Stoudemire believes in the system and trusts his coach. Bringing in someone new could cause serious problems -- even more than they have now.
Sebastian Pruiti, NBA Playbook: Fiction. Mike D'Antoni took the Knicks job despite the poor roster and watched losses pile up on his record for two seasons. In return, the least the Knicks can do is give him a full season with Amare Stoudemire and Carmelo Anthony and let him try to build an offense around the two of them.
Chris Sheridan, ESPN New York: Fiction. D'Antoni has had only 20 games to work with the two max players the Knicks wanted to get when he and Donnie Walsh first came aboard in 2008. The coach should be judged on what he accomplishes next season, not this season.
Chris Sheridan is a senior writer for ESPN.com and ESPN New York.
Brian Cronin, Caleb Hellerman, Devin Kharpertian and Sebastian Pruiti are writers for the TrueHoop Network.
EDITORS' PICKS
Who's the NBA MVP? Our experts dissect a wide-open race.
5-on-5 »

PG a bad fit?

Does Michael Carter-Williams belong with the NBA's best sophomores?
David Thorpe

MOST SENT STORIES ON ESPN.COM