Commentary
Best of the Euroleague and NBA: Vlade Divac
Originally Published:
May 2, 2008
By
Ian Whittell
| Special to ESPN.com
Click the pics below to read the bios of our top 12 Euroleague/NBA stars.
| | | | | | |
| --- | --- | --- | --- | --- | --- |
| Bradley | McAdoo | Wilkins | Szczerbiak | Sabonis | Petrovic |
| Divac | Kukoc | Radja | Ginobili | Parker | Scola |
Vlade Divac
Serbia
Vlade Divac
Los Angeles Lakers


Divac made his reputation early in Europe, helping Partizan Belgrade (from the then Yugoslavia) reach the Euroleague Final Four in 1988 at the age of 20. But it was in the United States where the skillful center became one of the true greats of the global game.
More on Divac
Born: February 3, 1968
Birthplace: Prijepolje, Serbia
Playing height/weight: 7-1, 260

Career: 1986-2004
Teams: Kraljevo (Serbia), Partizan Belgrade (Serbia), LA Lakers, Charlotte Hornets, KK Crvena Zvezda (Serbia), Sacramento Kings
Divac spent 15 years in the NBA with the Lakers, Hornets and Kings -- still the longest stretch for a European. His record and longevity in international basketball also explain why he remains a living legend in his homeland. Vlade was a key member of the Yugoslavian team that won two Olympic silvers (1988 and 1996) and three European Championships. But perhaps his greatest hour came in helping the nation to two gold medals at the World Championships of 1990 and 2002, where they upset the host country USA in the quarterfinals.
Before his move to the USA, Divac's European club success was limited to winning the 1989 Korac Cup because of the mastery of Croatian rivals Split, who dominated during that period. However, once in the NBA, Divac became one of the first Europeans to make an impact on the league, helping establish the Kings as a perennial Western Conference power.
Photo credits: (l-r) Euroleague.net/MN Press, Tim DeFrisco/Getty Images
Ian Whittell covers basketball for The Times of London.
NBA To Europe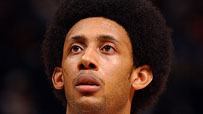 Josh Childress is leaving the NBA for Europe this summer in what is becoming a growing trend.
News
•
Childress leaves NBA for Greece
•
Krstic decides to bolt Nets for Europe
•
Former Nets F Nachbar to sign with Russian squad
•
Delfino signs contract to play with BC Khimki
•
Brezec signs with Virtus Roma of the Euroleague
•
Navarro leaves Grizzlies, rejoins Barcelona team
•
Top prospect Jennings signs with Italian team
Analysis
•
Sheridan: Stronger Euro could fuel trend
•
TrueHoop: Why this is good for NBA
•
Hollinger: Hawks hurting after Childress move
Features
•
Top 12 NBA/Euroleague crossover stars
SportsNation
•
PollCenter: Childress in Europe