Commentary
Best of the Euroleague and NBA: Bob McAdoo
Originally Published:
May 2, 2008
By
Ian Whittell
| Special to ESPN.com
Click the pics below to read the bios of our top 12 Euroleague/NBA stars.
| | | | | | |
| --- | --- | --- | --- | --- | --- |
| Bradley | McAdoo | Wilkins | Szczerbiak | Sabonis | Petrovic |
| Divac | Kukoc | Radja | Ginobili | Parker | Scola |
Bob McAdoo
Olimpia Milano
Bob McAdoo
Buffalo Braves


Although McAdoo played in Europe at the end of his career, he is viewed by many as the best American ever to play there. In four seasons with Milano, McAdoo won two Italian league titles, the Italian Cup and back-to-back Euroleague crowns in 1987 and 1988. In the 1988 Euroleague Final, he scored 25 points and had 12 rebounds, as the Italians beat Maccabi Tel Aviv 90-84. It is no wonder he is still regarded as a legend in the city.
More on McAdoo
Born: September 25, 1951
Birthplace: Greensboro, North Carolina
Playing height/weight: 6-9, 210


Career: 1972-93
Teams: Vincennes University, University of North Carolina, Buffalo Braves, New York Knicks, Boston Celtics, Detroit Pistons, New Jersey Nets, Los Angeles Lakers, Philadelphia 76ers, Olimpia Milano (Italy), Filanto Forli (Italy), Teamsystem Fabriano (Italy)
McAdoo's success should not have been a surprise given his achievements in the NBA, which included Rookie of the Year with the Buffalo Braves (1973), three consecutive scoring titles, five All-Star selections and two NBA championships with the L.A. Lakers in 1982 and 1985. He was also the league MVP in 1975 after he averaged 34.5 points, 14.1 rebounds and 2.12 blocks a game.
After his glorious run with Milan, McAdoo spent three more seasons in the Italian league before retiring in 1993 at the age of 41.
Photo credits: (l-r) Euroleague.net, Malcolm Emmons/US Presswire
Ian Whittell covers basketball for The Times of London.
NBA To Europe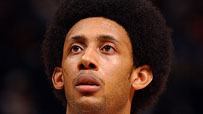 Josh Childress is leaving the NBA for Europe this summer in what is becoming a growing trend.
News
•
Childress leaves NBA for Greece
•
Krstic decides to bolt Nets for Europe
•
Former Nets F Nachbar to sign with Russian squad
•
Delfino signs contract to play with BC Khimki
•
Brezec signs with Virtus Roma of the Euroleague
•
Navarro leaves Grizzlies, rejoins Barcelona team
•
Top prospect Jennings signs with Italian team
Analysis
•
Sheridan: Stronger Euro could fuel trend
•
TrueHoop: Why this is good for NBA
•
Hollinger: Hawks hurting after Childress move
Features
•
Top 12 NBA/Euroleague crossover stars
SportsNation
•
PollCenter: Childress in Europe

MOST SENT STORIES ON ESPN.COM