Commentary
Best of the Euroleague and NBA: Drazen Petrovic
Originally Published:
May 2, 2008
By
Ian Whittell
| Special to ESPN.com
Click the pics below to read the bios of our top 12 Euroleague/NBA stars.
| | | | | | |
| --- | --- | --- | --- | --- | --- |
| Bradley | McAdoo | Wilkins | Szczerbiak | Sabonis | Petrovic |
| Divac | Kukoc | Radja | Ginobili | Parker | Scola |
Drazen Petrovic
Croatia
Drazen Petrovic
New Jersey Nets


Petrovic is arguably the best European player ever to play in the NBA. He was the first to make a major impact, blazing a trail which has been followed by many since his arrival in Portland in 1989. His tragic death in a motor vehicle accident in Germany four months before his 29th birthday ended a brilliant career in its prime.
More on Petrovic
Born: October 22, 1964
Birthplace: Sibenik, Croatia
Playing height/weight: 6-5, 200
Died: June 7, 1993

Career: 1979-93
Teams: June 7, 1993 BC Sibenka (Croatia), BB Cibona (Croatia), Real Madrid, Portland Trail Blazers, New Jersey Nets
Petrovic burst onto the scene when he led Cibona Zagreb to back-to-back Euroleague titles in 1985 and 1986 as well as the Saporta Cup (a secondary competition) in 1987. The guard's astonishing scoring feats -- he had 51 points and 10 assists in a 1986 Euroleague game against Limoges, for example -- led Portland to draft him in the third round in 1986. But Petrovic postponed his NBA arrival and spent a season with Real Madrid, where he won the Spanish Cup and another Saporta Cup.
Finally in the NBA, Petrovic spent little more than a year in Portland before his frustration at a lack of playing time led him to demand a trade. He wound up in New Jersey, where he became a great scorer and helped transform the Nets into a playoff team.
Petrovic also won gold medals at the 1989 Europeans and 1990 World Championship while playing for Yugoslavia, and won two Olympic silver medals in 1988 and 1992 while representing Croatia.
Photo credits: (l-r) Euroleague.net, Nathaniel S. Butler/NBAE/Getty Images
Ian Whittell covers basketball for The Times of London.
SPONSORED HEADLINES
MORE NBA HEADLINES
MOST SENT STORIES ON ESPN.COM
NBA To Europe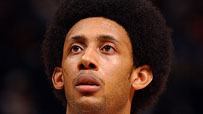 Josh Childress is leaving the NBA for Europe this summer in what is becoming a growing trend.
News
•
Childress leaves NBA for Greece
•
Krstic decides to bolt Nets for Europe
•
Former Nets F Nachbar to sign with Russian squad
•
Delfino signs contract to play with BC Khimki
•
Brezec signs with Virtus Roma of the Euroleague
•
Navarro leaves Grizzlies, rejoins Barcelona team
•
Top prospect Jennings signs with Italian team
Analysis
•
Sheridan: Stronger Euro could fuel trend
•
TrueHoop: Why this is good for NBA
•
Hollinger: Hawks hurting after Childress move
Features
•
Top 12 NBA/Euroleague crossover stars
SportsNation
•
PollCenter: Childress in Europe