Commentary
Palmer's 2008-09 MVP ballot
Updated:
April 13, 2009, 3:59 PM ET
By
| ESPN.com
We asked NBA writers from ESPN.com and ESPN The Magazine, as well as NBA analysts from ESPN, to provide their choices for NBA Most Valuable Player, ranked from 1 to 5.
Here is Chris Palmer's ballot:
Palmer's Ballot
Rank
Player
Comment

LeBron James
By throwing down the best individual season since MJ's 32, 8 and 8 in 1992, James has surpassed lofty expectations and earned the right to be called the game's best player. No single player impacts his team more. This could be the first of several in a row for James.

Kobe Bryant
Despite the 27 points an outing and the occasional record-setting performance, Bryant has never done more to boost camaraderie. He's developed into possibly the best leader in the league and one of its best teammates: the secret reason the Lakers are so potent.

Dwyane Wade
There have been significant stretches this season in which D-Wade has been the best baller on the planet. In his sixth season, he managed to improve in nearly every phase of the game. Without him, the Heat are counting pingpong balls.

Dwight Howard
Mr. Wonderful led the league in rebounding, blocked shots and all-around enthusiasm, firmly establishing himself as the most dominant post player in the game. Best of all, the typically hot-starting Magic didn't fade late in the season.

Chris Paul
It was just a year ago that CP3 chased Kobe Bryant down to the wire for MVP. This season, despite playing equally well, he's scarcely been in the conversation. His team's record is to blame, but CP3 is still the most capable set-up man in the league.

• Click here to return to main page

Click the pics below to see the ballots of these ESPN writers and analysts.
| | | | | | | | | |
| --- | --- | --- | --- | --- | --- | --- | --- | --- |
| Abbott | Adande | Barry | Brooks | Broussard | Bucher | Ford | LZ | Hill |
| Hollinger | Legler | Neel | Palmer | Ramsay | Rose | Sheridan | Stein | Thorpe |
SPONSORED HEADLINES
MORE NBA HEADLINES
MOST SENT STORIES ON ESPN.COM
The NBA On ESPN.com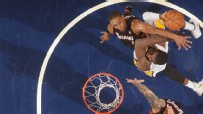 Follow the NBA on ESPN:
Twitter / Facebook / Google+
LATEST CONTENT
REGULAR FEATURES
DimeSmash

Dime Smash!


DURANT DAGGER… KD drains the three to give OKC a 101-90 lead with 5 mins left.
2 minutes ago

DimeSmash

Dime Smash!


Delayed tweet smash! Plumlee had an amazing oop dunk after Bledsoe turned on the warp speed and made a ridiculous pass.
2 minutes ago

kevinarnovitz

Kevin Arnovitz


RT @craighoffman: Great Mavs Mag today with @kevinarnovitz (who I could hoop nerd with for hours) on the Mavs and the stinky East. https://…
2 minutes ago

DimeUpdate

Dime Update


Hectic pace in PHX, with suns up 79-71 over Dallas. PJ Tucket is having a strong game with 16/6. Wright for Dallas has 12 and 5
3 minutes ago

kpelton

Kevin Pelton


As part of the Blazers' 2013 in review, Terry Stotts running out an April frontcourt of Joel Freeland and Meyers Leonard.
3 minutes ago

DimeUpdate

Dime Update


76ers have a pair of double doubles so far: Thaddeus Young: 24 points, 10 rebounds, Michael Carter-Williams: 15 points, 11 assists.
4 minutes ago

ESPNNBA

NBA on ESPN


Pau Gasol will miss tonight's Lakers game with an upper respiratory infection (via @mcten): http://t.co/cK6Gs8YN3c
4 minutes ago

DimeUpdate

Dime Update


.@JDavidwalker here to tweet Nuggets-Clippers at you. Tipoff's moments away.
5 minutes ago

DimeAlert

Dime Alert


.@JDavidwalker here to tweet Nuggets-Clippers at you. Tipoff's moments away.
5 minutes ago

DimeUpdate

Dime Update


A tale of two shooting percentages: New Orleans 57.9%, Portland 34%. Yet, at the end of the 1st Q, Pelicans up just 5. NO 26, PDX 21.
6 minutes ago

DimeUpdate

Dime Update


OKC 94, SA 86 7:22 4th; Reggie Jackson just sank a floater in transition to force a Pop timeout. SA having trouble with OKC point guards.
8 minutes ago

DimeSmash

Dime Smash!


Dirk Nowitzthree with a rainbow three after an offensive board from Wright
9 minutes ago

DimeSmash

Dime Smash!


Feed the Baby Greek: Giannis Antetokounmpo sneaks in from the corner for an alley-oop fed to him by O.J. Mayo.
11 minutes ago

DimeSmash

Dime Smash!


PJ Tuck3r with a splash corner three.
12 minutes ago

kpelton

Kevin Pelton


Big moment at the Moda Center as Alexis Ajinca checks in for his Pellies debut/first NBA action since April 2011.
12 minutes ago

DimeSmash

Dime Smash!


SPLITTER SMASH… OKC 90, SA 86
13 minutes ago

DimeSmash

Dime Smash!


REGGIE JACKSON MOMENTUM-KILLING SMASH… Spurs had chance to tie, Jackson picks off pass and goes uncontested for a dunk.
14 minutes ago

ESPNNBA

NBA on ESPN


The Suns have won 6 of their last 7 and they lead the Mavericks at halftime, 63-58. Gerald Green has 19 pts (3-5 3-pt FG) off the bench.
16 minutes ago

DimeUpdate

Dime Update


Back-to-back buckets from Boris Diaw cut the Thunder lead to 3. OKC 85, SA 82 10:22 in the 4th.
17 minutes ago

ESPNNBA

NBA on ESPN


D.J. Augustin (18p, 10a) posts first double-double since 2012 as Bulls beat Cavs.BOX SCORE: http://t.co/7ZgdW2iS1T http://t.co/R0G2TmVeZB
18 minutes ago