Summer Forecast: '09-10 East standings
Updated:
September 2, 2009, 11:20 PM ET
ESPN.com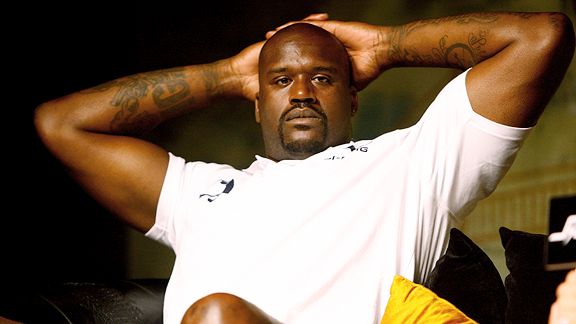 Getty ImagesShaq's muscle should prove helpful to the Cavs' frontline ... and the team's '09-10 outlook in the East.
So far our forecasts have focused on the fun stuff: Rookie of the Year, Best and Worst Newcomers, Team Turmoil, Team Turnaround, Most Valuable Player and the futures of LeBron James, Dwyane Wade, Chris Bosh and Amare Stoudemire.
But now we turn our attention to the real nitty-gritty: the 2009-10 outlook for each team.
Our 53 panelists from across ESPN have predicted the number of wins and losses for each team, and today we're providing the average tally for each team in the Eastern Conference.
One important note: The order of finish is more important in these predictions than the exact number of wins and losses. When 53 individuals vote, they will almost never all agree that one team will win as many as, let's say, 65 games or that another team will win only 20 games, even though we know these things happen frequently. Why? Because these are extreme results that happen when pretty much everything goes right or everything goes wrong for a team. The panel collectively takes a more measured view, so the forecasts for wins and losses tend to float toward the middle.
With that in mind, here is what our collective crystal ball reveals:
Predicted Standings for Eastern Conference: 2009-10
CONF
TEAM
W
L
PCT
09 W
09 L
09 PCT

1

Cleveland Cavaliers
61
21
.744
66
16
.805
Let's talk Shaq, the Big Caveat Emptor: He has won four titles, is on his fifth franchise and has been swept from the playoffs six times. Reborn in Phoenix, he led the Suns to exactly one playoff win in two seasons. So will he break up the Cavs with laughter or just break them up? Can't wait to find out. (Why only 61 wins? See note above.)



2

Boston Celtics
57
25
.695
62
20
.756
Many think a healthy Kevin Garnett and a revitalized Rasheed Wallace will get the Celts back to the top. (See our East title picks on Thursday.) But KG's balky knee is unproven, and Sheed is a known coach killer who is coming off a lousy season and turns 35 this month. So some voters are still in wait-and-C mode.



3

Orlando Magic
56
26
.683
59
23
.720
Orlando's magical run to the NBA Finals didn't make a believer out of everyone, and the sorta-swap of Hedo Turkoglu for Vince Carter got mixed reviews (here and here). But some like what they see, including a starting lineup that features four recent All-Stars, and expect big things again in O-Town.



4

Atlanta Hawks
45
37
.549
47
35
.573
ESPN's panelists like the Hawks as the Beasts of the Rest in the East once again, expecting the additions of Jamal Crawford and Joe Smith to keep them in the No. 4 slot. If our Eastern Conference prognostications are accurate, the Hawks will again host the Miami Heat in Game 1 of Round 1 when the playoffs begin next April.



5

Miami Heat
44
38
.537
43
39
.524
A year ago, our forecasters were all over the place in trying to guess where the 15-67 Heat would finish in '09. Now that they have seen a healthy Dwyane Wade take his team to a 43-39 finish and the No. 5 seed, our panelists expect more of the same as Miami bides its time until the summer of 2010.



6

Chicago Bulls
43
39
.524
41
41
.500
Our voters have the Bulls winning as few as 30 games and as many as 55, and perhaps it comes down to what they think of reigning rookie of the year Derrick Rose, whose scintillating playoff performance was followed by a tumultuous summer. In any case, most of our panel is bullish on Chicago overall.



7

Philadelphia 76ers
39
43
.476
41
41
.500
Our panel is hardly in love with Philly, but it still sees the 76ers squeaking into the playoffs (with an average prediction of 39.4 wins). File under "Best Guess," though, because no one knows exactly what the arrival of new coach Eddie Jordan, the return of post man Elton Brand and the departure of point guard Andre Miller really mean.



8

Washington Wizards
39
43
.476
19
63
.232
To hopeful Wiz fans, the arrival of Flip Saunders, Randy Foye and Mike Miller along with an apparent return to health for Gilbert Arenas and Brendan Haywood will make all the difference. But while our panel sees the Wiz as probable to make the playoffs (with an average prediction of 39.1 wins), it still doesn't see them as true contenders.



9

Toronto Raptors
39
43
.476
33
49
.402
If you have to be cruel to be kind, then our panel is killing Toronto with kindness. After Monday's prediction that Chris Bosh would depart in 2010, now our forecasters have the Raptors missing the playoffs by 0.1 wins (with an average prediction of 39.0 wins). We'll see if the addition of Hedo Turkoglu is the tonic in Toronto.



10

Detroit Pistons
38
44
.463
39
43
.476
Detroit fans are already defining success downward, and our panel says they have the right idea. If our forecast plays out, the Pistons will miss the playoffs for the first time in nine seasons, and will have a lottery pick to show for their hotly debated trade of Chauncey Billups and acquisitions of Ben Gordon and Charlie Villanueva.



11

Charlotte Bobcats
35
47
.427
35
47
.427
Michael Jordan's Bobcats are stuck in purgatory, according to our panel: too talented and well-coached to be terrible and get a high lottery pick, but not talented enough to make their first-ever playoff run. So what does all that mediocrity and a swap of Emeka Okafor for Tyson Chandler get you? Another 35-47 season.



12

Indiana Pacers
33
49
.402
36
46
.439
For three straight seasons, the Pacers have been the East's best lottery team. Alas, our panel doesn't see their inglorious run of ninth-place finishes continuing, as Indiana looks like No. 12 material to ESPN's experts. The biggest issue seems to be a depleted talent base unreplenished since the Pacers' recent glory years.



13

New York Knicks
32
50
.390
32
50
.390
It has been a strange offseason in New York, with doomed bids to sign 1995 co-rookies of the year Jason Kidd and Grant Hill, a field trip to witness Eddy Curry's waistline and endless negotiations with free agents David Lee, Nate Robinson and Ramon Sessions. The reason, of course, is the summer of 2010. In the meantime …



14

Milwaukee Bucks
30
52
.366
34
48
.415
With questions about Michael Redd's knee, Andrew Bogut's back, Charlie Villanueva's replacement and the PG position, Milwaukee is one of the NBA's true mystery teams. Could coach Scott Skiles lead the Bucks to a surprise playoff run? Could they fall apart and lose 60 games? As the saying goes, that's why they play the games.



15

New Jersey Nets
29
53
.354
34
48
.415
No franchise has more uncertainty about its future than the one that has traded away Jason Kidd, Richard Jefferson and Vince Carter in the past two years and made many false starts in its bid to get to Brooklyn. But the silver lining is the Nets have some good young talent and should have a high lottery pick and lots of 2010 cap space.


• Also see: Ford's offseason rankings

| Hollinger's East outlook

| Player movement
---
The voters
Henry Abbott (ESPN.com TrueHoop senior writer), J.A. Adande (ESPN.com senior writer), Kevin Arnovitz (ESPN.com TrueHoop Network editor), Andrew Ayres (ESPN.com NBA editor), Jon Barry (ESPN NBA analyst), Bruce Bernstein (ESPN NBA Studio Production), Alfredo Berrios (ESPN Deportes editor), Dwayne Bray (ESPN Studio Production), Jordan Brenner (ESPN Insider editor), Lisa Brooks (ESPN Stats & Information), Maurice Brooks (ESPN.com NBA editor), Chris Broussard (ESPN The Magazine senior writer), Ric Bucher (ESPN The Magazine senior writer), Michael Bucklin (ESPN Interactive Games), Kevin Calabro (ESPN NBA broadcaster), Kevin Conlon (ESPN Stats & Information), Jay Corbin (ESPN The Magazine editor), Chad Ford (ESPN Insider senior writer), LZ Granderson (ESPN The Magazine senior writer), John Hollinger (ESPN Insider senior writer), Jade Hoye (ESPN Multimedia), Michael Jackson (ESPN Stats & Information), Scoop Jackson (ESPN Page 2 columnist), Avery Johnson (ESPN NBA analyst), Eric Karabell (ESPN.com senior writer), Rob King (ESPN.com editor-in-chief), Seth Landman (ESPN Fantasy basketball writer), Tim Legler (ESPN NBA analyst), Nancy Lieberman (ESPN NBA analyst), Keith Lipscomb (ESPN Fantasy basketball analyst), Patricia Lowry (ESPN Studio Production), Mike Lynch (ESPN Stats & Information), Eric Neel (ESPN.com senior writer), Pete Newmann (ESPN Stats & Information), Chris Palmer (ESPN The Magazine NBA writer), Greg Pike (ESPN NBA Studio Production), Chris Ramsay (ESPN.com NBA coordinator), Dr. Jack Ramsay (ESPN NBA analyst), Adam Reisinger (ESPN DB editor), Jalen Rose (ESPN NBA analyst), Bob Salmi (ESPN NBA analyst), Chris Sheridan (ESPN Insider senior writer), Marc Stein (ESPN.com NBA senior writer), Patrick Stiegman (ESPN.com VP/Executive editor), Otto Strong (ESPN The Magazine NBA editor), Mark Summer (ESPN NBA Studio Production), David Thorpe (ESPN Insider NBA analyst), Justin Verrier (ESPN.com NBA editor), Bill Walton (ESPN NBA analyst), Royce Webb (ESPN.com NBA editor), Josh Whitling (ESPN Fantasy Basketball writer), Matt Winer (ESPN NBA anchor) and Matt Wong (ESPN.com NBA editor).
2009-10 Predictions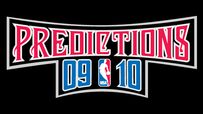 LOOK AHEAD TO 2009-10

MOST SENT STORIES ON ESPN.COM