Summer Forecast: Worst newcomer
Updated:
September 14, 2009, 3:33 PM ET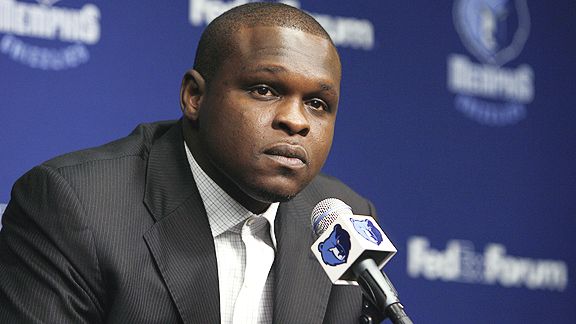 Joe Murphy/NBAE/Getty ImagesZ-Bo is a double-double machine, but he's also a magnet for trouble. Can he turn it around in Memphis?
On Tuesday, we broke down which players we think will have the biggest impact in 2009-10. Today, we ask: Who will be the worst newcomer this season?
Here's the voting breakdown:
2009-10 predictions: Worst newcomer
RANK
PLAYER
VOTES



1


Zach Randolph
Power forward
Memphis Grizzlies

Last season
New York/L.A. Clippers
20.8 ppg, 10.1 rpg



12




T-2


Ron Artest
Small forward
Los Angeles Lakers

Last season
Houston Rockets
17.1 ppg, 5.2 rpg



6




T-2


Rasheed Wallace
Power forward
Boston Celtics

Last season
Detroit Pistons
12 ppg, 7.4 rpg



6




T-4


Trevor Ariza
Small forward
Houston Rockets

Last season
Los Angeles Lakers
8.9 ppg, 4.3 rpg



4




T-4


Shaquille O'Neal
Center
Cleveland Cavaliers

Last season
Phoenix Suns
17.8 ppg, 8.4 rpg



4




T-6


Vince Carter
Shooting guard
Orlando Magic

Last season
New Jersey Nets
20.8 ppg, 4.7 apg



3




T-6


Hedo Turkoglu
Small forward
Toronto Raptors

Last season
Orlando Magic
16.8 ppg, 5.3 rpg



3

Also receiving votes: Tyson Chandler (2), Ben Gordon (2), Emeka Okafor (2), Charlie Villanueva (2), Allen Iverson (1), Dahntay Jones (1), Shawn Marion (1), Quentin Richardson (1), Ben Wallace (1), Paul Westphal (1)
The skinny
Randolph (12 votes)
Normally, when a 20-and-10 guy joins one of the worst teams in the league, it's a good thing. Not in this case, according to a dozen of our voters. Despite his talent, Z-Bo's questionable character would appear to be detrimental to a young Grizzlies squad. Not to mention that he is one of the biggest black holes in basketball and doesn't play defense.
To make matters worse, the Grizzlies took on the remaining two years and $33 million of his contract. Sure, he could earn the Griz a few more wins with his post play, but so could, uh, Pau Gasol (minus the headaches). Just sayin'.

Artest (6 votes)
The thinking here is easy: Why mess with a good thing? The Lakers just won the championship with Trevor Ariza at small forward. Why replace him with one of the most combustible players in the league?
Yes, Artest is an upgrade over Ariza, but his unpredictability on and off the court might become a huge distraction for the Lakers -- one that could jeopardize their chances of a title repeat.
Wallace (6 votes)
The C's need big things from Sheed to contend for a title; many of our voters don't expect him to deliver. His production has plateaued during the past three seasons, and he continues to make a negative impact with his technicals. Playing alongside KG might help Sheed stay interested, but will Wallace embrace his role off the bench for 82 games?
Ariza (4 votes)
After five seasons and three teams, Ariza finally made his mark during the Lakers' title run last season. But whether it's his career 6.9 ppg or the fact that Houston will have a 7-foot-6, 310-pound hole in the paint next season, some of our voters aren't sold on the five-year, $34 million deal the 24-year-old forward signed with the Rockets this offseason.
NBA OFFSEASON BUZZ

Who's poised for a big season? Who could be on the decline? We're taking a look at all 30 rosters. Insider

O'Neal (4 votes)
Although eight members of our panel think Shaq could help the King win a ring, four feel Cleveland's big Shaquisition will be a big flop. He may be the most talented running mate LeBron has had, but with 1,100-plus games on his knees and without access to the Suns' miracle training staff, the Big Daddy may revert back to the injury-prone ways that haunted him in Miami.
Carter (3 votes)
Adding an eight-time All-Star to an already successful lineup should make the reigning East champs even better. There is a certain amount of risk here, though. Carter will turn 33 in January, and Orlando will owe him $33 million in salary the next two years. Plus, some say Carter brings potential chemistry issues and could have a negative effect on Orlando's vaunted defense.
Turkoglu (3 votes)
Turkoglu had some big playoff moments in 2009 -- the Kobe block, double-doubles against Cleveland and Boston and daggers in Philly. But the Raptors gave $53 million to a guy who has never made an All-Star team and probably never will. He's a good piece, but remember, elite teams such as San Antonio and Orlando let him walk. There must be a reason, no?
---
The voters
Henry Abbott (ESPN.com TrueHoop senior writer), J.A. Adande (ESPN.com senior writer), Kevin Arnovitz (ESPN.com TrueHoop Network editor), Andrew Ayres (ESPN.com NBA editor), Jon Barry (ESPN NBA analyst), Bruce Bernstein (ESPN NBA Studio Production), Alfredo Berrios (ESPN Deportes editor), Dwayne Bray (ESPN Studio Production), Jordan Brenner (ESPN Insider editor), Lisa Brooks (ESPN Stats & Information), Maurice Brooks (ESPN.com NBA editor), Chris Broussard (ESPN The Magazine senior writer), Ric Bucher (ESPN The Magazine senior writer), Michael Bucklin (ESPN Interactive Games), Kevin Calabro (ESPN NBA broadcaster), Kevin Conlon (ESPN Stats & Information), Jay Corbin (ESPN The Magazine editor), Chad Ford (ESPN Insider senior writer), LZ Granderson (ESPN The Magazine senior writer), John Hollinger (ESPN Insider senior writer), Jade Hoye (ESPN Multimedia), Michael Jackson (ESPN Stats & Information), Scoop Jackson (ESPN Page 2 columnist), Avery Johnson (ESPN NBA analyst), Eric Karabell (ESPN.com senior writer), Rob King (ESPN.com editor in chief), Seth Landman (ESPN Fantasy basketball writer), Tim Legler (ESPN NBA analyst), Nancy Lieberman (ESPN NBA analyst), Keith Lipscomb (ESPN Fantasy basketball analyst), Patricia Lowry (ESPN NBA Event Production), Mike Lynch (ESPN Stats & Information), Eric Neel (ESPN.com senior writer), Pete Newmann (ESPN Stats & Information), Chris Palmer (ESPN The Magazine NBA writer), Greg Pike (ESPN NBA Studio Production), Chris Ramsay (ESPN.com NBA coordinator), Dr. Jack Ramsay (ESPN NBA analyst), Adam Reisinger (ESPNDB editor), Jalen Rose (ESPN NBA analyst), Bob Salmi (ESPN NBA analyst), Chris Sheridan (ESPN Insider senior writer), Marc Stein (ESPN.com NBA senior writer), Patrick Stiegman (ESPN.com VP/executive editor), Otto Strong (ESPN The Magazine NBA editor), Mark Summer (ESPN NBA Studio Production), David Thorpe (ESPN Insider NBA analyst), Justin Verrier (ESPN.com NBA editor), Royce Webb (ESPN.com NBA editor), Josh Whitling (ESPN Fantasy basketball writer), Matt Winer (ESPN NBA anchor) and Matt Wong (ESPN.com NBA editor).
SPONSORED HEADLINES
MORE NBA HEADLINES
MOST SENT STORIES ON ESPN.COM
2009-10 Predictions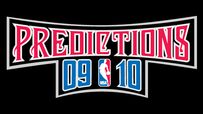 LOOK AHEAD TO 2009-10