2010-11 Western Conference champs
Originally Published:
August 23, 2010
ESPN.com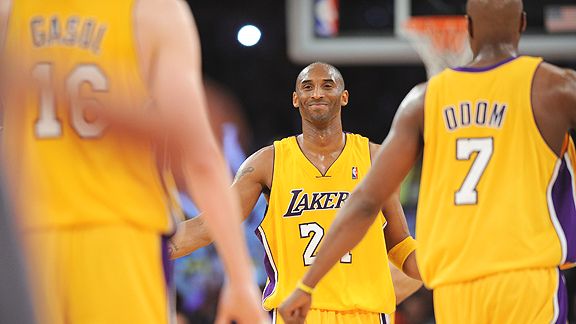 Noah Graham/NBAE/Getty ImagesWith Kobe Bryant leading the way, the Lakers look to rule the West for the fourth straight season.
Before the defending champion Lakers can think three-peat, they'll have to get out of the Western Conference for a fourth year in a row. Piece of cake? Not so fast. They don't call it the wild West for nothing.
But with Kobe still at the top of his game, Phil Jackson back on the sidelines, and L.A.'s core still intact (not to mention the additions of Matt Barnes and Steve Blake), you have to like their chances of representing the West in the NBA Finals once again. Our 93 NBA panelists sure do; in our survey, 95 percent of our experts voted them in as 2010-11 West champs.
Check out the results below:


2010-11 Forecast: Western Conference champions
RANK
TEAM
VOTES



1


Los Angeles Lakers
2009-10 record: 57-25
'09-10 West champs
Predicted 2010-11 record: 58-24





88




2 (tie)


Houston Rockets
2009-10 record: 42-40
Finished 9th in West in '09-10
Predicted 2010-11 record: 45-37





2




2 (tie)


Oklahoma City Thunder
2009-10 record: 50-32
Lost in first round of '09-10 playoffs
Predicted 2010-11 record: 52-30





2




4


Dallas Mavericks
2009-10 record: 55-27
Lost in first round of '09-10 playoffs
Predicted 2010-11 record: 52-30





1
Western Conference champs?

Henry Abbott, TrueHoop: The Lakers. When they got Ron Artest, I wrote that I thought they were quite possibly starting a dynasty. On paper, he made them better. But the one worry point was how he'd handle the pressure of playing on a team with those kinds of expectations and that kind of spotlight.
From his game-winning putback to his Game 7 Finals performance, he helped that team a lot. So, while the Miami situation may threaten that dynasty talk, this is blatantly the West's team to beat.

J.A. Adande, ESPN.com: Lakers. They've been the best in the league the past two seasons, and they got even better this summer. Steve Blake is a good triangle offense guard and Matt Barnes is so hungry for a ring you'll hear his stomach growling during timeouts.
Normally this would be the part where we wonder about Ron Artest, but after his incident-free season he might be past that. The main concern: Kobe Bryant is coming off his third knee surgery. There are only so many high-level games left in that body.

Kevin Arnovitz, TrueHoop: Lakers. We often hear that basketball is about execution. The good teams know what they want on both ends of the floor, but only the great ones know how to get it routinely.
There are a bunch of good teams in the Western Conference, but the the Lakers are the only great team -- the one that fully understands how to get what it wants offensively and defensively.

John Hollinger, ESPN.com: L.A. Lakers. When you look at how much went wrong for the Lakers last season and the fact that they still won the West, one has to make them an overwhelming favorite in 2010-11.
Andrew Bynum went through the playoffs on one knee, Kobe Bryant played through myriad injuries, and they got virtually nothing from the point guard position or the bench, yet the Lakers still had more than enough in the tank to cruise to the conference crown.

Chris Sheridan, ESPN.com: Lakers. Resisting the urge to pick the Thunder and newly aggressive center Nenad Krstic; Denver is very good if Melo stays; and Houston will be right at the top if Yao comes back healthy.
Still, the desire for a three-peat will be a huge motivating factor for the Lakers, and a healthy and healed Kobe Bryant is not someone I want to pick against. Love the Steve Blake addition, too.

Marc Stein, ESPN.com: Lakers. Not sure how you can dare to pick anyone else when no one can definitively tell you the second-best team in the West.
The overall depth in the conference is obviously still superior to the East's, but how can you say that any team out West has closed the gap on the Lakers?
Exactly ... you can't.
SPONSORED HEADLINES
MORE NBA HEADLINES
MOST SENT STORIES ON ESPN.COM
2010-11 Summer Forecast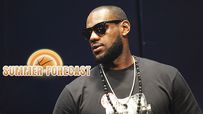 Follow ESPN's NBA coverage on Twitter
SUMMER FORECAST