Commentary
2010-11 Worst Newcomer of the Year
Originally Published:
August 12, 2010
By
Matt Wong
| ESPN.com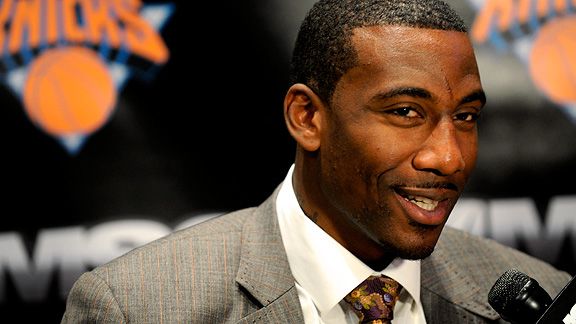 Jennifer Pottheiser/NBAE/Getty ImagesExpectations are high in New York with Amare Stoudemire on board. Can he deliver? Survey says ...
With the incredible amount of offseason player movement, there are bound to be a few moves that don't pay off. So we posed the question to our panel of 93 basketball experts:
Who will prove to be the worst acquisition of the offseason?
We're not talking about the worst player per se but the one who will have the most negative impact or the most disappointing season, relative to expectations, price, etc. Or the player who will wear out his welcome first.
As you'll see, a whopping 33 players received at least one vote, with a couple of high-priced power forwards leading the way.
Note: Some voters, to express their disdain for large free-agent contracts, chose players who became free agents and then stayed with the same team.
Here's the breakdown:
(Also check out our vote for Best Newcomer of the Year.)


2010-11 Forecast: Worst Newcomer of the Year
RANK
PLAYER
VOTES



1


Amare Stoudemire
Power forward
New York Knicks

Last season
Phoenix Suns
23.1 ppg, 8.9 rpg



18




2


Carlos Boozer
Power forward
Chicago Bulls

Last season
Utah Jazz
19.5 ppg, 11.2 rpg



11




3


Shaquille O'Neal
Center
Boston Celtics

Last season
Cleveland Cavaliers
12 ppg, 7.4 rpg



6




4


Michael Beasley
Power forward
Minnesota Timberwolves

Last season
Miami Heat
14.8 ppg, 6.4 rpg



5




T-5


Chris Bosh
Power forward
Miami Heat

Last season
Toronto Raptors
24.0 ppg, 10.8 rpg



4




T-5


Joe Johnson
Shooting guard
Atlanta Hawks

Last season
Atlanta Hawks
21.3 ppg, 4.9 apg



4




T-5


Hedo Turkoglu
Small forward
Phoenix Suns

Last season
Toronto Raptors
11.3 ppg, 4.6 rpg



4




T-8


David Lee
Power forward
Golden State Warriors

Last season
New York Knicks
20.2 ppg, 11.7 rpg



3




T-8


Corey Maggette
Small Forward
Milwaukee Bucks

Last season
Golden State Warriors
19.8 ppg, 5.3 rpg



3




T-8


Travis Outlaw
Small forward
New Jersey Nets

Last season
Blazers/Clippers
9.1 ppg, 3.6 rpg



3




T-8


Evan Turner
Shooting guard
Philadelphia 76ers

Last season
Ohio State
20.4 ppg, 9.2 rpg



3

Also receiving votes: DeMarcus Cousins (2), Samuel Dalembert (2), Derrick Favors (2), Drew Gooden (2), Al Jefferson (2), Amir Johnson (2), Jermaine O'Neal (2), Tyson Chandler (1), Josh Childress (1), Chris Duhon (1), Rudy Gay (1), Blake Griffin (1), Al Harrington (1), Darko Milicic (1), Brad Miller (1), Johan Petro (1), Anthony Randolph (1), John Salmons (1), Tim Thomas (1), Hakim Warrick (1), Delonte West (1), Shelden Williams (1).
The skinny
Stoudemire: While we've been somewhat optimistic about Amare's arrival in New York here and here, 20 percent of our voters think the Knicks' new $100 million man will prove to be a costly mistake. Questions abound about his long-term health (particularly given his multiple knee and eye surgeries), his ability to play without Steve Nash, and whether he can handle the pressure of playing in New York and being the leader of a team. And did we mention his health?
---
Boozer: We've also been somewhat optimistic about Boozer's arrival in Chicago here and here. But he, too, is injury-prone, has to adjust to a new point guard, and is expected to lead his team to new heights in a major market starved for a winning team. Sound familiar? Let's move on.
---
O'Neal: We've been down this road before with the Big Shamrock -- just last year, in fact. It's no secret that the Diesel has been in decline for several seasons and has only a little left to offer on the court. But perhaps the biggest concern is how he'll impact team chemistry in Boston. Can he handle being the fifth wheel or will he wind down his career as the Big Disgruntled?
---
Beasley: The former No. 2 overall pick is getting a fresh start in Minnesota. But while a change of scenery could be just what the troubled forward needs, you have to wonder about the fit. The Wolves lack both veteran leadership and frontcourt minutes -- two things Beasley will need to succeed.
---
Bosh: Miami Thrice is nice and all, but Bosh will have to make a big adjustment. After being the focal point of the Raptors' offense for the past seven seasons, he'll be the third option for the Heat and will likely see a dip in his numbers. Of course, what really matters will be how he handles the pressure of the playoffs, where he has never won a series.
---
Johnson: No, JJ isn't a newcomer to Atlanta, but some of our voters wanted to protest his six-year, $120 million contract (the biggest deal given this offseason), which many are calling the worst of the summer. With Johnson having just turned an old 29 -- he's averaged at least 38 minutes per game in each of his past seven seasons -- they have a case.
---
Turkoglu: Hedo is the kind of floor spacer/playmaker you'd expect to thrive in the Suns' system. But he is coming off a disappointing season in Toronto, which was more than happy to see him go. Factor in the four years and more than $40 million remaining on his contract, plus the reality that he won't help Phoenix fans forget Amare, and we understand the skepticism here.
---
Lee: Tough to be down on a guy who will be among the league leaders in double-doubles and form a nice pick-and-roll tandem with Stephen Curry. But a few of our panelists can't get past the fact that the Warriors shelled out $80 million and gave up Anthony Randolph and two other pieces for a player who can't stop anyone.
---
Maggette: Dealt from the Nellieball Warriors to Scott Skiles' defensive-minded Bucks, you can understand why a few of our panelists don't see Maggette meshing in Milwaukee. He can put the ball in the basket and get to the line, but can he earn minutes by locking in on D? That's not a given.
---
Outlaw: The Nets entered the summer with loads of cap room and a plan to land big-name free agents. But when LeBron and all the other major names went elsewhere, New Jersey's major free-agent move was giving a five-year, $35 million contract to Travis Outlaw, who has a career scoring average of 9.5 ppg. 'Nuf said.
---
Turner: The No. 2 pick in the 2010 draft had a few backers in our ROY vote, but not everyone is sold on his potential. As we pointed out Wednesday, Turner struggled in summer league and is stuck behind a glut of wings on the Sixers' roster. If he doesn't produce, he'll feel the wrath of Philly fans, who will be keeping an eye on DeMarcus Cousins and Derrick Favors, who went just below Turner in the draft.


2010-11 Summer Forecast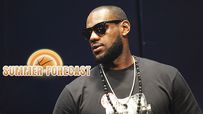 Follow ESPN's NBA coverage on Twitter
SUMMER FORECAST

MOST SENT STORIES ON ESPN.COM