Commentary
Olympics? Lockout issue for Team USA
Team USA officials hope for solution to NBA lockout in time for London Games
Originally Published:
July 12, 2011
By
Andy Katz
| ESPN.com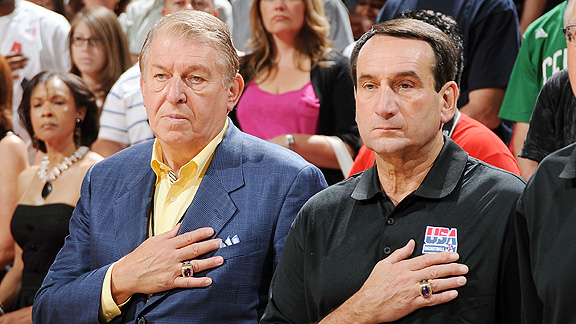 Andrew D. Bernstein/NBAE/Getty Images If the NBA lockout looms into 2012, Jerry Colangelo and Coach K could have a problem on their hands.
The NBA lockout has shut down the traditional summer league in Las Vegas, but the disruption to USA Basketball and fielding a high-level team competing for an Olympic qualifying spot would have been potentially disastrous had the Americans failed to win the world championship in Turkey last year.
The 2012 London Olympic roster isn't due until next June, giving the NBA and the players' association plenty of time to come up with a collective bargaining agreement.
But if the lockout continues further into 2011 and approaches 2012, a contingency plan will have to be made for the roster.
"We're not that concerned [for 2012], but we were concerned about this summer, and that's why the world championships meant so much, otherwise this summer would have been very interesting,'' said Team USA Olympic head coach Mike Krzyzewski. "I think the guys will play. I think everything will be settled by then.''
Krzyzewski, though, acknowledged that this is a fluid situation.
"Let's see if I say that three months from now,'' Krzyzewski said. "Hopefully everything will be worked out.''
USA Basketball executive director Jerry Colangelo said he didn't want to speculate on what could have happened or what may happen if the lockout continues.
"The good news is that it's not an issue because we did win and qualified,'' Colangelo said. "The world is changing; with the lockout there is a lot of uncertainty. But time has a way of healing, and I'm not going to speculate at this point. We can sit back and wait and hopefully something will be resolved. Our roster isn't due until June, so I'd like to believe that it will be taken care of much sooner than that.''
Colangelo said USA Basketball hasn't discussed contingency plans -- yet.
"Whatever the circumstances are, we'll adjust,'' Colangelo said. "But my instincts tell me everything will be fine. We're just watching and waiting. We can formulate a plan as time goes on just in case. If it means we have a different kind of team, then that's out of our control. We have no choice but to sit on the sideline.''
Jim Tooley, the executive director/CEO of USA Basketball, said he feels good about the team that will be in London because of the new allegiance spawned over the past five years in USA Basketball. There has been a shift in players wanting to participate at the national team level and below since 2006.
"There is a great sense of loyalty in the program now,'' Tooley said. "We need to keep that alive. But during the labor dispute we have to stay on the sideline.''
But at least one high-profile agent who has had clients play for the national team doesn't see players competing for USA Basketball if the lockout were to last the entire season. One source said some players might consider playing due to the global marketing that has become a financial issue for players since the 1998 lockout. But at least one agent disagrees.
"If the league is heavy-handed with the players I don't see the guys playing,'' said the agent, who preferred to remain anonymous. "The union will take a hard line. I think it would be a huge problem -- global lure or not. It's accurate to say the players probably wouldn't play.''
Krzyzewski said if the Americans had lost to Turkey in the title game and had to earn an Olympic spot in the Tournament of the Americas in Argentina later this summer, there would have been an assumption that the NBA players wouldn't have participated.
The NBA cannot tell players to sit out Olympic competition or USA Basketball in the world championship. But the players' union can strongly endorse such a move. It did in 1998, when the NBAPA told players not to compete and USA Basketball sent a collection of non-NBA players to the world championship in Greece. The collection of CBA players finished third in the tournament.
"If we would have had to play now, those guys wouldn't have played,'' Krzyzewski said of the NBA players on the world championship roster. "And we wouldn't expect them to.''
There are a few more spots for the Olympics open in a pre-qualifying tournament next spring. Krzyzewski said had the U.S. been forced to go without NBA players this summer it might have passed on the Tournament of the Americas and waited for the spring option in the hope that a settlement would have been reached.
The other issue for USA Basketball is that the NBA is enmeshed within the operation. The NBA handles security. Administrative personnel from the NBA from medical to administrative staff are threaded throughout the operation. It would only be an issue if NBA players were on the roster during a lockout.
"When we were in Turkey, 75 percent of the people who supported us were NBA people,'' Krzyzewski said. "The NBA is a part of USA Basketball.''
Krzyzewski said he doesn't see much movement on the negotiations until the fall, but he'd be pleasantly surprised if it were resolved sooner.
"We'll see how it goes, but it will be overall a huge mistake if you miss the entire season,'' Krzyzewski said. "There's so much popularity, and there are a lot of good things. I just think they'll work out a compromise.''
If the players did choose to play, even during a lockout, there could be an issue with the coaching staff. Krzyzewski's assistant Jim Boeheim of Syracuse wouldn't be affected. But the other two assistants for the Olympic team are Mike D'Antoni of the Knicks and Nate McMillan of the Trail Blazers.
The NBA wouldn't permit the coaches to participate with locked-out NBA players, according to a source. Although there is already an exception being made, as Chris Finch, who coaches the Rockets' D-League team, is coaching for England, where the Bulls' Luol Deng is expected to participate.
The Americans' world championship title in Turkey last year also allowed Krzyzewski to take Duke to China and Dubai next month. Had the Americans lost, not only would they have had to field a roster of non-NBA players for a qualifying tournament, but the Duke trip likely wouldn't have happened.
So, for now, Krzyzewski doesn't have to fret about his Olympic roster.
Andy Katz is a senior college basketball writer for ESPN.com.
SPONSORED HEADLINES
MORE NBA HEADLINES
MOST SENT STORIES ON ESPN.COM
EDITORS' PICKS
What did David West think of KG's homage to Lance?
Mike Mazzeo »

Chicago looks to have all the parts -- and figuring how they fit.
Nick Friedell »

Marc Stein hands out his awards for the NBA's First Trimester.
Stein »