Worst team? Grizzlies looking better to new coach
Updated:
July 13, 2007, 1:28 PM ET
By
Brian Windhorst
| Special to ESPN.com
LAS VEGAS -- For a man who just inherited the team with NBA's worst record, Grizzlies coach Marc Iavaroni surely seems pretty upbeat these days. It's more than just the annual catharsis that is summer league. The team he took over has significantly upgraded its talent in just the last few weeks.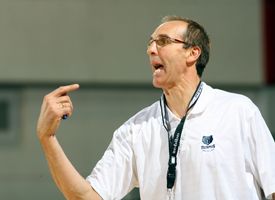 Garrett Ellwood/NBAE via Getty ImagesNew Grizzlies coach Marc Iavaroni can point out reasons for optimism.
"It has almost gone a little bit too good, it has seemed a little too easy," Iavaroni said. "I guess the hard part comes later."
Thursday, after he watched a number of his roster players thrash the summer version of the Cavs 100-76, he gushed about Darko Milicic, whom the Grizzlies picked up Wednesday after agreeing to terms on a new three-year contract. In between, he was gushing about new point guard Mike Conley Jr., barely masking his excitement over the rookie's potential.
He's more than just a coach sticking up for his guys. Others in the league are saying the same things.
"Darko is a guy we targeted as having the most talent on the free agent market among the bigs," Iavaroni said. "He's a guy who is anxious to prove something ... we're going to say, look, you're motivated and we want to make it work and we feel we have the right pieces around him."
In talking about how he wants to run high/low sets with Milicic and Pau Gasol, Iavaroni actually mentioned the tandem of David Robinson and Tim Duncan.
"Based on what I've seen, Darko is a guy who can shoot it and we want him shooting it," Iavaroni said, perhaps channeling former boss Mike D'Antoni.
The duo of Darko and Pau may be fun to talk about, but more realistically the competition is picturing a different headache the new-look Grizzlies may present.
While Kyle Lowry has been impressive so far in Vegas, averaging 15.7 points in three games, it is Conley who observers here are talking about.
Both Conley and Lowry are roughly the same size and share similar skill sets -- both have questionable jump-shooting ability but plenty of quickness and ballhandling prowess -- and Iavaroni is reluctant to compare them.
"They are a nice complement, you have to compete but also cooperate," he said. But there's no doubt how much Conley has impressed onlookers at UNLV.
"Lowry plays his tail off, but Mike has a better command of the ball," said one Western Conference coach. "He can drive, draw and dish with both hands at full speed. He's a handful. There are going to be some guys that give him problems on defense because of his size, but he has the ability to make up for it."
"He is going to be so tough on you in pick-and-rolls, he's going to get Darko so many jumpers," said an Eastern Conference scout. "He can do so many things because of his speed. That will buy him time until he develops his jumper."
On Thursday, Conley had 13 points and seven assists.
Over the three games, he's averaged 11 points and four assists while shooting 50 percent. The Grizzlies have been trading off starting Lowry and Conley and have even spent time on the floor playing together.
Iavaroni said he'd consider playing them together during the season and pushing Rudy Gay -- who has looked solid in Vegas, averaging 17.3 points but shooting just 41 percent -- to power forward. One of them, though, has to start. It promises to be a quite a competition with Damon Stoudamire in the mix as well.
Being careful to be politically correct, Iavaroni made it clear he was not playing favorites. He said he'll need his players understanding when it comes to tinkering with minutes early in the season as he tries to figure out what works best. There's little doubt, though, about his affinity for Conley.
In his first meeting with new general manager Chris Wallace, hired after him, Iavaroni said he was put at ease when Wallace agreed getting Conley should be a top priority. Keeping in mind he's coming from a system that featured Steve Nash.
"I can't express how happy I am we got Mike Conley," Iavaroni said. "I am really excited."
Brian Windhorst covers the NBA for the Akron Beacon Journal
ESPN.com
ESPN.com NBA writer since 2010
Covered Cleveland Cavs for seven years
Author of two books
NBA Summer League
The NBA's young stars get their first chance to shine for their teams in the 2007 Las Vegas Summer League.
Follow our complete coverage of all the Summer League camps.
SCHEDULE/RESULTS
• Las Vegas Summer League
• Orlando Summer League
• Rocky Mountain Revue

RECAPS AND NEWS
• Durant skips game to attend ESPYs
• Report: Tonsillectomy ending Oden's summer
• Durant's shot still off
• Oden better on Sunday

COLUMNS
• Buckley: Final calls from Rocky Mountain Revue
• Buckley: Horford, Law lead young Hawks
• Buckley: Durant a hit in lone Utah game
• Buckley: Louis Williams, sunny king of summer
• Windhorst: Best and worst of Vegas league
• Windhorst: Sonics duo finishes strong
• Buckley: Horford looks good for Hawks
• Windhorst: Durant breaks out for 32 points
• Buckley: Almond could fit Utah's shooting needs
• Denton: Rookies struggle in Orlando
• Windhorst: Iavaroni likes the look of his Grizz
• Denton: Noah, the sitting Bull who won't sit still
• Stein: Where will Yi finally land?
• Denton: The understudy point man of Jersey
• Stein: Midpoint awards from Vegas
• Denton: Redick on fire in Orlando
• Stein: The Belinelli buzz grows
• Stein: Latest on Mo Williams, Fisher
• Sheridan: Carlesimo patient with Durant
• Denton: Tyrus shines in Orlando Day 1
• Stein: Oden struggling early on
• Stein: Yi impresses in debut
• Sheridan: Oden, Durant debuts

TRUEHOOP BLOGS
• Projecting the game of Cheikh Samb, I am
• Legend of Ostertag's domination of TD
• Pierre Pierce's past ever present
• First impressions of Vegas scene
• Summer storylines
• Summer League notes

INSIDER NEWS


• Stein: Oden, Durant first meeting set for Sunday
• Sheridan: News and notes from Vegas

SCOUTS INC.


• Evaluating Redick's summer game

PODCASTS
• Chad Ford/Marc Stein on summer ball