Hoping for bigger Magic role, Redick comes out shooting
Updated:
July 11, 2007, 3:52 PM ET
By
John Denton
| Special to ESPN.com
ORLANDO -- Not even once while J.J. Redick was hitting those five 3-pointers, 18 free throws and averaging 23.5 points the past two days has he glared over at former Orlando Magic coach Brian Hill.
Then again, nobody would be surprised if he had done exactly that.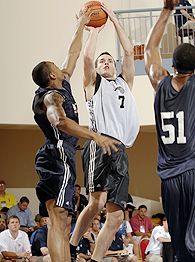 Fernando Medina/NBAE via Getty ImagesRedick is shooting with the confidence of his Durham days.
Buried on the bench most of his rookie season with the Magic while Hill was still the coach, Redick has taken the Pepsi Pro Summer League by storm this week by once again resembling the cocky scoring machine who dominated college basketball slightly more than a year ago.
A day after torching New Jersey's summer league team for 30 points, Redick showed more of his all-around skills Tuesday in the Magic's 88-65 whipping of Indiana. He scored another 17 points, but more impressively worked his way to the free-throw line seven times, corralled five rebounds and set up his teammates with six drive-and-kick assists.
It's just the summer league, a forum filled mostly with rookies and vagabond free agents, but to Redick, the event is somewhat of a saving grace. After playing just 42 games and an average of only 14.2 minutes a night, Redick has used this week of games to try to get back the swagger that disappeared at times this past season when he never knew when he might play.
"I struggled a good part of the season. It was really frustrating, really draining to tell you the truth," Redick said. "It was a test in patience. But a lot of rookies have gone through that and really my case isn't that unique. A lot of guys have gone through what I did and turned out to have really good careers. I'm hoping to do the same thing."
Hill played Redick only sparingly even though the Magic clearly needed shooters around Dwight Howard and some punch in their shoddy offense. But in Hill's defense, Redick fell behind early with injuries, missing most of the summer with a herniated disc in his back and most of training camp with torn tissue in his foot.
His season high with the Magic this past season was 16 points, but he had more than that (18) by halftime Monday. Magic GM Otis Smith and new coach Stan Van Gundy are well aware that Redick can score from almost any spot on the floor, but they are watching this week to see whether he can defend well enough to contend for the starting job at shooting guard next season.
Both Hills are gone -- Grant Hill is off to Phoenix to chase a championship, and Brian Hill is expected to join New Jersey's staff as an assistant after being fired by Orlando -- and Redick knows there's a huge opportunity for him to become a key player for the Magic. He's keeping his summer league success in perspective, though, knowing it's what he does in October that really will decide whether he will get some meaningful playing time.
"In the big scheme of things, I'm not sure this week really means a lot," Redick said. "Travis Diener had an incredible summer league last year [including a 34-point game], and it didn't help him much. Coach [Van Gundy] is going to play the guys he feels the most comfortable with. I'm just hoping to be one of those guys."
---
MOST IMPRESSIVE: Marcus Williams, Nets and Tyrus Thomas, Bulls (tie) -- A day after a 5-of-18 stinker in the opener, Williams once again looked like a dazzling playmaker who might run New Jersey's offense once Jason Kidd heads off to the Hall of Fame.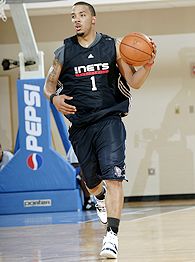 Fernando Medina/NBAE via Getty ImagesMarcus Williams was impressive running the point for the Nets.
He scored 28 points, got to the free-throw line nine times, grabbed six rebounds and dished out five assists in the Nets' 73-65 defeat of Miami. More importantly, Williams got anywhere he wanted on the court, looking like a second-year player on the verge of having a breakout season.
Thomas, the No. 4 overall pick in last year's draft, was once again clearly the best player on the floor in Chicago's 92-80 defeat of Charlotte. His quickness and newfound midrange jump shot allowed him to score 24 points. He added eight rebounds, four assists and four blocked shots.
Unlike some of the standout veterans who plan to skip the rest of the summer league (Adam Morrison, Raymond Felton and Kareem Rush), Thomas said he's attacking this assignment.
"I'm here to play, so I might as well play my best,'' said the 6-foot-9, 215-pound forward. "Me coming out here and just laying back and chilling all week, that would be a waste of my time. So I'm gonna make the best of this week."
---
MOST DISAPPOINTING: Miami rookie guard Daequan Cook once again looked uncomfortable on the wing and struggled mightily with his shot selection.
The Heat are hoping Cook can prove himself worthy of being Dwyane Wade's backup at shooting guard, but so far, Cook seems to be shooting himself right out of contention for that job.
Cook, who left Ohio State after one season and is just 20 years old, has been just 5-for-22 in two games so far this week. He missed 11 of 13 tries Tuesday against New Jersey. His only two field goals came on 3-pointers.
---
FREE-AGENT BUZZ: With the Magic being key players in this month's free-agent sweepstakes, their imminent acquisition of coveted small forward Rashard Lewis has been all the buzz of the summer league.
Lewis' agent, Tony Dutt, was at camp Monday, finalizing the negotiations with the Magic. Lewis is expected in town Wednesday, the first day free agents can sign contracts, to ink a six-year megadeal with the Magic.
Orlando has agreed to a sign-and-trade deal with the Seattle SuperSonics that will allow Lewis to make $126.4 million over the next six seasons, according to NBA sources who requested anonymity. The Magic will send a second-round pick to the Sonics.
With the 2007-08 salary cap set Tuesday night at $56.63 million, Lewis' first-year salary with the Magic will be $16.68 million -- the maximum allowable for a player with nine years of NBA experience. From there, he'll get 10.5 percent annual raises. That will take the deal to a mind-boggling $25.2 million for the 2012-13 season.
• Vince Carter, a native of nearby Daytona Beach and an Orlando summer resident, hosted the New Jersey summer league team this past weekend at his mansion and allowed the players to use his gym. It's the least Carter can do considering he's about to sign a four-year, $60 million free-agent deal with the Nets later this week. Carter attended Monday's games in Orlando but reportedly left Tuesday for California, where he will be shooting a commercial for Gatorade.
• Miami Heat point guard Jason Williams, another Orlando resident, was in attendance Tuesday. He was rumored to be looking to meet with Miami president/coach Pat Riley, who has spent the past few days courting Milwaukee free-agent point guard Mo Williams. Undoubtedly, he has to be wondering whether his starting job with the Heat is in jeopardy.
• Magic franchise center Dwight Howard is expected to sign his five-year contract extension worth at least $85 million Thursday. The exact worth of the contract won't be official until next July when the NBA sets the salary cap for the 2008-09 season. Howard will have an opt-out clause after the fourth season, meaning he can become a free agent again after the 2012-13 season.
John Denton covers the Orlando Magic for Florida Today. Write to him at jd41898@aol.com.