Commentary
Playoff Push: Another pivotal West showdown
The East has one playoff spot up for grabs. If the Pacers want it, beating the Hawks on Monday is vital.
Originally Published:
April 9, 2008
By
Andrew Ayres
| ESPN.com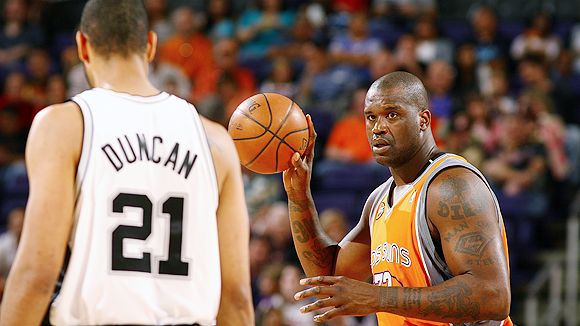 Garrett W. Ellwood/NBAE via Getty ImagesShaquille O'Neal missed Tuesday's game but is expected to play against his old rival Tim Duncan.

When the San Antonio Spurs and Phoenix Suns meet Wednesday in Texas (9:30 ET, ESPN), the game will feature two teams with a contentious past. Their future, meanwhile, figures to be equally hard fought.

Their last meeting was something of a turning point for Phoenix. With the beloved Muhammad Ali in the house, Suns center Shaquille O'Neal famously launched himself into the stands after a loose ball. Shaq did not float like a butterfly, but he flung like a tree.
Watch The Push

The NBA Playoff Push on ESPN and ABC continues this week. All NBA games are available in HD, and all ESPN telecasts are simulcast live on ESPN360.com and ESPN Mobile TV.

This week's schedule:
Date
Matchup
Wednesday
New Orleans at Dallas, 7 p.m., ESPN and ESPN360.com
Utah at San Antonio, 9:30 p.m., ESPN and ESPN360.com
All times Eastern
The Big Cactus scored 14 points and grabbed 16 rebounds to help the Suns beat the Spurs 94-87. The Suns had lost four of five heading into that game. Since Shaq's flight, Phoenix has gone 12-4.
If the Suns (52-26) snare a road win, it could prod San Antonio (53-24) toward the No. 3 seed. And if the Suns hold their current No. 6 slot, then it could create a very interesting first-round matchup with the Spurs. The Suns might not like the Horry-bull ending their season took in the playoffs last year.
Of course, trying to handicap the West pairings, even at this late date, looks mostly like an exercise in futility.
The Suns can wrap up the tiebreaker with the Spurs by virtue of a win, currently holding a 2-1 season-series lead. Should the standings shake up even more, that could be a significant development in the ongoing home-court advantage playoff subplot.
The Spurs, mired in a slump in mid-March, have emerged from their malaise to win nine of their last 10 games, the only blemish a 26-point loss in Salt Lake City last Friday. But a win here would be huge, bolstering their hopes for a customary No. 1 seed.
Wednesday's Playoff Push Games Of Note
Detroit at Philadelphia -- The Pistons have the No. 2 spot in the East locked up, so coach Flip Saunders is unlikely to send any rotation regular out past the 30-minute barrier, just as he did in Tuesday night's 98-94 loss to the Knicks.
The Sixers (39-38, No. 6) could move into the No. 5 spot on Tuesday with a win and a Washington (40-37) loss to Boston. The Sixers hold a 2-1 series lead on the Wizards, and could secure the head-to-head tiebreaker by taking an April 12 win in Washington.
New Jersey at Cleveland -- The Nets are mathematically alive. The Cavs are playing like they lost their calculator in the middle of filling out their 1040 form.
Cleveland (43-35) has lost five of its last seven and LeBron James' back is feeling tight. The Cavs could yet slip out of the No. 4 spot and lose home-court advantage. But like mortality and April 15, a first-round date with the Wiz seems preordained. Bron and Co. have had three days' rest, so this could be one step closer to the merciful end for the Nets.
Boston at Washington -- While the C's try to pad their impressive season with win No. 63, the Wiz will be looking to hit their stride with Gilbert Arenas likely back in the mix. Arenas sat out Saturday's win over the Bulls as a precaution but has averaged 15 points in his two games since returning to action from knee surgery.
Milwaukee at Toronto -- The reeling Raps (38-39, No. 7 in East) have lost three straight. The Bucks completing a back-to-back is just what the Raps' doctor ordered, in accordance with the Canada Health Act.
New Orleans at Minnesota -- Lose this one, and the Hornets could fall into a tie for first with the Spurs -- if San Antonio beats the Suns. Both teams are completing back-to-backs, and both are coming off losses.
Seattle at Houston -- Team 22 In A Row should be fiercely driven to stay ahead of the Jazz in order to hold home-court advantage in a possible first-round series. It's going to be tough road: Phoenix on Friday, at Denver on Sunday, at Utah on Monday before finishing up at home April 16 against the Clippers. The Monday game would be a head-to-head tiebreaker with Utah, since the Rockets and Jazz have split the season series so far.
Andrew Ayres is an NBA editor at ESPN.com
Andrew Ayres is an NBA editor for ESPN.com.
PLAYOFF PUSH
The Jazz are making a Playoff Push
This season's remarkable playoff race, particularly the Western Conference's parity party, ends tonight. The East is now set, but there is still some work to do to sort things out in the West.
Playoff Push Links
•
Current Playoff Matchups
•
Hollinger's Playoff Odds
•
Tuesday's Push: East pairing set
•
Monday's Push: Warriors' last stand
•
Weekend Push: Odds are
•
Friday's Push
Podcast
•
Bill Simmons, Marc Stein on West chase
TrueHoop
•
Denver, Golden State in a battle

MOST SENT STORIES ON ESPN.COM