Commentary
Playoff Push: For teams ruled by offensive direction, elimination likely for loser
Whoever wins Thursday's showdown between Golden State and Denver likely controls the final West playoff berth.
Originally Published:
April 10, 2008
By
Andrew Ayres
| ESPN.com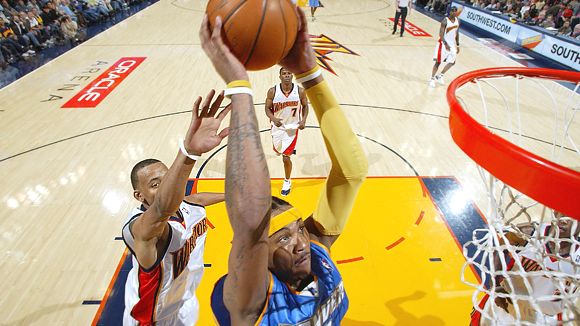 David Sherman/NBAE via Getty ImagesNuggets forward Carmelo Anthony is averaging 40.3 points over his last three games.

It's been said already, and it will be uttered with increasing frequency in the days ahead.

It feels like the playoffs have started.

With another big West showdown coming Thursday night, pitting the league's two highest-scoring teams, the Golden State Warriors and the Denver Nuggets, against each other, one has to think that what promises to be a dramatic postseason unofficially kicks off with this contest.

The stakes are high, with these two teams in all likelihood vying for one playoff spot, the No. 8 seed. This is assuming Dallas keeps its seventh-seed pace, which seems certain with Dirk Nowitzki back in the saddle again.
Watch The Push

The NBA Playoff Push on ESPN and ABC continues this week. All NBA games are available in HD, and all ESPN telecasts are simulcast live on ESPN360.com and ESPN Mobile TV.

This week's schedule:
Date
Matchup
Wednesday
New Orleans at Dallas, 7 p.m., ESPN and ESPN360.com
Utah at San Antonio, 9:30 p.m., ESPN and ESPN360.com
All times Eastern
The Nuggets and Warriors have identical 47-31 records on the season, with three games remaining after Thursday night's final whistle blows in Oakland. To the winner goes the upper hand. Check out the road ahead:
Denver is at Utah on Saturday, then home to Houston on Sunday night before wrapping up with a home game against Memphis on Wednesday. Sounds like a 2-1 finish, given the Jazz's home dominance.
Golden State hosts the Clippers on Saturday, then plays at Phoenix on Monday, before finishing with Seattle at home on Wednesday. That also looks like a 2-1 finish, with the road game at the Suns the likely L.
Those two schedules show how Thursday seems to be the big one.
Denver can assure itself of tiebreaker ownership against Golden State with a win, since it currently holds a 2-1 head-to-head advantage.
As it stands now, John Hollinger's playoff predictor gives the Warriors a 58.2 percent chance of making it, with Denver at 42.9. Dallas (49-29, current No. 7 seed) holds a two-game lead over both, and is given a 98.9 percent chance of making it.
For many reasons, Nuggets guard Allen Iverson is one to watch Thursday. He's shot 6-for-32 (18.8 percent) in his last two games against the Warriors.
Thursday's Playoff Push Games Of Note
Utah at Dallas -- The Mavs can take a big step toward clinching a berth with this one. After a weekend Pacific Northwest back-to-back with Portland and Seattle, the Mavs finish at home against the Hornets on Wednesday. If it comes down to tiebreakers, Dallas owns the breaker with Golden State by virtue of its 3-1 season-series advantage, but does not hold it against Denver, which won the season series 2-1.
Utah (52-26) seems slotted in the No. 4 spot by virtue of its Northwest Division title. NBA playoff rules state that a division winner can be slotted no lower than No. 4, but if its record is inferior to the No. 5 seed, it yields home-court advantage.
Now, it seems possible that the only question could be whether Houston (53-25, just like the Lakers and Spurs) or Phoenix (53-26) will end up ahead of the Jazz in the record department. The Jazz play only quality teams the rest of the way: Denver on Saturday, Houston on Monday, San Antonio on Wednesday.
L.A. Lakers at L.A. Clippers -- The Tuesday loss in Portland has the current No. 3 seed Lakers (53-25) teetering on the brink of losing home-court advantage. But the good news is the Lakers are home for good the rest of the way, playing host to the Hornets on Friday (MVP candidate alert! CP3 vs. Kobe), the Spurs on Sunday and the Kings on Tuesday. If and when Andrew Bynum returns in the next week, he'll get a nice hand.
Andrew Ayres is an NBA editor at ESPN.com
Andrew Ayres is an NBA editor for ESPN.com.
PLAYOFF PUSH
The Jazz are making a Playoff Push
This season's remarkable playoff race, particularly the Western Conference's parity party, ends tonight. The East is now set, but there is still some work to do to sort things out in the West.
Playoff Push Links
•
Current Playoff Matchups
•
Hollinger's Playoff Odds
•
Tuesday's Push: East pairing set
•
Monday's Push: Warriors' last stand
•
Weekend Push: Odds are
•
Friday's Push
Podcast
•
Bill Simmons, Marc Stein on West chase
TrueHoop
•
Denver, Golden State in a battle


MOST SENT STORIES ON ESPN.COM