Commentary
Rockets need Yao to stand tall
If the Rockets are going to upset the Lakers, they'll need a big effort from Yao
Originally Published:
May 4, 2009
By
J.A. Adande
| ESPN.com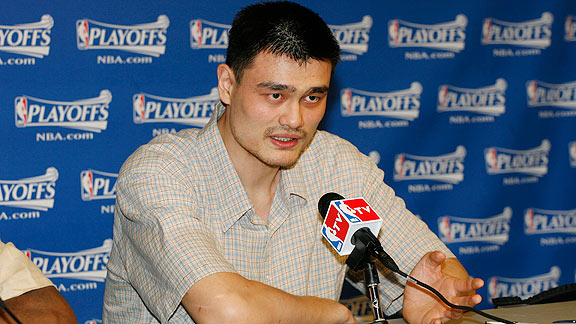 Bill Baptist/NBAE via Getty ImagesAlthough Yao is Houston's best player, he needs to step up more during crunch time.

It wasn't until Yao Ming delivered the laugh line of the playoffs -- his "see you in the club" parting shot to Ron Artest as Artest left the postgame news conference after the Rockets' Game 6, series-clinching win over the Trail Blazers -- that I realized how deprived we've been all these years Yao couldn't get past the first round.

Deeper trips into the playoffs mean more attention, which means more opportunity for Yao to showcase his underrated wit. My favorite, when he gave "The Star-Spangled Banner" as his favorite American song: "I listen to it at least 82 times a year." He and the Rockets guaranteed themselves at least four more renditions of the national anthem by sending the Trail Blazers back to the lab, but if they want to make it past the Lakers and get a crack at playing into June, they need Yao to play like a superstar. The rules of the playoff postgame news conference are simple: If you want to sit behind the microphone, you have to stand tall on the court. Figuratively.

Of course, Yao literally stands tall merely by getting out of his chair and unfolding his 7-foot-6 frame. Same with the Lakers' 7-foot-2 Andrew Bynum.

But the way Bynum has played so far, he can't even measure up to Muggsy Bogues (career playoff averages: 9.4 points, 2.8 rebounds). Bynum averaged 5.0 points and 3.0 rebounds against the Jazz in the first round. In his past three games, he totaled 26 minutes, two field goals and eight points, and lost his starting job to Lamar Odom.

Bynum is expected to start against the Rockets when their series begins Monday in Los Angeles. The Lakers aren't looking for points from Bynum; they outscored Houston by an average of 103-90 in sweeping the four regular-season games, and Bynum played in only two of them. They want to see him rebound, defend, block shots and run down the floor. They don't need a tremendous amount from him; they've got other people to handle that. He's like Randy Jackson on "American Idol."

If Bynum can stay in the game along with Pau Gasol, the Lakers will have a front-line height advantage that's even more noticeable now that Dikembe Mutombo is done. When Yao is out, the Rockets send in 6-foot-9 Carl Landry or 6-foot-5 Chuck Hayes.

That gets back to the importance of Yao. He can't afford to get in foul trouble. But it's not just about matching up. His team needs production from him.

Yao was the Rockets' leading scorer in the regular season but has led the team in scoring in only two of six playoff games so far. He missed the 2008 playoffs with an injury. In the 2007 playoffs, he averaged 25 points and 10 rebounds but lost a critical rebound battle to Utah's Carlos Boozer in the final 90 seconds of Game 7.

The best have to be at their best in the playoffs. You've seen superstars carry teams through series; it's rare to see a team carry a superstar who is having a sequence of bad games. A team takes on the personality of its best player. The problem for Yao and the Rockets is their best player isn't one of the best in crunch time. Yao averaged 4.5 points in the fourth quarter this regular season. Forty-four players did better, including the not-so-illustrious T.J. Ford and Charlie Villanueva. Not one of the 44 was a Rocket.

Here's how that manifested against the Lakers: Through quarters one through three this regular season, the two teams were just about even -- Lakers 284, Rockets 279. But in the fourth quarter, the Lakers outscored Houston 127-80.

You know who the Lakers will get their points from in the fourth. That would be Kobe Bryant, who missed Sunday's practice with an illness and is listed as day-to-day -- but you can count on seeing him in the starting lineup Monday just as sure as you can count on seeing an episode of "Law & Order" when you flip on TNT.

With Yao and Gasol, this is the only series that features two All-Star big men. Add Bynum to the mix, and that makes the paint the focal point in the battle to see who gets the last word at the podium.

J.A. Adande is an ESPN.com senior writer and the author of "The Best Los Angeles Sports Arguments." Click here to e-mail J.A.
ESPN.com senior writer since 2007
Around The Horn panelist
Formerly at Los Angeles Times
NBA Playoffs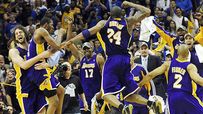 TODAY'S BEST
MORE ON THE PLAYOFFS
Adidas Men's Philadelphia 76ers Andrew Bynum #33 Red Replica Basketball Jersey Shop »

MOST SENT STORIES ON ESPN.COM