No. 5: Phoenix Suns
Originally Published:
June 11, 2009
By
John Hollinger
| ESPN.com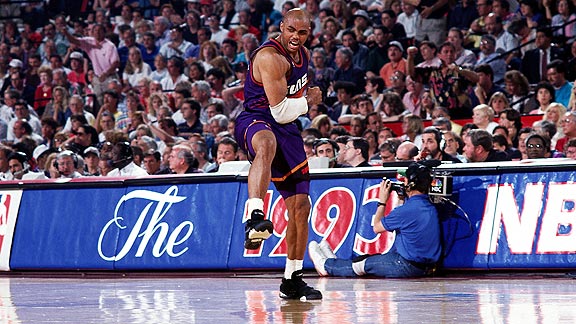 Andrew D. Bernstein/NBAE/Getty ImagesLike the other Phoenix Suns greats, Sir Charles got the team oh-so-close to an NBA championship.
5. PHOENIX SUNS: 57.85 POINTS PER SEASON (1968-2009)
Wins: 1,860
Playoff wins: 120
Series wins: 26
Titles: 0
All-Stars: 59

Best player: Charles Barkley
Best coach: Mike D'Antoni
Best team: 1992-93 (62-20, lost NBA Finals)
Intangibles: +50. Consistently entertaining teams with remarkably few knuckleheads.
"Best franchise never to win a championship" is something of a backhanded compliment, but in the case of Phoenix, it fits. For four decades, the Suns have done everything right except one thing -- win the title in the end. Despite four decades of visionary leadership from Jerry Colangelo, every opportunity has been ruined by some bizarre misfortune or other. One has to wonder whether this is the NBA's version of the cursed Chicago Cubs.
FRANCHISE HISTORY
Phoenix Suns (1968-present)
Phoenix has missed the playoffs only seven times since the merger and has had a staggering 18 50-win seasons in the past 33 years, but in that time, the Suns have made it to only one NBA Finals … in which they lost to the Bulls in six by dropping all three of their home games. From 1988-89 to 1994-95, they won at least 53 games every year and, with stars such as Kevin Johnson, Tom Chambers, Dan Majerle and Charles Barkley, were arguably the league's most talented team.
Somehow, they never won it all. In consecutive seasons, they blew 2-0 leads in the conference semifinals against the Rockets, the second coming with the added kick of a blown lead at home in Game 7 and a kiss-off from Mario Elie after he nailed the game-winning 3-pointer. And in 1990, they seemed poised to make the leap after upsetting the Lakers in five games in the second round of the playoffs, only to suffer four last-second losses to Portland in the conference finals.
A later era with two-time MVP Steve Nash produced more heartbreak, including consecutive conference finals losses and a heartbreaking second-round defeat to eventual champion San Antonio that came about in part because of the suspension of Boris Diaw and Amare Stoudemire in Game 5.
The Suns had one other NBA Finals trip earlier in their history, in 1976, one of only two times in their first nine years that they made the playoffs. That ended in disappointment, too, of course, as the Suns lost one of the most memorable Finals games in history -- a triple-OT affair in Boston in Game 5 -- en route to defeat in six.
SPONSORED HEADLINES
MORE NBA HEADLINES
MOST SENT STORIES ON ESPN.COM
Hollinger's NBA Franchise Rankings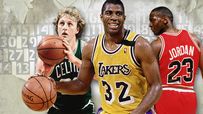 How do all 30 teams stack up for all time? John Hollinger ranks each squad from best to worst.
INTRODUCTION
TOP 10
INSIDER