Commentary
Nuggets stump Lakers in Game 2
L.A. outwitting Denver one of many assumptions we need to rethink this postseason
Updated:
May 23, 2009, 2:58 PM ET
By
John Hollinger
| ESPN.com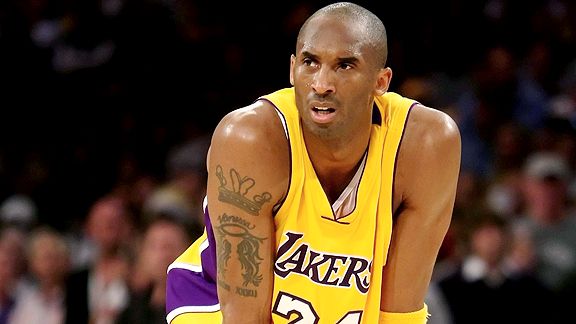 Stephen Dunn/Getty ImagesCrunch time is supposed to be L.A.'s specialty. But some questionable decisions led to its Game 2 loss.
So much for that dream matchup in the NBA Finals. If you accept that both conference finals series are now roughly 50-50 propositions, it means there is only about a one-in-four chance that we get the Kobe versus LeBron series everyone had been anticipating.
In other words, all our assumptions are out the window. And that's an appropriate place to begin after Denver's 106-103 win in Los Angeles on Thursday.
For instance, we assumed that if any suspicious officiating happened, it would benefit L.A., especially given the ratings bonanza a Lakers-Cavs showdown would produce. Instead, the refs blew an obvious jump ball violation that killed the Lakers' last decent chance of tying the game. Think about that one for a second -- if it had been Denver that got shafted on such a play, people would be screaming bloody murder about the league's hidden agendas and whatnot.
We assumed that the Nuggets missed out on their best chance at stealing a game in Staples Center when they couldn't pull out Game 1, especially when they came out lifeless at the start of Game 2. Instead, we had the third straight conference finals game where the losing team was left scratching its head and wondering, "How'd we lose?"
Daily Gems
Here are John Hollinger's top five NBA observations for Friday. Insider

Bobcats for sale? Change coming, too?
Karl stays with Dahntay Jones
Giving props to Derek Fisher
Nene makes up for lack of offense
James on board with using Pavlovic?
And especially after Game 1, we assumed that if it came down to crunch-time decision-making, the wily Lakers would easily outfox the Nuggets.
Instead, the opposite happened.
Oh, sure, the Nuggets made some bad choices early on, most notably when Carmelo Anthony and Nene took turns choosing not to run back on defense. But at nearly every key point, the Nuggets were the smart ones and the Lakers were the ones losing their heads.
It started with Sasha Vujacic's choice to focus entirely on the glories of shooting and not so much on anything else. That earned him boo birds from the home crowd and a quick seat on the bench after missing four shots in six minutes between the first and secodn quarters.
No worries, it seemed, as the Lakers still led by double figures. But then Kobe Bryant chose not to watch Chauncey Billups on an inbounds play. He got beaned in the rear for his troubles and Chauncey got a layup.
And when the refs were calling everything and anything a foul in the second half, only one player appeared to realize this and made an effort to get to the basket with regularity. No, it wasn't Kobe. It was a Nugget. Billups, again, was the sharper bulb, earning 16 free throw attempts for his efforts. Bryant took two foul shots in the second half, and those came on an off-ball foul by Anthony when L.A. was already in the bonus.
No worries, we still thought. In the wake of Game 1, we could still assume that Phil Jackson would make better decisions than George Karl down the stretch. And if that held, our other assumptions would remain mostly intact.
Scratch that assumption. Better yet, claw it out and burn it. Apparently Jackson was secretly replaced with Isiah Thomas at the start of the fourth quarter, helping the Nuggets grab a series-shifting victory.
Trouble began right at the start of the fourth. With the Lakers leading 82-80 and 11:29 left, Bryant picked up his fourth foul and Jackson took him out of the game. For a coach who is normally pretty liberal about foul trouble, this was an odd time to get conservative.
Bryant averaged a foul every 15.7 minutes this year, one of the lowest rates in the league. The odds of him picking up two more in 11:29 weren't great, especially if Trevor Ariza was going to stay on Anthony. Meanwhile, taking him off the floor for two minutes accomplished the same thing as fouling him out, just at a different point in the game, and the Nuggets promptly went on a 9-2 run before he checked back in.
Everyone talked about that move, but the decision I found even more curious was that another Laker never came off the court. Pau Gasol played the entire second half and 44 minutes total, and looked spent by the end. From the 1:27 mark of the third quarter until seven seconds remained in the game he scored three points, all on free throws. Gasol shot 3-for-6 from the line, missed his only field goal attempt and threw away a pass. One wonders whether L.A. chose not to take him out or just forgot.
And the Zen Master again had his faith in Derek Fisher go unrewarded. Fisher played 28 minutes, including the final 6:48, despite shooting 1-for-9 and several of the misses were the forced pull-up Js that became a familiar staple during the Houston series.
OK, so the substitutions were odd, but surely we could safely assume that in the game's dying seconds, Dr. Phil would outwit Furious George, just like he did in Game 1 … right?
Wrong.
Start with the decision to run a high pick-and-roll with Kobe with 29 seconds left. Denver sent both defenders toward Bryant to force the fateful jump ball, helped by the fact the Lakers were involving the cat-quick Nene in the play for no reason by having a screen.
Remember, Denver has nobody that can guard Bryant one-on-one. Dahntay Jones picked up five fouls faster than you can say "hand check" and Anthony Carter is too small. That's why Carmelo Anthony had been pressed into service in that role, and that's why Bryant had scored on two of the three previous trips. Just get him the ball and get out of the way.
That's what L.A. did at the end of Game 1, and it worked. Bryant got to the line twice in the last 30 seconds in the first game on such plays. This time, Jackson called timeout specifically to draw up something different. Well done.
But the cake-taker, of course, is the final play. Down three with 4.3 seconds left, Jackson drew up a play for Fisher to shoot a 3-pointer from the right corner. This is one bad decision that actually counts as three separate ones. Let's run through the choice:
1. He ran a play for a guy who isn't making shots: Fisher came into the game shooting 24.3 percent on 3-pointers in the playoffs and was 1-for-5 for the game, including a miss on a triple two trips earlier. It seems Jackson made the call thinking more of the past than the present. One has visions of him drawing up the play in the huddle for Robert Horry and then improvising at the last second when told that option was unavailable.
2. He ran a play for a left-handed player to catch and shoot from the right corner: Quick exercise for you lefties -- run from the right baseline to the left and catch a pass from somebody on the sideline, and try to go up and shoot right off the catch. Now do the same thing on the opposite baseline. Which side is easier? It's no contest, right?
It's way, way easier for a left-handed player to catch and shoot in one motion from the left baseline off a jump stop, and if that was the play L.A. wanted, it should have inbounded from the other side. Instead Fisher had to twist his entire upper body in mid-air while lining up his shot, not only throwing off his aim but also giving Nene a valuable ne-nanosecond to close out on him.
3. His entire logic was faulty: Jackson said the Nuggets would have fouled Bryant right away had the Lakers inbounded the ball to him, and that was the reason he drew up a play for Fisher instead.
Waaahhhhhhh?!?!?!?!?
Good. Let them foul Bryant. That's what you want. As long as he goes up right off the catch -- you know, like on the play the Lakers ran instead -- he gets to the line for three shots on a Denver foul.
Kobe is an 85.6 percent foul shooter. Shooting three freebies gives the Lakers a 62.7 percent chance of going to overtime, which is vastly better odds than any other outcome they could possibly produce. Anyone else on the team shooting the kind of wild, contested 3 this situation normally produces gives them what -- maybe a 15 percent chance? Twenty percent, tops?
(Side note: You know who might have helped on that last play? Vladimir Radmanovic. Just throwing it out there.)
Instead, the Lakers got cute and eliminated from consideration the one option that had the best chance of saving the game. I should point out that by this point they probably would have lost no matter what they did. Nonetheless, the decisions that led to the final play choice were indefensible.
And as a result, the playoffs are officially in chaos. Cavs-Lakers? Don't count on it. Nuggets-Magic? Don't write it off. Cavs-Nuggets or Magic-Lakers? Those are in play as well. In fact you might as well flip a coin at this point. All our assumptions about the conference finals are upside-down right now, and the final minutes of Game 2 were just the latest, greatest example.
John Hollinger writes for ESPN Insider. To e-mail him, click here.
SPONSORED HEADLINES
MORE NBA HEADLINES
MOST SENT STORIES ON ESPN.COM
NBA Playoffs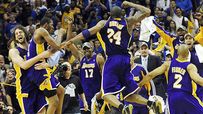 TODAY'S BEST
MORE ON THE PLAYOFFS