Commentary
No moral here, just a Magic win
Despite nearly losing 28-point lead, Van Gundy happy with 1-0 lead on Boston
Originally Published:
May 4, 2009
By
Chris Sheridan
| ESPN.com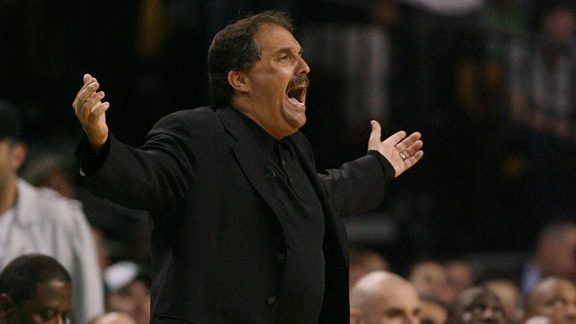 Elsa/Getty ImagesNow hear this: Magic coach Stan Van Gundy's main point is a Game 1 win, not a collapse.

BOSTON -- We've all debated moral victories, whether or not they truly exist, whether some good can come out of a loss, blah, blah, blah.
And that idea was certainly floating around the new Boston Garden on Monday night, the notion that the Celtics had established themselves as the more aggressive, more assertive team by the time all 48 minutes of their 95-90 loss to the Orlando Magic were in the books.
If ever there was a moral victory, this had to be one, no?
Well, no.
Or maybe we should say "NO!" so we can match the cadence of Orlando coach Stan Van Gundy, whose tone of voice as he worked his way through his postgame interview grew in decibels in direct proportion to how defensive he became.
Was he happy that his team had blown almost all of a 28-point lead? Of course not. And when a Van Gundy isn't happy, a Van Gundy is like a human version of Oscar the Grouch from "Sesame Street," only with a nicer home.
Was he unnerved that the Celtics had gone to the line 26 times in the second half after failing to attempt a single free throw in the first two quarters? Was he pleased with the way his team failed to handle Boston's second-half pressure? The way the Magic failed to ride the hot hand of Rashard Lewis? The way the five guys in blue uniforms looked like they were trying to rename themselves the Masters of Panic?
In order: Yes, no, no and no.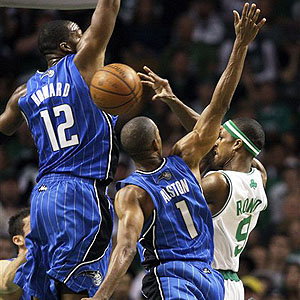 AP Photo/Elise AmendolaRajon Rondo had seven turnovers in Boston's Game 1 loss.
But Van Gundy also was not going to let the bottom line of this schizophrenic performance -- a Game 1 victory over the defending champs -- be subjugated to being picked apart as some sort of disappointment to spend the night tossing and turning over.
"The end of the game probably puts you at a point where you're not ecstatic, and they ended the game on a tremendous run, but we got the win," he said. "It's still a much better night for us -- you guys can write it however you want -- but it's still a much better night for us than for them. You guys get into the fact of the whole great comeback, but what about the fact we were up 28? You know, you play these games to win, and that's it. We won.
"They were fantastic in the last 16 minutes, and if we don't adjust and play better then we'll have a lot of problems Wednesday, but right now the series is 1-0."
An odd game it was, indeed, sort of like squishing the Hawks-Heat seven-game series into one night of action. You know, one of those "That team is really good! Oh wait a minute, what happened to that team that was really good? All of a sudden they don't look so good" kind of nights.
So let's look at the good for the Magic and quickly cut to the bad, because you have to after a polar opposite performance rolled into two distinct 24-minute segments.
Firstly, Lewis may end up being the most difficult cover in this series for the Celtics, but why was his confidence so shaky that he could manage only an 0-for-3 fourth quarter against Glen Davis and Brian Scalabrine?
Hedo Turkoglu, too. This is Orlando's offensive closer, has been for two years now, but he went 0-for-5 in the fourth and missed three foul shots in succession at one point. Let's just say that if this keeps up, they'll be calling him Mr. Clutch only because of his defensive tactics on Pierce.
Dwight Howard. Yes, 22 rebounds were huge, the 16 points were nice and the three blocks helped set the tone early when Orlando made it look like this was going to be a blowout. But on the biggest defensive play of the game, when Pierce was driving at him with 19 seconds left with a chance to cut a four-point deficit to two, did he step out into proper position to draw a charge? Did he challenge the shot? No, and no.
What he did was foul Pierce, although the refs swallowed their whistles and ignored the facts that Howard was (a) inside the no-charge semicircle, (b) still moving and (c) fouled Pierce as he attempted his shot.
Not that Pierce was complaining. In fact, like Van Gundy, he came off afterward more annoyed than anything.
"When you lose, it's the same feeling: You don't want to lose. You hate to lose that first game, especially at home. You've got the home-court advantage you worked all year for, and we gave it away two series in a row," Pierce said. "But hey, we battled uphill last series -- and that's the way it's going to be this series."
For a team that looked pretty good battling uphill in the opener, it was a positive thought to take home from the evening, and Celtics coach Doc Rivers echoed it somewhat: "As poorly as we played, we had plenty of opportunities to win the game, and that's a great sign. I don't know if we could have played any worse and still had a chance to win. So we'll take that."
But, as Van Gundy so pointedly pointed out, the team taking home the biggest prize of the night, as imperfectly as it played out, was his team -- the Magic.
Chris Sheridan covers the NBA for ESPN Insider. To e-mail Sheridan, click here.
SPONSORED HEADLINES
MORE NBA HEADLINES
MOST SENT STORIES ON ESPN.COM
NBA Playoffs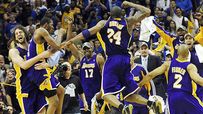 TODAY'S BEST
MORE ON THE PLAYOFFS