Commentary
A tall glass of 1 percent
Swallowing Rivers' estimate for injured Garnett's postseason chances could turn sour
Originally Published:
April 17, 2009
By
Chris Sheridan
| ESPN.com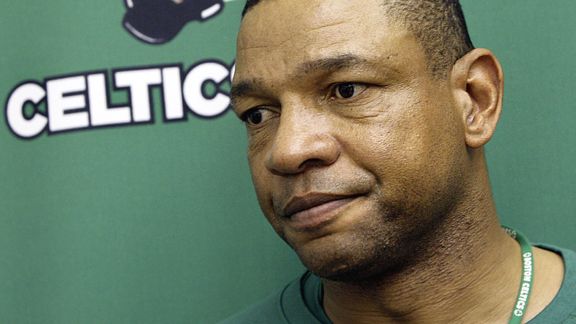 AP Photo/Elise AmendolaCeltics coach Doc Rivers has not completely ruled out KG from the playoffs.

WALTHAM, Mass -- "One percent."
That was the answer that came out of Doc Rivers' mouth early Friday afternoon, the number the coach of the Boston Celtics pegged to the possibility of Kevin Garnett's returning to play in this postseason.
Anyone with a fully functioning brain learned before kindergarten that there's a big difference between zero and one, and there's a generation of basketball fans that grew up knowing there's a big difference between what the Celtics will publicly acknowledge and what they'll privately do to gain an edge. In the old days, that meant turning up the heat in the visitors locker room or ensuring only cold water flowed from the showers.
But given that franchise history, it was not all that astonishing Friday to awake and read the news out of Chicago that the Bulls are not believing any of this business that Garnett is being shut down for the entire playoffs, which was the pronouncement Rivers made Thursday and continued to repeat Friday -- albeit with that "1 percent" hedge thrown in at the end.
"I wouldn't buy it, either, but they'll find out on their own. I hope they're preparing for Kevin; that would be terrific because that would be a waste of time," Rivers said. "We're not playing games, we just don't think it's going to happen. But if it happens, listen, I'm all for it. It would be the best news of the day, but just the length [of time] that it's taken, to where he's at now, it doesn't seem like he will."
Garnett needs surgery on his knee to remove a bone spur that the Celtics claim is unrelated to the strained popliteus tendon that is causing his current pain. In fact, Rivers said, Garnett has known since the preseason that he'd need offseason surgery to remove the spur.
So if they're really shutting him down, why not go ahead and do the bone spur surgery now, have a look-see at the tendons and cartilage, and fix whatever needs fixing? There's no shortage of world-class surgeons and hospitals in Boston, and it's not as though Garnett is going to have to wait at the back of the line leading to the operating room. And if they go in there and find something they weren't expecting, the extra two months of recovery time will serve the Celtics well heading into next season, correct?
Correct.
Problem is, taking out the scalpel takes away any chance that Garnett might make a comeback, two, four or six weeks from now (Rivers noted that the recovery time for the bone spur surgery lasts longer than the two-month postseason). The Celtics have tried getting Garnett to heal through exercise and other rehab techniques, and now they're ordering him to cease all physical activity, take a seat at the end of the bench and wave a towel if he feels like doing so.
If rest does the trick, who knows?
"Let's put it this way, the other way hasn't worked," Rivers said before adding that if the medical staff "says he can play, he can play. They also say right now he can't, and they don't think there's a chance."
Glen Davis will replace Garnett in the starting lineup, with Rivers believing his outside game is a better complement than Leon Powe's to Kendrick Perkins' inside game. Powe will be the backup 4, with Mikki Moore the backup center. Additional relief along the front line will not come until Game 3, which is the earliest Brian Scalabrine can return from post-concussion syndrome.
The Celtics defeated the Bulls in two of their three regular-season meetings, but both of those came before Chicago acquired John Salmons, Brad Miller and Tim Thomas at the trade deadline, and the Bulls won a subsequent matchup in which Garnett was sidelined.
Rivers said the coaching staff was pleased with the team's defensive effort over the final five to 10 games of the season, and he was generally optimistic regarding his team's chances of advancing despite the fact the Celtics are going to miss the emotional intensity of their defensive leader.
"It may heal, and we're going to make a long run -- I believe that. But I don't think he'll be a part of it," Rivers said.
It was that type of statement, lacking in absolute finality, that stuck in one's head to such a degree that ESPN colleague Rachel Nichols and myself approached Doc afterward and cautioned that we don't want to mislead anyone or give anyone false hopes, yet we still couldn't get past the fact that immediate surgery has been ruled out as an option.
And until that scalpel slices Garnett's skin, anything is possible, right?
"That's fair to say," Rivers replied.
So, then, what are the chances that Garnett will put on the green and white again this postseason? It's a question that needed to be asked, and it was.
"One percent. I don't know. Maybe 10 percent," Rivers said.
Huh?
Big difference between one and 10, Doc.
"OK. One percent," Rivers said.
And with that, the statement that Garnett is "out" for the entirety of the postseason became measurably less absolute.
There are 17 championship banners hanging at the practice facility (replicas are hung from the rafters at the new Garden, and the originals are displayed here -- the 1965 banner is covered in splatters and stains, and the '63 banner strangely has not yellowed nearly as much as the '62, '64, '65, '66 and '68 banners), and there is a long-held belief that subterfuge and shenanigans helped compile that collection. So it is both natural and advisable to mistrust the Celtics because you never truly know what they'll have up their sleeve on any given game day -- which is why we'll keep that "1 percent" quote in mind for as long as the Celtics stay alive.
After all, one ain't none.
And as long as the chances of Garnett's returning remain anywhere north of absolute zero, we're not counting him as 100 percent out.
Chris Sheridan covers the NBA for ESPN Insider. To e-mail Sheridan, click here.
SPONSORED HEADLINES
MORE NBA HEADLINES
MOST SENT STORIES ON ESPN.COM
NBA Playoffs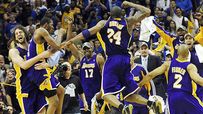 TODAY'S BEST
MORE ON THE PLAYOFFS