Commentary
Rating the first playoff weekend
The NBA playoffs are off to a roaring start. Here are the 'bests' from the first weekend
Originally Published:
April 20, 2009
By
Marc Stein
| ESPN.com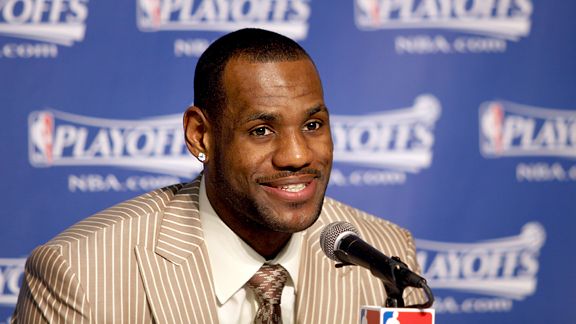 David Liam Kyle/Getty ImagesLeBron and the Cavs came out of the weekend looking sharper than their competition.

It's the first Monday in months without a fresh batch of NBA Power Rankings to unveil. But we're still in that mode.
The most natural transition, then, is ranking the various developments from the maiden weekend of playoff basketball to help us project what will happen from here. So ...
Here are eight bests culled from the first eight games of the NBA postseason:

Not even Derrick Rose -- even if we look at nothing other than his line and the final score from Saturday's Chicago-at-Boston box -- enjoyed a more successful playoff launch than the Cavs did collectively. The same holds for Chauncey Billups, even after he matched Rose's 36 points in Denver's emphatic series-starting smackdown of Chris Paul's New Orleans Hornets.
Seriously. Looking at everything that has happened already, Cleveland couldn't be in a better spot one game into the playoffs.
The Boston Celtics lost their series opener to Rose's Bulls to spotlight the depths of their vulnerability without Kevin Garnett and apparently will be answering distracting questions about their emotional compass/defensive anchor for every remaining day of their season, no matter how many times they say he won't play another minute until next season. The Orlando Magic, meanwhile, made the season-ending slide that prevented them from beating out the KG-less Celts for the No. 2 seed in the East look like a hot streak by choking away a late 18-point lead in a Game 1 loss at home to Philadelphia.
We really don't need to spend much time dissecting how the Cavs witnessed LeBron James scoring 19 of his 38 points with either Tayshaun Prince or Rasheed Wallace directly guarding him, committed only four turnovers as a team and somehow incurred just two team fouls in the whole second half of a 102-84 throttling of what's left of the Detroit Pistons.
There's little point in digging too deep there when the fast deterioration of Cleveland's two main rivals in the East suddenly makes the Cavs' route to a LeBron-Kobe Bryant showdown in the NBA Finals look as rosy as L.A.'s path. Even the purportedly invincible Lakers added to the Cavs' glee by quickly turning vincible in one of their boredom-induced letdowns in the second half against Utah, setting up Lakers coach Phil Jackson to rail about his team's killer instinct. Again.
I realize it's early and that (allegedly) a lot can change. So I haven't abandoned hope that the Cavs -- and/or the Lakers -- are going to see a push somewhere before they inevitably collide on the grandest of the NBA's stages.
Yet it's also true that you could make a strong case, after the opening weekend of the postseason, that the most dangerous pre-Lakers obstacle in the Cavs' way is the four or five nights of off-court temptations they'll face in the second round when they're in either Atlanta or Miami.
Seriously.
---
Best Trend: Road upsets
It was the obvious recurring theme from the first day (and night) of the playoffs.
It happened 75 percent of the time Saturday, with Philadelphia becoming the fourth lower seed to steal a Game 1 as the away team Sunday night.
And it is the least you deserve at a time when we're all talking so much more about who's not playing (Garnett, Manu Ginobili, Jameer Nelson, Tracy McGrady, Elton Brand and Allen Iverson) and who's playing hurt (Tim Duncan, Hedo Turkoglu and Tyson Chandler, just to name a few) than we're anticipating on-court suspense.
In the current climate?
All surprises are welcome, no matter how small they seem, when May is still some 10 days away and our Finals matchup feels so inevitable.
Saturday's wins for Chicago, Dallas and Houston, in that context, added up to a nice little jolt for the whole tournament, while also marking the first time three road teams won Game 1 on the same day since New York (at Cleveland), Houston (over the Lakers) and Atlanta (at Indiana) did so on April 25, 1996.
---

Rose
Best Leading Man: Rose
One more triple for Billups in Sunday's extremely-physical-for-a-rout smashing of the Hornets -- which would have matched Ray Allen, Vince Carter and Nuggets vice president of player personnel Rex Chapman for the single-game playoff record of nine 3s -- and we might have been forced to revise this selection.
Or maybe not.
Lead guards were the weekend rage, and Billups, appropriately, couldn't have done much more as a tone-setter for his desperate hometown team. It doesn't matter that Billups and Paul don't actually match up on every possession. The mere presence of the game's consensus No. 1 point guard in Denver's infamous altitude -- along with the low-hanging clouds stemming from the Nuggets' inability to win a first-round series since Billups was a junior at Denver's George Washington High School in 1994 -- combined to make Chauncey's 8-for-9 shooting on 3-pointers in a 113-84 rout one of his most memorable eruptions.
We already knew, though, that the 2004 NBA Finals MVP could do this. Or something close to this.
We had no idea what Rose was capable of in his first playoff game. We never expected to hear Magic Johnson -- who managed a comparatively paltry 13 points and 16 assists in his postseason debut for the Lakers -- gushing on the ABC set in response to Rose's 36 points and 11 dimes in a two-point OT win in Boston: "Michael Jordan couldn't do it, Magic Johnson couldn't do it, Larry Bird didn't do it."
---

Best Rose Sidebar: The residual effects of Rose's breakout game in Rip City
Brandon Roy was kind enough to pinpoint the bottom line for the scribes in attendance late Saturday when the new darlings of the Western Conference, playing in their first playoff game since 2003, absorbed a 27-point humbling from Houston.
It seems that Roy himself quickly volunteered the parallel between the Blazers' capitulation against the Rockets and their meek showing against the Lakers in Los Angeles with the nation watching on opening night, back when they were merely a trendy pick to challenge for a playoff spot as opposed to full-fledged darlings.
The problem? There are at least two by our count.
1. As overwhelmed as it looked Oct. 28 at Staples Center, Portland's lack of readiness for this big moment was far more troubling, given that the 54 wins in between were supposed to have convinced Roy's Blazers -- who were playing at home this time, don't forget -- that they deserved at least some of the recent pub proclaiming them to be the Western Conference team most likely to derail the Lakers.
2. Playoff inexperience ain't a great alibi when the Bulls, hours earlier, played right through their lack of it to take down the defending champs. As a road team.
You already know my theory if you listened to this B.S. Report with Bill Simmons and Ric Bucher from last week. If you didn't catch the podcast, our view here at Stein Line HQ is that the Blazers -- on top of whatever standard playoff anxieties they confront as all teams do when they're just starting out with big games -- still have to learn how to cope with the win-now expectations their famously loud and loyal fans have. The Rockets certainly have their own demons, but the Blazers definitely seemed weighed down by the magnitude of the moment, which is only inflated by the runaway ambitions of a fan base that has been waiting since 2003 just to get back to the playoffs.
Maybe the Blazers will respond emphatically like they did to their flop on opening night and win this series like the majority of ESPN savants (7-3) predicted. Or maybe Houston's physicality and the two top-shelf defenders it can keep sending at Roy -- Ron Artest and Shane Battier -- will heap on more pressure.
---

Barea
Best Story That Got No National Play: J.J. Barea
Rose wasn't the only lead guard who had never done a thing in the cauldron of the postseason and then exceeded all rational (and irrational) Game 1 expectations. There were two more from Texas teams, actually.
The Rockets unleashed little Aaron Brooks on the Blazers and watched the speedster, who must have convinced himself that he was back at Oregon, rumble for 27 points. In his previous six career playoff games, Brooks had totaled 25 points.
But Barea's tale was even better.
As a rookie in 2006-07, Barea was jokingly dubbed "Rudy" by teammates who loved having him around but generally saw him as the NBA's equivalent of a walk-on. As recently as the start of this season, Mavs sixth-man extraordinaire Jason Terry still occasionally called him "Barrera."
You can be sure that the Spurs know exactly how to pronounce the 24-year-old's name now. Believed to be closer to 5-foot-10 than his listed height of 6 feet, Barea tormented them once during the regular season with his combination of fearless driving and confident shooting from the perimeter and shredded San Antonio's vaunted defense again Saturday night.
With San Antonio shadowing Dirk Nowitzki and Terry even tighter than usual, daring their lesser-known teammates to win Game 1, the Mavs needed a difference-maker in the fourth quarter, since third-quarter spark Josh Howard continues to face playing-time restrictions because of his long-standing ankle injury. Into the breach stepped Barea, who had so much success attacking Tony Parker -- thus gradually wearing down the Spurs' main offensive threat -- that Mavs coach Rick Carlisle was able to send the flu-ridden Jason Kidd into the weak-side corner to be a decoy.
Barea wound up with only a modest 13 points in 26 minutes but was legitimately the best crunch-time point guard on a floor shared by Parker and Kidd, validating the Mavs' repeated refusals to trade him over the past year-plus. Interested teams used to be told that Dallas wouldn't part with Barea because Nowitzki liked him too much as a teammate to let him go. It's fairly clear now that the Mavs, who were convinced Barea eventually could score in the NBA like he did in college (Northeastern) and with Puerto Rico's national team, regard him as one of the league's best bargains, having signed him last summer to a two-year deal worth $3.2 million and containing a team option for the third season.
It remains to be seen how many more times Barea can hurt the Spurs in this series, but he suddenly is at the heart of the biggest question entering Game 2: Will San Antonio try to trap Barea and force the ball out of his hands with an extra defender, thereby exposing themselves to Terry's dead-eye shooting on the weak side?
---
Best Resourcefulness: Kidd
They weren't the finest 38 minutes of his playoff career, but Kidd was so determined to get through his Game 1 illness that, with no airplane sick bags available, he settled for a Gatorade cup on the bench whenever necessary so he could keep playing.
---

Billups
Best Use Of The Number 8: Billups
Billups wears jersey No. 7 with the Nuggets, but you had to add one to get to his lucky number in the Nuggets' rout of New Orleans. Billups:
• Made eight 3-pointers in nine attempts.
• Became the eighth player in league history to make eight 3s in a game.
• Recorded eight assists against zero turnovers.
• Shot 8-for-8 from the free throw line.
• Sparked Denver's snapping of an eight-game playoff losing streak.
---
Best Random Numbers To Drop First-Round Knowledge On Your Friends Via Twitter: 0, 33, 6, 4, 2, 9, 57
• 0: That's how many blocked shots Duncan had to go with 27 points and nine rebounds in a 104-97 loss to Dallas. The consensus we're hearing from both teams in this series: Duncan's trademark bank shot might be smooching in nicely off the window, but he clearly is still laboring on those two cranky knees and thus struggling to impose himself defensively at the rim.
• 33: That's how many points Prince has managed for the Pistons in his past five playoff games -- combined. As if he's not doing enough for the Cavs, LeBron has shown he can pretty much blanket Prince without help, enabling Cleveland to devote extra attention to shadowing Richard Hamilton.
• 6: That's how many uncontested shots Boston's Allen missed in a 1-for-12 shooting performance against the Bulls. Throw in Paul Pierce's missed free throw that could have won the game in regulation with less than three seconds to go, and you realize how fortunate Chicago was to prevail in spite of Rose's brilliance. On the flip side, though, lots of us are guilty of not recognizing Chicago's ability to trouble the Celts in their beaten-down state, since the Bulls are awash in athletes not unlike that Hawks team that took Boston to seven games in the 2008 first round. I'm guessing you also will recall that the Bulls, in their trip to the playoffs in 2007, swept the defending champs from Miami in the first round.
• 4: That's how many free throws Miami's Dwyane Wade attempted in a 26-point loss to the Hawks on Sunday night, as Atlanta continues -- just like it did during the regular season -- to force Wade to settle for jumpers instead of trying to get inside past the Hawks' length and depth. The same Wade who attempted 97 free throws during the 2006 NBA Finals.
• 2: That's how many points James Posey scored in his underwhelming playoff debut for the Hornets after leaving the champion Celts in the offseason, although it would be unfair to ignore the typically sticky defense he applied to Carmelo Anthony.
• 9: That's how many baskets at the bucket -- five mind-blowing dunks and four layups -- Josh Smith hung on the Heat in Atlanta's 90-64 cruise.
• 57: That's a pure estimate for how many possessions we can expect to see Portland front Yao Ming in Tuesday's Game 2 after Blazers coach Nate McMillan inexplicably declined to front him in Game 1. Or a safe guess for how many "Stan Van Gundy is panicking" puns, quips, etc., you're going to hear between now and Wednesday's Game 2 after the comeback Philly uncorked on the Magic.
Marc Stein is the senior NBA writer for ESPN.com. To e-mail him, click here.
Senior Writer, ESPN.com
• Senior NBA writer for ESPN.com
• Began covering the NBA in 1993-94
• Also covered soccer, tennis and the Olympics
NBA Playoffs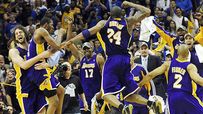 TODAY'S BEST
MORE ON THE PLAYOFFS


MOST SENT STORIES ON ESPN.COM