Scouting Update: Pistons-Cavs, Game 4
Updated:
April 26, 2009, 9:17 AM ET
By
David Thorpe
| Scouts Inc.
• Pistons-Cavs series scouting report | Series page
Detroit came into Game 3 with the hope that returning home would help inspire them into playing a better all-around game with a lot more effort. In the first and third quarter, it did, but Cleveland's team defense is the ultimate road equalizer. And now that the sweep is in sight, there's little left to compel the Pistons to raise their level of play.
Adjustments
Detroit

• Detroit's game plan began with providing great ball pressure on the Cavs' ball handlers, including
LeBron James
. Detroit forced five turnovers in the game's first eight minutes. But the Pistons could not keep that energy up for either entire half, losing the second and fourth quarters 52-34. Considering how dispirited they will likely be for Game 4, it's hard to imagine they can use that same strategy. The Pistons employed a weakside zone often when LeBron had the ball, marking him with a man and zoning up behind him. They can try this with any Cavs player when he has the ball, packing it in the paint.
• Any zone coverage risks giving away offensive rebounding positioning, a Cleveland strength. The Cavs had nine offensive rebounds in Game 3 on 40 misses. But Detroit has to pick its poison -- allow LeBron to run wild in a Game 4 he's sure to be excited about and can single-handedly deliver, or make the other Cavs carry the day. Either one or the other can work for Detroit, but a mix of the two probably cannot.
• Detroit likes the slower pace, but this plays into the hands of Cleveland and its stellar defense. Finding more transition opportunities, like when Richard Hamilton released early and caught a hit-ahead pass for an open jumper, might help them get their offense in gear.
• After playing so well in Game 2, the Pistons' bench fell asleep and let Joe Smith outscore every Pistons player, finishing with 19 points in just 19 minutes. His four offensive rebounds are inexcusable, from a Pistons perspective. To run, of course, means they have to do a better job on the glass. Regardless of playing zone or man, all five of their players have to commit to helping in this area. The guards did their part in Game 3, and now they have to do it again.
• It appears, still, that Rasheed Wallace is not interested in making winning plays. Too often he stands and watches the action on defense, giving up layups and other easy shots. And on offense, he's happy to just hang back and wait for a shot that only rarely will come (he made his only 3 in Game 3) as the Cavs are not going to let him play that catch-and-shoot game. A Wallace dedicated to mixing it up inside could make a huge difference for Detroit.
Cleveland
• The bad news for Detroit is this: the one quarter (third) in which they outscored Cleveland (16-9), featured a majority of good possessions for the Cavs. They just missed shots or opportunities. It's a reason why they scored 26 points in the fourth -- they just stuck to their game plan.
• When Detroit flooded LeBron with Wallace or McDyess, Cleveland smartly ran a big to the high post to serve as a pressure-release man. But that man did not always get there fast enough. That designated player has to anticipate the Pistons' action and jump into the area more quickly, more often. Once he catches it, all of the Cavs' scoring options open up.
• The one guarantee Cleveland has, in terms of always getting a shot, is the pick-and-pop action with LeBron as the ball handler. On that action, the Detroit big and the guard stay with LeBron for a few beats, hoping he passes it. So the shot is always there for the big, unless LeBron does not come off the screen hard, dragging the defensive big with him. He comes off the screen slowly on occasion, looking to keep the ball in his hands. But this plays into the Pistons' hands (to some degree) as it keeps all five defenders in front of him.
• If Cleveland set tighter ball screens for James, closer to the basket, the opposite Pistons big would have to rotate quickly onto the pop guy. He'd get there more quickly, but then the big can reverse the ball and Cleveland can better attack the other side. In any case, ball movement, to counter Detroit's energized defense (if it is so energized), is the solution.
---
X factors
Detroit

• Since LeBron can help shut down any Pistons guard who gets hot, it's up to a Detroit post player to go for a breakout game.
• Coach Michael Curry is faced with one of the toughest tasks for any coach, trying to avoid the sweep. Can he sell his game plan, and inspire his team to play its best game of the series?
Cleveland
• Cleveland executed rather well on many of its sets in Game 3, but just shot very poorly. If the Cavs can start well and begin sensing the sweep, their shooters may find the groove and propel them to an easy win.
• LeBron James. Desiring rest before the grind goes up a few notches. Taking his game to special levels.
---
Prediction
• Detroit has had a few moments of solid basketball on both ends, but Cleveland plays the type of defense that allows it to weather any issues. The Cavs are a focused team, led by a mature and inspiring teammate, who just happens to be the world's top player. And they are going for their eighth-straight postseason win over Detroit. They may blow out the Pistons.
Prediction: Cleveland wins Game 4
David Thorpe is an NBA analyst for Scouts Inc. and the executive director of the Pro Training Center in Clearwater, Fla., where he oversees the player development program for more than 40 NBA, European and D-League players. Those players include Kevin Martin, Rob Kurz, Luol Deng, Courtney Lee and Tyrus Thomas. To e-mail him, click here.
Synergy Sports Technology systems were used in the preparation of this report.
NBA Analyst for ESPN.com
Executive director of Pro Training Center
Started coaching career in 1987
SPONSORED HEADLINES
MORE NBA HEADLINES
MOST SENT STORIES ON ESPN.COM
NBA Playoffs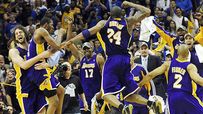 TODAY'S BEST
MORE ON THE PLAYOFFS