Scouting Update: Blazers-Rockets, Gm 3
Originally Published:
April 20, 2009
By
David Thorpe
| Scouts Inc.
• Rockets-Blazers series scouting report | Series page
The Blazers are young but full of very talented and extremely confident players. That much was evident in their 107-103 Game 2 win. Houston has put together the two best road performances of any playoff team so far but cannot go home and think the series will become any easier. This Blazers team is capable of winning two straight road games.
Adjustments
Houston
• All adjustments must start and end with Brandon Roy. It's not just his 42 points on 27 shots in Game 2 but also that he orchestrated Portland's offense all night and never committed a turnover. All of Houston's starting front line ended up with four or five fouls.
• Houston started the game playing contain-style defense on ball screens involving Roy. The big man guarding the screener hung back, protecting the basket and not risking getting beat on the hedge. This gave the Blazers a four-on-three situation too often. The risk of this strategy is that it allows Roy to build momentum in the space afforded him so he can better attack the big, who is stationary. Many guards settle for jumpers in this situation; others force the issue and just drive. Roy did both, picking his spots wisely, which is exactly what Houston hoped he wouldn't do. Houston's biggest adjustment will be figuring out how to defend this action. Blitz Roy? Switch the screen, unless the big is Yao Ming? Hard hedge and recover?
• As the first quarter of Game 2 ended with Roy's advancing the ball for a last-second shot, Ron Artest and Aaron Brooks both got lost from their men for a moment and were standing next to each other in the paint. Instead of Artest bolting forward to mark the biggest threat, Brooks did. Roy simply wound the clock down before launching an uncontested 3 that went in.
Brooks is too small to contest Roy's perimeter shot. Artest isn't, and in games this tight, one 3-pointer can make the difference. Finding the biggest threat and marking him with the right matchup needs to happen on every possession.
• Houston also has to think about how it has defended LaMarcus Aldridge. After a poor Game 1, he was huge on offense in Game 2. Houston elected to play him one-on-one exclusively, and he showed he can score no matter how he is defended. Face up and shoot, shot fake and drive to a pull-up, right-shoulder turns, left-shoulder turns -- he made them all. He was effective in the pick-and-pop game, too. Double-teaming him makes it even tougher to give Roy the attention he deserves, but if Aldridge gets hot again, Houston has to do something. Denying him won't work, as he's too big for that, so doubling or at least showing the double has to be the game plan.
Portland
• Although it won Game 2, Portland cannot afford to relax. In fact, the Blazers need to talk about putting together their best effort of the season. This is not just a play-our-game situation.
• Artest scored 19 in the game and crushed it in the first half with outside shots, but Portland will live with almost everything he did. Many of his shots (he took 20) were poor ones.
• Brooks hurt Portland in both games. He's on a hot streak and was 4-of-5 on 3s in Game 2. Portland has to decide whether it wants to better guard Brooks, who shot 36.6 percent from 3 during the regular season. If not, the Blazers will continue to focus more on guarding Yao. If so, if they close him out they will risk getting beaten by the dribble because he's so quick, but chasing him off the line may have to be the plan.
On pick-and-pops with Brooks, the Blazers showed with their big and had Steve Blake lock and trail, but too often the big showed too much and left Luis Scola or Yao too open. Blake is great at trailing and recovering, so Portland's bigs can show less and take the pop out of the picture. Only if Brooks ends up scoring too much on penetration or drawing fouls inside should the Blazers return to what they did in Game 2.
• The Blazers, after playing behind Yao inside, worked hard at fronting him whenever possible. This included cross-screening action, so Joel Przybilla had to race from block to block. It was effective, but only when he had help behind him to prevent the lob. When Houston smartly cleared the backside, Przybilla moved back behind Yao. In those cases, a quick double-team came from the nearest defender. Yao struggled to find a rhythm against this defense but likely will make quicker kick-outs and then repost. Portland has to recover quickly and then get right back to the double if Yao reposts.
---
X factors
Houston
• Artest always is one, as he can shoot Houston into or out of games.
• Without Dikembe Mutombo, can Carl Landry find his game? He was huge for the Rockets last postseason.
Portland
• In Game 2, it seemed likely that Roy would be able to score at will. But doing it in on the road, as Dwyane Wade did Wednesday night, is more challenging. Is Roy ready for that yet?
• Przybilla and Oden both dealt with foul trouble in Game 2 because they were so physical against Yao. Can they play just as physically in Houston and still play the majority of the minutes necessary to pull the win?
---
Prediction
These teams are evenly matched, and Portland's Game 2 response shows how quickly it figured out how to stay competitive. It will be surprising if the Blazers get beaten as they did in Game 1, but to win for the first time in Houston would be even more surprising.
Prediction: Houston wins Game 3
David Thorpe is an NBA analyst for Scouts Inc. and the executive director of the Pro Training Center in Clearwater, Fla., where he oversees the player development program for more than 40 NBA, European and D-League players. Those players include Kevin Martin, Rob Kurz, Luol Deng, Courtney Lee and Tyrus Thomas. To e-mail him, click here.
NBA Analyst for ESPN.com
Executive director of Pro Training Center
Started coaching career in 1987
SPONSORED HEADLINES
MORE NBA HEADLINES
MOST SENT STORIES ON ESPN.COM
NBA Playoffs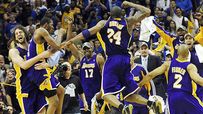 TODAY'S BEST
MORE ON THE PLAYOFFS
Tervis Houston Rockets 16 oz Logo Tumbler Shop »