Commentary
Who's big in the ATL? It's the Hawks
A former doormat, the Hawks are becoming relevant in their hometown and beyond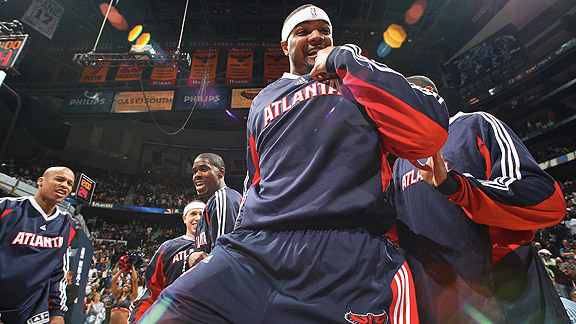 Scott Cunningham/Getty ImagesWhen not caught up in the fun of winning, Josh Smith is dunking and swatting.

ATLANTA -- Once upon a time, if asked what you thought about "The ATL," those who dared utter the name of any member of the Hawks were immediately cursed out, labeled ignorant and stripped of any and all credibility cards in their possession -- after being slapped silly. Rap artists like T.I. and Ludacris were more likely to come to mind, or media mogul Tyler Perry, or maybe Hank Aaron. Then there's the infamous strip club known as "Magic City."
And who could argue?
This is what happens when you are the Atlanta Hawks, once a perpetually dormant franchise allergic to postseason play, merely taking up space when the Braves were resting before the next spring training. The fan base here was known for showing up to Philips Arena to cheer for someone else, basically due to the home team's averaging a 27-55 record from 1999 to 2007. The fans were unable to find incentive to expend much energy on a basketball team en route to nowhere. At least once upon a time.
"I guess you can say it's been like that for a while," Hawks point guard Mike Bibby said. "But I'll say this: It's changing here. When you hear these fans at our games, especially during this time of year, it's special. Real special. I never knew it would be like this. But I'm loving it. Seriously."
It may have taken 10 years, but the Hawks are not only a playoff team again this season, they actually posted a winning record to go with it. Instead of squeaking into the playoffs with an unimpressive 37-45 record like last season, their 47-35 record this season marked their first winning mark since the lockout-shortened 1998-99 season.
The Hawks are long, athletic, well-coached and presumably hungry. They are all these things in spite of a troubled ownership few know about and even fewer would care for if, indeed, they did know them. And they are relatively low-paid according to today's NBA standards, which means there's still salary-cap room to add pieces in the future.
Although they have an All-Star guard in Joe Johnson, he's not a maximum-salaried player, set to earn just under $15 million next season. Sky-walking forward Josh Smith is already locked in at $58 million for the next five years.
There is youth in the frontcourt with Marvin Williams and Al Horford. There's loads of skill and craftiness in reserve guard Ronald "Flip" Murray, and an impending free agent in Bibby, whose $14,983,603 comes off the books after this season and could put Atlanta well below the salary cap.
Meanwhile, their rabid fans have helped create a big home-court advantage.
As noted Atlanta Journal-Constitution columnist Terence Moore told me: "It hasn't been like this in Atlanta for about 20 years, when Dominique Wilkins and Spud Webb were here. It wasn't this way with the Braves. Not with the Falcons, either. Just Michael Vick. But this Hawks team has this city in a frenzy."
Normally, a 90-64 victory wouldn't do that, but Game 1 of this first-round series against Dwyane Wade's Miami Heat was a bit different. It isn't normal to see Smith catching an alley-oop from half court one minute, then registering an over-the-head slam the next. Think Michael Jordan and Wilkins in a slam-dunk contest. Their actual games are not the same as Smith's, but the entertainment value is similar.
And once you pause to imagine how you'd feel witnessing such hoop theatrics firsthand, think about what it is like for a fan base that spent years starved for some semblance of competitive basketball, displaying its need for change by consistently ranking in the bottom five in league attendance for several years prior to last season, wondering if it would ever have a local team to cheer for.
"In all my years in this league, I've never seen those fans in Atlanta like that," Celtics forward Kevin Garnett said of last year's playoff atmosphere. "Never. It was bananas."
Is an encore of Atlanta's Game 1 win over Miami in the making for Game 2?
"It will be if we don't show up to play," Wade explained following Game 1. "It's just one game, but we've got to match their intensity."
Whether the Heat can do so is highly unlikely.
"Things have changed in this city," explained Mike Woodson, a longtime NBA assistant before landing the Hawks' job four years ago. "The fans have bought into what they've seen on the floor.
"I was just like everybody else. I sat in the Georgia Dome watching 80,000 flock there to watch Michael Vick. And I said, 'Damn! How can we get these fans to come watch us?' So we went about the business of putting a product on the floor that people like to see. The dunks. The athleticism. The high-wire act. But don't get it twisted. Defense is what wins championships. I've seen it done ... coaching under a man [coach Larry Brown] who preached about this over and over.
"It's beautiful to see our growth right now. For myself. For these players. For this organization and this city."
But not for everybody.
In preparation for Game 2 on Wednesday, no one -- from GM Rick Sund to Woodson to numerous players -- failed to extend gratitude and credit toward former GM Billy Knight, who resigned following the 2006-07 season.
It was Knight who hired Woodson and drafted Smith, Horford and Williams, swearing the day when the Hawks would be relevant would soon arrive. But Knight will also be remembered as the guy who passed on Portland's Brandon Roy in favor of Shelden Williams after passing on Utah's Deron Williams and Hornets guard Chris Paul in favor of Marvin Williams.
"Billy Knight is a bigger part of this thing than anyone could ever imagine," Woodson continued. "He's the man who hired me. He's the guy who selected most of these players. He told me his vision, which I shared. And it's happening now. I wish he was here experiencing this."
He should wish the same for every fan of the game who's not here in Atlanta.
Stephen A. Smith is a regular contributor to ESPN.com.
ESPNNewYork.com columnist
Stephen A. Smith is a featured columnist for ESPNNewYork.com, a co-host on First Take" and a regular on "SportsCenter."
SPONSORED HEADLINES
MORE NBA HEADLINES
MOST SENT STORIES ON ESPN.COM
NBA Playoffs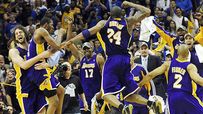 TODAY'S BEST
MORE ON THE PLAYOFFS