Scouting Update: Magic-Celtics, Game 6
Updated:
May 14, 2009, 11:54 AM ET
By
Mike Moreau
| Scouts Inc.
• Magic-Celtics series scouting report | Series page
The Celtics' late-season gamble on Stephon Marbury paid off in Game 5: He scored 12 of Boston's first 16 points in the fourth quarter. And while the Magic fired up 3s and turned the ball over in the last five minutes of the game, Boston got razor-sharp execution to come back from 14 points down and take a 3-2 series lead.
Adjustments
Orlando
• Much has been made about Dwight Howard's comments after Game 5. He blamed coach Stan Van Gundy for the Magic's failure to score a field goal in the last 5:39, but, as is usually the case in these situations, the raw emotions of postgame comments must be ignored. Once coaches and players sit down and watch the film, they see that everyone shares in the responsibility for these situations.
Howard will see how he failed to get good position inside, in both halves, and how he even failed to attempt to get good position. He will see Glen Davis move him off his spot, and even Brian Scalabrine jam him up at the foul line.
Howard also had chances to flash to wide-open areas in the lane and demand the ball, but stood and watched instead. He must accept responsibility for his share of mistakes and make corrections in Game 6.
However, from the beginning of this series, we have stressed that the Magic's perimeter players have failed to feed Howard and have missed many opportunities to get him easy baskets. This is a major problem, and it got them beat in Game 5.
Anthony Johnson, Rafer Alston, Hedo Turkoglu and Rashard Lewis looked off a wide-open Howard rolling down the middle of the lane throughout the game -- several times in the crucial last five minutes in which Orlando failed to score a field goal.
• Van Gundy will see opportunities in which he missed a substitution or should have called a different set than just the high ball screen that the Magic went down the drain with at the end of the game.
Van Gundy isn't in the huddle telling his players not to pass the ball to Howard, but it's his job to make sure his best player touches the ball. The "Howard must touch the ball at least every other possession" rule that we suggested early in the series would have served the Magic well in Game 5.
• The Magic scored 26 of their 38 field goals in Game 5 either in the post or in the lane. Look for that to be a focus early in Game 6. Driving lanes are there, and with increased ball movement and an emphasis on ball reversal and quick attacks, Lewis and Turkoglu should be able to get into the paint. If Courtney Lee plays more minutes, this is an area in which he can excel as well.
• Look for a deliberate attempt early in the game by Alston to feed Howard off the high pick-and-roll set. Feeding Howard early and often will not only serve to heal the wounds of Game 5; it also could put Kendrick Perkins and Davis into foul trouble.
That doesn't mean the 3s won't fly in Game 6, but Orlando is always at its best when the 3-point shots come from inside-out action from Howard, or from dribble penetration and kickouts to the shooters.
• The biggest defensive adjustment for the Magic in Game 6 will be securing the rebounds on key possessions in the fourth quarter if the game is close. They can't just depend on Howard; most of the rebounds they fail to get are longer ones around the foul line. No Magic player other than Howard had more than five rebounds in Game 5, and Turkoglu contributed only two.
Boston
• The Celtics can thank their home crowd for not letting them quit in Game 5. Their lethargic defensive effort and poor execution for the first three quarters put them in a hole they should not have been able to crawl out of. Coach Doc Rivers' biggest concern for Game 6 is getting a consistent defensive effort from his team, which is what led to their victory in Game 4 in Orlando.
The Magic's drives to the rim were frequent in Game 5, as Boston's help was late or nonexistent. An even bigger concern should be the complete lack of contesting at the rim, as Turkoglu, Lewis, Alston and even J.J. Redick drove to the basket and found no resistance once they got past their own defenders.
In Game 6, with the Magic focused on getting in the paint, Boston's help defenders must stay in a more athletic position and be ready to meet drivers in the lane and at the rim.
• The Celtics also left Howard open on numerous occasions in Game 5, with casual or late help on his roll after the ball screen. And they let Marcin Gortat score on multiple rolls to the basket after setting screens on the perimeter.
Expect greater attention to taking away this pass in Game 6, and the Celtics will then take their chances flying at the shooters if the ball is reversed out of the ball-screen action.
• Offensively, Davis continues to be a consistent scorer for the Celtics, and Orlando hasn't been able to prevent his pick-and-pop action. Expect more of this in Game 6, and look for Davis and Rajon Rondo to work together more in this action. With extra attention paid to Davis' jump shot, this may be an opportunity for Rondo to get into the lane, as Davis' defender will be leaving early to get back to him. If Orlando switches, then Rondo should be able to blow by Davis' defender.
• The Magic ran a double-teamer at Paul Pierce in Game 5, and Pierce passed the ball quickly as the trap was coming, giving Boston an immediate 4-on-3 advantage. This was a key for the Celtics' ability to get good shots in the last five minutes. If Pierce holds the ball too long, then it gives Orlando more time to adjust and rotate. Pierce should expect to be doubled again in Game 6.
• Boston will hope that Ray Allen's big fourth-quarter 3-pointer will give him momentum going into Game 6.
X factors
Orlando
• The Magic's mental state is the biggest factor in Game 6. They cannot allow doubt to creep in if the game is close in the fourth quarter.
• Howard did not block a shot in Game 5. That happened only six times in the regular season, but has happened twice in this series. The Magic lost both games.
Boston
• The Celtics' mindset is also a key in Game 6. With the comfort of knowing they have Game 7 at home, there is risk for a letdown.
• Rondo had 21 points and 14 rebounds in Boston's Game 4 win in Orlando. The Celtics thrive when he is aggressive on the road. They need him on the attack in Game 6.
---
Prediction
The Magic must let Games 4 and 5 go. They must forget the meltdown mindset and focus on the fact that they have been good enough to theoretically have already won this series and that it is still very winnable.
The Celtics know they can win in Orlando, and they are also confident that they are the better team in the final possessions of a close game. But, knowing they have Game 7 at home could keep them from having the edge to put the Magic away. Look for Orlando to exorcise Tuesday night's demons and play its best game of the series.
Magic win Game 6
Mike Moreau is the director of basketball for the Pro Training Center and The Basketball Academy at the IMG Academies in Bradenton, Fla. He also serves as an NBA analyst for Hoopsworld.
Synergy Sports Technology systems were used in the preparation of this report.
NBA Playoffs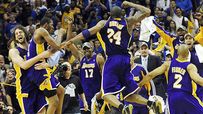 TODAY'S BEST
MORE ON THE PLAYOFFS

MOST SENT STORIES ON ESPN.COM