Scouting Update: Celtics-Magic, Game 7
Updated:
May 17, 2009, 10:44 AM ET
By
Mike Moreau
| Scouts Inc.
• Celtics-Magic series scouting report | Series page
In Game 6, the Orlando Magic shot 36 percent from the field, 23 percent from the 3-point line and only 55 percent from the foul line. Those numbers shouldn't be good enough to win an NBA playoff game. However, Orlando made up for its poor shooting with 16 offensive rebounds and 24 second-chance points. It also took advantage of the Boston Celtics' 19 turnovers to stay alive and force Game 7.
Adjustments
Boston
The Celtics' offensive mistakes, turnovers and poor execution led to only 29 points in the second half of Game 6, including only 13 in the fourth quarter. Their turnovers were due to not only bad passes and mishandles but also traveling violations, illegal screens and multiple offensive fouls from Kendrick Perkins and Rajon Rondo. Such sloppiness must be cleaned up for Game 7.
Because Orlando double-teams Paul Pierce almost every time he catches the ball, Boston must space the floor strategically in Game 7. That will allow Pierce to make the quick pass out of the traps, creating a quick 4 versus 3 situation as the Magic rotate. The trap will come primarily from Rondo's man, because the Magic zone on the ball side.
If Rondo is on the ball side of the trap, look for him to move to the baseline/short corner area while Boston's shooters spot up on the weak side. Rondo can attack from behind the basket on the catch, looking for cutters to the rim who will outnumber Magic defenders.
If the trap comes with Rondo on the weak side, Pierce must make the skip pass, and Rondo then can attack the paint from the wing at full speed on the catch. Look for both scenarios in Game 7.
Shooters Brian Scalabrine and Eddie House made key contributions to the Celtics' attack in Game 6. Scalabrine hit three jumpers, and House made a baseline jump shot on possessions when Orlando trapped Pierce. Expect those same shots to be available in Game 7, as the Magic will refuse to allow Pierce to play against only one defender.
Celtics coach Doc Rivers is desperately looking for ways to get Ray Allen going, and he even tried to post him up in Game 6 against J.J. Redick. If Allen continues to shoot poorly (he's 5-for-36 from 3 this series), look for him to post up more, especially against Redick. Allen also will look to drive off the curl to get to the foul line, where he is 18-for-18 in this series.
Expect the Celtics to deliberately attempt to go at Dwight Howard, with Rondo driving at him and Perkins posting him up. Rondo has shown no fear to fly down the lane and try to dunk on Howard, and this kind of challenge is the best way to create a foul. Perkins also has had success backing Howard into the paint for his jump hook, and with Howard afraid of foul trouble, look for Perkins to be aggressive in the post in Game 7.
Defensively in Game 7, the Celtics must focus on controlling their defensive boards, as they allowed 16 offensive rebounds (10 from Howard) in Game 6, and most of Howard's points came on putbacks and fouls in rebounding situations. Howard got the best of Perkins in the position battle in Game 6, which allowed him to play right under the rim. Perkins must step up into Howard as he attempts to roll and seal, keeping him an additional two to three feet from the rim.
Boston also must adjust on defending ball screens when Howard is the screener. The Celtics were caught in a switch a few times when smaller defenders stayed with Howard on the roll. Perkins and Glen Davis must hedge and retreat more quickly in Game 7.
Orlando
In Game 6, the Magic emphasized getting the ball inside to Howard. Although this plan did not translate into more points or a better team shooting percentage, it increased Howard's activity and aggressiveness around the basket.
As a result, Howard was closer to the basket when he caught the ball and right at the rim so to pick up more offensive rebounds. The key for Howard in Game 7 is to continue to aggressively seek that deep position in the paint, working to bury Perkins and Davis as close to the rim as possible. If Howard can win this position battle, the Magic will win Game 7.
Don't expect Orlando to pass up the 3-point shot. That is its forte. But expect the Magic to continue emphasizing the inside-out action. They will go into Howard in the post first or use dribble-drives from Rafer Alston and Hedo Turkoglu to free open perimeter shooters.
Orlando also will look to make Rashard Lewis a primary offensive focus in Game 7, as he has the quickness advantage in his matchup with either Davis or Scalabrine. Lewis has finally figured out that he won't win a wrestling match in the post with either guy.
Lewis went to the quick attack to the middle in Game 6 rather than trying to back down, which got him nowhere in the first five games of the series. He made two baskets on Thursday by dropping his inside shoulder and ducking under his defender on the dribble to the middle. This formula should work for him again in Game 7.
Also look for Magic coach Stan Van Gundy to put Lewis in more screening situations, when he can use his quickness to slip the screen or pop into open areas for his midrange jump shot.
On key fourth-quarter possessions in Game 7, expect Orlando to work its three-man action with Turkoglu as the ball handler and Lewis and Howard as screeners. The ball should stay in the Magic's hands down the stretch.
Defensively, Redick has done the most consistent defensive job on Allen, as he locks onto Allen better and takes a tighter path in trailing him on the curl cut -- crowding Allen on the catch and disrupting his shooting rhythm. Allen has had better success against Courtney Lee, who tends to track Allen on a wider path, and Turkoglu, who abandons the game plan and allows Allen to fade to the corner. With Allen due for a breakout, Redick's early defense off the staggers will be a key in Game 7.
On the big stage of a Game 7 in the conference semifinals vs. the Cavs last season Pierce had 41 points. The Magic also will continue to double-team Pierce, as they are refusing to allow last year's Finals MVP to beat them. So, expect the Magic to continue to fly at Pierce, make him give up the ball and take their chances with the other Celtics.
---
X factors
Boston
The Celtics' home-court advantage and experience will be their biggest X factors. Forget the theory about the ghosts of Celtics past. These Celtics will be playing their fourth Game 7 in the past 12 months. They are 3-0 in their three most recent Game 7s and played all three at home.
Orlando
Howard is 23-for-44 from the foul line in this series. His ability to make free throws in the fourth quarter could be a key.
---
Prediction
The Magic's formula for winning this series did not include playing Game 7 in Boston. However, they must carry with them the confidence that they should have won Game 5, and there is no reason for them to think they cannot replicate that effort to put them in position to win Game 7.
The Celtics have the comfort of playing yet another Game 7 at home. Because these teams are not only 3-3 in this series but also 5-5 in the 10 games they have played this season, that home-court advantage will be even more magnified. The Boston fans know how important they are in a Game 7, and the Celtics can expect the energy level of the crowd to give them the boost they need to advance.
Celtics win Game 7
Mike Moreau is the director of basketball for the Pro Training Center and The Basketball Academy at the IMG Academies in Bradenton, Fla. He also serves as an NBA analyst for Hoopsworld.
Synergy Sports Technology systems were used in the preparation of this report.
NBA Playoffs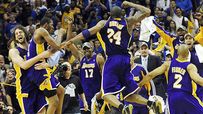 TODAY'S BEST
MORE ON THE PLAYOFFS

MOST SENT STORIES ON ESPN.COM