Scouting Update: Mavs-Spurs, Game 2
Originally Published:
April 17, 2009
By
David Thorpe
| Scouts Inc.
• Mavs-Spurs series scouting report | Series page
While the Spurs did a solid job defending Dirk Nowitzki, coaches and the other Mavericks players stepped up and performed on the playoff stage. With great execution, timely coaching and personnel adjustments, combined with a huge contribution from the bench, Dallas has put the Spurs in a must-win situation in Game 2.
Adjustments
San Antonio
•
Tony Parker
roared into the lane at will the entire first half, getting to the rim for baskets and dishing to the corner for spot-up 3s. They need his continued aggressiveness off the dribble, and they will try to space the floor as wide as possible to give him more room •
Matt Bonner
's early foul trouble hindered the Spurs' offense, as one of the best 3-point shooters in the league didn't take a single 3 in Game 1. Look for Bonner to be the ball-screener more often on the top of the floor and on the wings, giving Parker a pick-and-pop 3-point scoring option. • At one point, the Spurs had made 10 of 11 3-pointers for the game. But when they went to Duncan in the post in the second half, Dallas chose not to double, staying with the shooters. Although Duncan scored on Dampier a few times, it made San Antonio one-dimensional, and Duncan had no open shooter to pass to after he started his move. • Expect more cutting and screening action from the Spurs when the ball goes into the post to keep the Dallas defenders in motion, which will more easily free up San Antonio's shooters. • If their offense struggles in Game 2, the Spurs must also make a conscious effort to go to the offensive boards. This is not primarily an area of focus for their team, but it is a place where they can get some easy baskets and free throws in Game 2. If they don't shoot a high percentage, they have to get more shots. • Defensively, the Spurs' biggest issue is dribble penetration and creation by
Jose Juan Barea
. Look for them to hedge with more help, and encourage Dallas to fire away from the perimeter, as the Mavericks did early in the game. • The Spurs must also make a decision on whether to continue to focus on Nowitzki and bring help or a double team, or play him more straight up. Even with that focus, they had communication breakdowns and help was late at critical times, leading to some easy baskets for Nowitzki. Expect better synchronization of these schemes by San Antonio. • The Spurs are also switching smaller guards onto Nowitzki in pinch-post or high-screening action, and they were not hurt by this too often, because Nowitzki still tends to prefer jump shots. If he starts to attack the paint, they may have to come with earlier help. • Also look for the Spurs to hedge much harder or chase over the top on
Josh Howard
in any screening action, because he was left wide open off flares or dribble action. • Another area of concern for San Antonio is its defensive boards. Howard and
Erick Dampier
had baskets off of offensive rebounds at key times, with Dampier getting six points in the fourth quarter on putbacks alone. • Although the Spurs might look like a good defensive rebounding team statistically, they pile up a lot of rebounds when teams stand around and shoot jump shots. They have a much harder time controlling their defensive boards when they are giving up dribble penetration, and especially when Duncan is involved in screen roll action. • They must get better rebounding help from everyone in Game 2.
Dallas
• Coach Rick Carlisle made every correct offensive move in Game 1, from isolating Brandon Bass in the post in the second quarter to inserting Barea as the second-half starter. Carlisle did not become overly concerned with Nowitzki's lack of production, because he called set plays and isolations to take advantage of matchups at every position.
• The Mavs were jump-shot happy in the first quarter, and they started rolling offensively when they ran their sets, got the ball inside and got penetration from the point.
Jason Kidd
's dribble penetration days are over, but the Spurs struggled to defend it, so expect more of Barea in Game 2. • Kidd was effective posting up, backing down and running the point from the post area, and the Mavs will continue to post Bass, as well as Dampier, to try and force the Spurs' rotational hand. • Carlisle was masterful in calling plays for different players based on matchups and situations throughout the final three quarters. If he feels Dallas can continue to take advantage of this in Game 2, the Mavs may slow the pace of their running game (usually their staple) and run more sets. • Look for Dallas to get Howard going early and often, hoping for another 25-point performance in the first three quarters. If he's good early, he usually stays good. • The Mavs have also exposed the Spurs on the offensive boards with penetration and ball-screen action. Expect them to continue to put Duncan in motion to move him away from the glass. • On defense, the Mavericks took away the Spurs' corner 3s in the second half, keeping their help defenders down on the baseline to shade the shooters rather than deep into the paint to assist on Parker's drives. • They also stayed home when Duncan went to work in the post, confident that Dampier can hold the fort. Look for the Mavericks to play soft on Parker's penetration, encouraging the midrange jump shot, and to continue to stay home with the 3-point shooters.
---
X factors
San Antonio
• The Spurs were on fire from the 3-point line, but did not get enough attempts with Bonner sidelined with foul trouble. His 3-point shooting could be the key to their offensive success.
• If the Spurs continue to struggle with matchups, do they have anyone on the bench they can substitute to tip things in their favor?
Ime Udoka
or even
George Hill
may be called upon for a larger role.
Dallas
• Barea and Bass were the key contributors off the bench. Can Dallas rely on continued production from them?
• The Mavericks always have to fight their jump-shooting tendencies. Their ability to stay disciplined enough to continue to exploit the individual matchups could be a big factor in Game 2.
---
Prediction
Although the Spurs are a veteran team that has been through every possible playoff scenario, San Antonio must hope it hasn't given confidence to a team that has questioned itself and underachieved in the postseason the past two seasons. The Mavericks now have a swagger, and are no longer thinking about just winning one of the first two. This is a must-win for the Spurs, who could be in danger of playing their final home game of the season if they lose Game 2.
Prediction:
Spurs win Game 2
David Thorpe is an NBA analyst for Scouts Inc. and the executive director of the Pro Training Center in Clearwater, Fla., where he oversees the player development program for more than 40 NBA, European and D-League players. Those players include Kevin Martin, Rob Kurz, Luol Deng, Courtney Lee and Tyrus Thomas. To e-mail him, click here.
Synergy Sports Technology systems were used in the preparation of this report.
NBA Analyst for ESPN.com
Executive director of Pro Training Center
Started coaching career in 1987
SPONSORED HEADLINES
MORE NBA HEADLINES
MOST SENT STORIES ON ESPN.COM
NBA Playoffs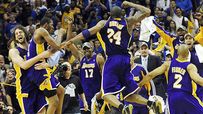 TODAY'S BEST
MORE ON THE PLAYOFFS