NBA passes on fining Mavs' Dampier
Updated:
April 23, 2009, 1:32 PM ET
By
Marc Stein
| ESPN.com
Dallas Mavericks center Erick Dampier has escaped a fine after vowing earlier this week to put San Antonio's Tony Parker "on his back" with his first foul in Game 3 Thursday night.
The league office announced that no further action will be taken against Dampier after conducting a review of the comments that included an interview with an NBA security official so the veteran center could explain himself.
Parker shredded Dallas' defense for 38 points Monday night -- 19 in the first quarter alone -- to spark San Antonio to a 105-84 triumph that evened the Texas rivals' first-round series at 1-1. Dampier told The Dallas Morning News after the game: "Every time he drives the lane, we have to put him on his back. The first foul has to tell him he's in for a long night. My first foul Thursday night is going to put him on his back. I guarantee it."
After Wednesday's practice, Dampier backed off those statements when he met with local reporters.
"I probably shouldn't have said it like that," Dampier said. "Maybe the way it came out, it sounded bad. ... I'm just going to go out there and play the way I've been playing.
[+] Enlarge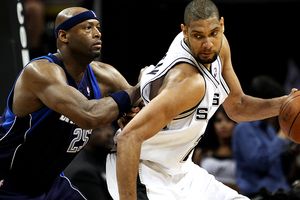 AP Photo/Darren AbateErick Dampier, left, is aware that he may draw closer scrutiny from the referees in Dallas' Game 3 against San Antonio.
"It's just the game of basketball. It wasn't said intentionally to go out and hurt anyone. I mean, fouls happen in the game of basketball. It's just that we want to shut down the paint and not give up any easy layups."
Dampier and Mavericks coach Rick Carlisle reacted to Tuesday's disclosure that the league was reviewing Dampier's comments and considering a fine by pointing out that the 6-foot-11, 265-pound center has committed only two flagrant fouls in five seasons with Dallas.
The problem for the Mavericks, though, is that Dampier -- with or without a fine -- has potentially compromised their efforts to contain Parker and Tim Duncan, since his comments will almost certainly invite closer scrutiny from the referees working Game 3. Dampier's strong play in Game 1 (10 points, 11 rebounds) against Duncan helped the Mavs steal the series opener on the road.
"Probably magnified 100,000 times," Dampier said with a laugh of the potential for increased attention as the series shifts to Dallas. "I'm just waiting to see how it's going to happen. But like I said, I'm not going to go out there and do anything stupid. I just want to go out there and play the best I can."
Said Mavericks guard Jason Kidd: "We can't just give up layup after layup, and Parker is one of the best at scoring in the paint. We just have to be a little more physical ... not in the sense of hurting anybody but protecting the paint. I think that's what Damp was trying to say."
Mavericks forward Dirk Nowitzki defended Dampier with a thinly veiled reference to longtime Spurs defensive specialist Bruce Bowen.
"We were all a little frustrated obviously with what happened in Game 2," Nowitzki said. "But nobody's trying to hurt anybody in this league. We're all competitors but we're all in this together. Nobody's trying to hurt anybody and Damp certainly doesn't have the reputation of being a dirty player. They got one, we don't."
In San Antonio after the Spurs practiced Wednesday, Parker tried to downplay the flap, telling reporters, "I can't focus on that. It's San Antonio and Dallas. We know they're going to come back strong. They're going to play very physical. They have a lot of character in that team. Just like we reacted in Game 2, they're going to react as well. ... I'll be ready."
Said Spurs coach Gregg Popovich: "I don't pay attention, honestly, to anybody's comments. Not even my family's comments or my friends' [comments]. All that matters is what the teams do on the court. Comments are just that, they're absolutely meaningless. So it doesn't affect anything."
After managing just two baskets in the second half of a Game 1 defeat, Parker had six layups in Game 2. He also absorbed a flagrant foul from Mavericks guard Jason Terry.
"He's a tough kid," Popovich said of Parker.
Marc Stein is a senior NBA writer for ESPN.com. The Associated Press contributed to this report.
Senior Writer, ESPN.com
• Senior NBA writer for ESPN.com
• Began covering the NBA in 1993-94
• Also covered soccer, tennis and the Olympics
EDITORS' PICKS
As the season grows near, our countdown rolls ahead.
ICYMI: The Ten »

The Wolves have made Eric Bledsoe a max offer.
Windhorst »

Spurs No. 1!