Commentary
Artest fitting in fine with L.A. ... for now
Never at loss for words, well-traveled forward is hearing good things from Lakers fans
Updated:
June 6, 2010, 6:57 PM ET
By
J.A. Adande
| ESPN.com
All it took was an entire regular season, 17 playoff games, one winning basket and a trip to the NBA Finals for Lakers fans to embrace Ron Artest at last.

You could hear it in the final two minutes of the Lakers' Game 1 victory over the Celtics, when Artest found himself alone behind the 3-point arc and the crowd offered encouragement.

"Shoot it!" the fans started to yell. "Shoooooooooot!"

So he did. And he made it. And there were even louder cheers of approval.

"They said I can shoot today?" said Artest, who claims not to hear what the crowd does. "Sometimes they tell me not to shoot."

Never more vociferously than in the last minute of the fifth game of the Western Conference finals, when the Lakers had a three-point lead over the Phoenix Suns and a fresh 24-second clock, yet Artest still felt compelled to launch a 3-pointer. He missed, the Suns wound up with a Jason Richardson 3-pointer to tie the score, and Artest seemed likely to be the "Man Who Caused The Game To Go Into Overtime" until he snatched a missed Kobe Bryant jumper out of the air and threw the ball off the backboard and into the hoop at the buzzer.

He followed that with a 25-point performance in Game 6 as the Lakers finished off the Suns and started off the Finals with a solid performance (and an almost unnoticed plus-minus of plus-26). So now they've granted him the audio equivalent of the green light.

Not only is he making amends with Lakers fans, he's even starting to make sense. Or maybe I've just spent too much time around him. But I'm starting to comprehend him, seeing logic in his statements.

Of his TMZ-captured nighttime workout in the hours after Game 5 vs. Phoenix, Artest said he wanted to hit the gym then because it would give his body more time to recover before the next game and that "you've got to keep your body strong throughout the season. You can't play the whole season without getting stronger because you'll get weaker."

Can't fault that line of thinking.

And when he doesn't start to meander off the path of normalcy, he's becoming sensible enough to see when he's being nonsensical.

"South America, Latino America, how you doing? Por favor," he responded to a television reporter who asked him to greet basketball fans in South America. "That makes no sense, right?"

She said it was OK. At least he tried.

Lakers coaches had the same feeling for much of the season. While Artest struggled to find his way in the triangle offense -- passing when he should shoot, shooting when he should pass -- at least he did his best to fit in. There were no meltdowns. He didn't do anything to warrant a suspension.

"I can actually now just go out there and play basketball without any emotion," Artest said. "I can still be hardcore without showing any emotion. And I learned that about myself over the last couple of years."

The Lakers don't care about him maintaining any street cred, they just wanted to see signs of the 2004 Defensive Player of the Year (the only player under 6-foot-9 to win the award in the past 14 seasons). And thus far, all of his primary defensive assignments in the playoffs have fared either worse than their regular-season or previous-round averages. His challenge in these Finals is to keep Paul Pierce from averaging the 22 points per game he put up against the Lakers in the 2008 Finals. Pierce had 24 points in the opener, but only 18 came when Artest was in the game and 13 were in the final quarter, after the Lakers had built a 20-point lead.

"He gave us a physical presence to go against some of these bigger forwards," Kobe Bryant said of Artest. "On top of that, he's just a great all-around player. He can shoot, he can penetrate, he can post. He can do a multitude of things. Like in the Phoenix series in Game 6, he showcased his full repertoire. A lot of times on this team he goes unnoticed because we have so many skilled players."

And Artest does like to prove he can score, unlike most defensive-oriented players. He was third on the team in field goal attempts this season. But the Lakers have other guys who can put the ball in the hoop. If he wants to be part of a championship team he'll leave it to them.

I was flipping around the TV while on the elliptical machine the day of Game 1 and caught "Pulp Fiction." It's the greatest cable movie ever, thanks to the non-linear story. No matter when you catch it you don't feel as if you've joined it too late, and you're practically guaranteed to see a memorable scene at any point. In this case it was The Wolf, coming in to resolve the crisis of the dead body in the car and blood everywhere. The best part is the others' awe at his recommendations, despite the simplicity of his commands: clean up the car, put the body in the trunk, then wash up. I wondered who would be The Wolf in these NBA Finals. Every team needs a Wolf, someone who can save the day by doing the basics.

And it's quite possible that it's Artest, with his commitment to the fundamentals of defense.

"There's a lot of ways to be a great defender," Artest said. "First you've got to want to play defense, listen to your coach, understand guys' moves. Not just one guy. But all the great players in the NBA, understand how they play. Then you'll be ready for anything thrown at you."

No one could be quite ready for what Artest brings. Give him enough time, and it can grow into a mutually beneficial relationship.

At least until the next ill-advised shot.





ESPN senior writer J.A. Adande
• On Twitter @jadande | On ESPN.com | On TrueHoop | On e-mail
• Follow ESPN's NBA coverage on Twitter | On Facebook | On Google+
ESPN.com senior writer since 2007
Around The Horn panelist
Formerly at Los Angeles Times
The NBA Finals On ESPN.com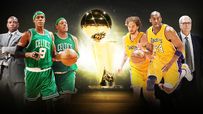 Follow ESPN's NBA coverage on Twitter
LATEST FINALS CONTENT
SERIES PREVIEWS
PLAYOFF FEATURES
FINALS PAGES
VIDEO
AUDIO
Adidas Youth L.a. Lakers Kobe Bryant #24 Home Gold Replica Jersey Shop »

MOST SENT STORIES ON ESPN.COM