Commentary
Bryant can't do it alone
Updated:
June 14, 2010, 8:13 AM ET
By
J.A. Adande
| ESPN.com
BOSTON -- The summation of the Lakers' Game 5 in Boston came from the postgame news conference moderator, who announced that Phil Jackson would speak first, then Doc Rivers, a yet-to-be-determined number of Celtics players, and finally: "It looks like L.A. will only be Kobe in here."

It made perfect sense, since it was only Kobe out there on the court. At one point Kobe Bryant had scored half of the Lakers' points: 29 of 58. He finished with 38 in the Lakers' 92-86 loss. Bryant also led them with four assists and had the team's lone blocked shot.

No other Laker did anything of value. Andrew Bynum played more than 31 minutes and reported no issues with his injured right knee, but grabbed only one rebound. Ron Artest couldn't keep Paul Pierce from unleashing a 27-point night, while Artest missed seven of his nine field goal attempts and two free throws with 43.3 seconds remaining that extinguished the Lakers' last hope for victory. The Celtics have made him the primary outlet for when Bryant is doubled, and Artest hasn't made them pay consistently.

Lamar Odom was back to a single-single, with eight points and eight rebounds. And Pau Gasol couldn't establish any inside scoring, as evidenced by his scoring only 12 points despite seven offensive rebounds. His night could best be summarized by the dunk attempt that was swatted away by a soaring Tony Allen. Derek Fisher scored 11 points in the fourth quarter of Game 3, but has had only 15 since.

With the NBA Finals hanging in the balance, the Celtics put the basic premise they carried into this series -- that if they made Kobe work for his shots, he couldn't beat them by himself -- to the ultimate test, and they prevailed. For those who were waiting to see Bryant break loose, to have the kind of outburst you expect from him (similar to what you expect when menacing dark clouds with sheet-lightning flashes are gathering overhead), you got your answer. He scored 19 points in the third quarter and even had the Celtics players asking their coaches to switch their strategy against him. And after the downpour ceased and the skies cleared, the Celtics had actually increased their halftime lead from six to eight.

While Kobe had a galactic quarter, the rest of the Lakers were the exact opposite of our closest star: They came east and sank toward the horizon. So now Phil Jackson is in a quandary. Does he attempt to ask Bryant to carry the Lakers again, when that hasn't proved to be effective against the Celtics? Or does he ask more from the rest of the team, when they haven't played consistently?

We know now, definitively, the Lakers will need a collective effort. One player might take a game off the Celtics, as Dwyane Wade did in the fourth game of the first round or LeBron James did in the third outing of the conference semis. But the Lakers are behind 3-2 in the series and need to win twice.

Jackson pointed out that after five games the net result is the same as if the home team had won every time. But it will take more than the golden uniforms and celebrity-filled crowd to alter the direction of this series. Keep in mind that the Celtics won the most recent game played at Staples Center, and that was with Garnett playing only 24 minutes because of foul trouble and scoring six points.

The Celtics' starting five has grown more and more balanced; all but Kendrick Perkins were in double digits in the scoring column, and Perkins more than made up for it with his defense against Gasol. The Lakers went the opposite way, finally putting their fate completely in Bryant's hands.

"He's the kind of guy you ride a hot hand, that's for sure," Jackson said.

"We were waiting for him to do that. He came in at halftime and got his ankle re-taped [Bryant said he tweaked it in the first half] and went out there and found a rhythm in the game."

Odom said: "When Kobe gets hot like that, he gets hot like that. You can't deny it. We just need to get stops as a team."

And this is when Odom returned to the curious place he visited after Game 4, when he said the Lakers' primary problem, the issue responsible for both their offensive and defensive shortcomings, is the lack of ball movement.

"Everybody's involved in the [Celtics'] game because they move the basketball so well," Odom said. "It allowed them to get a couple of more stops than we were able to get."

So the Celtics' offense allowed them to play better defense than the Lakers? That's a head-scratcher. It's indicative of a disconnect. If the Lakers have different concepts of the problem they won't be able to find a solution.

Jackson said the Lakers were "on the wrong side of people" initially and that they got "displaced" during the third quarter.

Artest said: "Everything we did, we did together."

I'd amend that to everything they did wrong they did together, and Kobe did all the scoring on his own.

"We didn't get any stops," Bryant said. "They got layup after layup, and you can't survive a team that shoots 56 percent."

The Celtics' final percentage was actually a letdown from a shaky final period that included a three-minute scoring draught. The Celtics were over 60 percent for most of the game, and at times were shooting twice as well as the Lakers. Then they got stuck at 87, which allowed the Lakers to close within five when Pierce fouled Artest on a breakaway with 43.3 seconds left.

Miss, miss.

Bryant grabbed the rebound, but Pierce snatched the ball away from him, another sign of how the Celtics just seemed to want this more. Any time there was a loose ball to be had, they got it. And the ensuing play after a timeout reflected just how unprepared the Lakers seemed to be, as the Celtics were able to throw the ball to Pierce over the smaller Fisher, then Pierce found the quick Rondo racing to the basket away from Artest.

It was a seven-point lead that forced the Lakers to think in terms of a seven-game series if they are to win it.

But as the game count grows higher, the number of Lakers contributors is dwindling. Kobe has now taken twice as many shots (Kobe: 120 FGA, Gasol: 60 FGA) as any of his Lakers teammates. On Sunday, the list of Lakers assets was equivalent to the number of losses they are away from defeat: one.





ESPN senior writer J.A. Adande
• On Twitter @jadande | On ESPN.com | On TrueHoop | On e-mail
• Follow ESPN's NBA coverage on Twitter | On Facebook | On Google+
ESPN.com senior writer since 2007
Around The Horn panelist
Formerly at Los Angeles Times
The NBA Finals On ESPN.com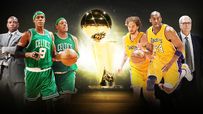 Follow ESPN's NBA coverage on Twitter
LATEST FINALS CONTENT
SERIES PREVIEWS
PLAYOFF FEATURES
FINALS PAGES
VIDEO
AUDIO

MOST SENT STORIES ON ESPN.COM